An email service called Yahoo Mail was introduced in 1997. Free Web-based email service Yahoo Mail is ideal for quick communication. You can sign in to all of Yahoo's services with a Yahoo account. Users of Yahoo Mail can pick between text messaging, chat, and email as their preferred methods of communication.
When you register for a Yahoo account, Yahoo Mail, the company's email service, is available to you for free.
A customized breaking news feed, address book, and other services are all accessible after creating a Yahoo account.
Maintaining a Yahoo account is a terrific way to get a personalized feed of breaking news in addition to receiving your own @yahoo.com email address.
A Yahoo account offers a streamlined ecosystem of tools to make the most of your time online, from a home page you may customize to web services like Yahoo Answers and Yahoo Notepad.
Here's how to get started using any browser on your Mac or PC to create a Yahoo account if you're new to Yahoo's services.
The domains yahoo.com, ymail.com, and rocketmail.com all provide free email accounts with 1 TB of online storage thanks to Yahoo Mail. Yahoo Mail also has a search feature and folders for storing communications.
Related: How to Sign Up With Venmo In 5 Quick Steps ( Phone & Pc)
How to Sign Up For a New Yahoo Email Account On Phone
The best way to make a new Yahoo account is through the desktop website:
Visit the Yahoo Sign-up page.
Fill out the form with your first and last name, the username you want to use for your new Yahoo email address, a password, your phone number, and birthday.
Make a strong password, remember it, and store it in a password manager. Your phone number is used for account recovery.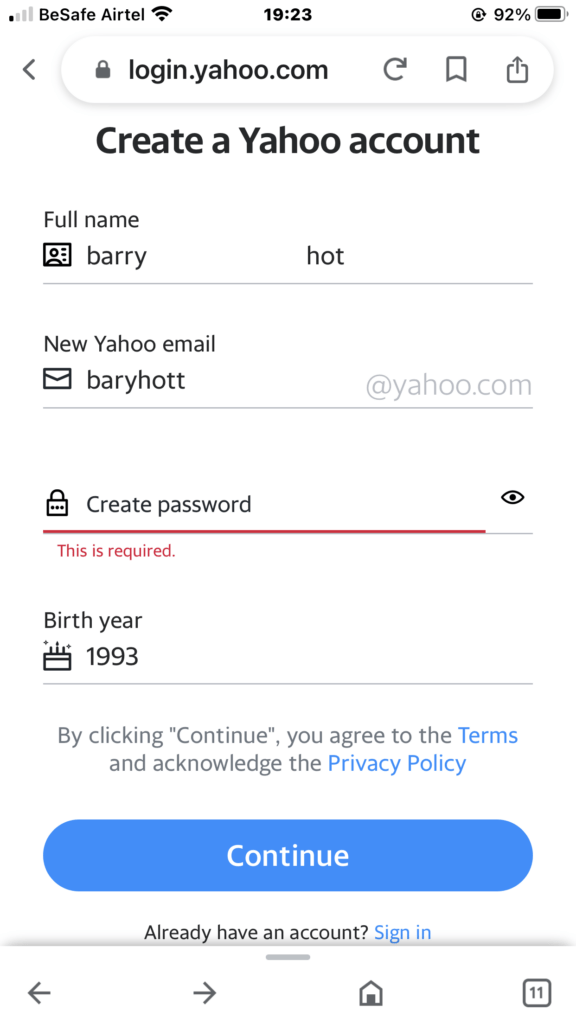 Click Continue.
To verify that you are the owner of the phone listed with that phone number, select either Text me an Account Key or Call me with a verification code.
Enter the key to verify that you have access to that phone, and then select Verify.
Select Continue.
You'll be redirected to the Yahoo homepage. To access Yahoo Mail, select Mail (located in the upper-right corner of the page), or go to mail.yahoo.com.
How to Sign Up For a New Yahoo Email Account Online
Go to Yahoo.com in your browser.
Click the Signup button now.
Now enter your basic information to establish a Yahoo account. Include your name, age, gender, and birthdate.
To create a Yahoo account, click the Continue button right now.
By using your phone number, create a Yahoo account.
To verify your account, type in your mobile number.
A one-Time Password (OTP) will now be sent to the phone number you provided earlier.
Type in the OTP to confirm your account.
Finally, the creation of your Yahoo account has been successful.