the internet has opened up countless opportunities for individuals seeking flexible work options. Working from the comfort of your home has become a popular choice for many, offering freedom, convenience, and the chance to pursue a career in various fields.
These are some latest and easy Online Jobs From Home that can be done from the comfort of your own home. Whether you're a stay-at-home parent, a digital nomad, or simply looking to escape the 9-to-5 grind, this list is bound to inspire you to earn that extra money.
Related: 90 Legit Work-From-Home Jobs
70 Latest Online Jobs From Home
Online Course Creator
Share your expertise by creating and selling online courses in your field of knowledge.
Virtual Event DJ
Provide live music and entertainment for virtual events, parties, and gatherings.
Online Language Coach
Help individuals improve their language skills through personalized coaching sessions.
App Developer
Create mobile applications for smartphones and tablets, catering to specific user needs.
Online Data Entry Specialist
Assist businesses in organizing and managing their data by inputting information into spreadsheets or databases.
Virtual Stylist
Offer fashion advice, create personalized outfits, and provide shopping recommendations to clients remotely.
Online Voice Coach
Teach individuals how to improve their vocal skills and techniques through virtual lessons.
Remote Customer Support Representative
Provide customer service and support to clients via email, chat, or phone.
Online Nutritionist
Offer virtual consultations and create customized diet plans to help individuals achieve their health goals.
Virtual Wedding Planner
Assist couples in planning and coordinating their dream weddings through online consultations.
Online Legal Consultant
Provide legal advice and assistance remotely in various areas of law.
Remote Project Manager
Coordinate and oversee projects for businesses or organizations from a distance.
Online Music Producer
Produce and mix music tracks for artists or create royalty-free music for commercial use.
Virtual Marketing Strategist
Develop and implement effective marketing strategies for businesses, focusing on online channels.
Online Resume Writer
Help job seekers craft compelling resumes and cover letters to enhance their chances of landing their dream job.
Remote Video Game Developer
Design, code, and create video games remotely, either independently or as part of a team.
Online Meditation Instructor
Conduct virtual meditation sessions and guide individuals in achieving mindfulness and relaxation.
Virtual Legal Transcriptionist
Transcribe legal documents, court proceedings, and recordings for law firms and legal professionals.
Online Meditation Coach
Provide personalized meditation guidance and techniques to help individuals reduce stress and improve well-being.
Virtual Life Coach
Help individuals set and achieve personal and professional goals through virtual coaching sessions.
Online Comedy Writer
Write humorous content, sketches, or scripts for comedians, TV shows, or online platforms.
Virtual Wedding Photographer
Offer virtual photography services, guiding angles, poses, and lighting for remote weddings.
Online Dog Trainer
Conduct virtual dog training sessions and guide behavior modification and obedience training.
Remote App Tester
Test and review mobile applications for usability, functionality, and user experience.
Virtual Financial Advisor
Provide remote financial planning and investment advice to clients, helping them reach their financial goals.
Online Relationship Coach
Help individuals and couples navigate relationship challenges and improve communication skills through virtual coaching.
Virtual Yoga Instructor
Teach yoga classes online, guiding participants through poses, meditation, and breathing exercises.
Online Jobs From Home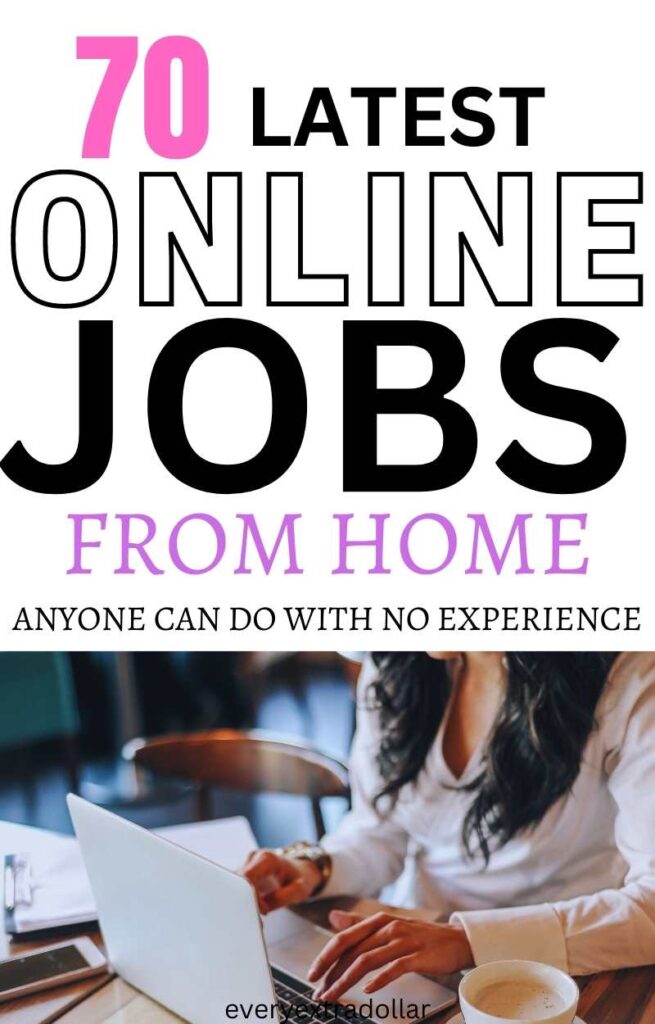 Virtual Assistant
Provide administrative support to businesses remotely, managing tasks such as email management, scheduling, and data entry.
Content Writer
Leverage your writing skills to create engaging content for websites, blogs, or social media platforms.
Online Tutor
Teach subjects you excel in, such as language learning, mathematics, or music, through online platforms.
Social Media Manager
Help businesses build their online presence by creating and managing their social media accounts.
Graphic Designer
Create visually appealing designs for websites, logos, marketing materials, and more.
Web Developer
Build websites and web applications for individuals or businesses, utilizing your coding skills.
Online Consultant
Offer expert advice and guidance in areas like finance, career coaching, health, or marketing through virtual consultations.
Online Researcher
Conduct research and gather data for individuals, companies, or academic institutions remotely.
E-commerce Store Owner
Start your online store and sell products or services through platforms like Shopify or Etsy.
Language Translator
Utilize your language skills to translate written or spoken content for clients around the world.
Virtual Event Planner
Organize and coordinate online conferences, webinars, and virtual events for businesses or individuals.
Online Survey Taker
Participate in online surveys and market research studies to provide valuable consumer insights.
Podcast Producer
Edit and produce podcasts for individuals or companies, helping them create engaging audio content.
SEO Specialist
Optimize websites to improve their search engine rankings, increasing visibility and organic traffic.
Online Fitness Instructor
Offer virtual fitness classes or personal training sessions through video platforms.
Video Editor
Edit and enhance videos for individuals, businesses, or content creators.
Online Transcriptionist
Transcribe audio or video files into written form for various industries, such as medical or legal.
Virtual Bookkeeper
Assist businesses in managing their financial records, invoices, and expenses remotely.
Online Moderator
Monitor and manage online communities, ensuring discussions remain civil and respectful.
Voice Actor
Use your voice talents to provide voice-overs for commercials, audiobooks, animations, and more.
Stock Photographer
Capture high-quality images and sell them on stock photography platforms.
Online Advertiser
Create and manage online advertising campaigns for businesses, helping them reach their target audience.
Online Game Tester
Test and provide feedback on video games, helping game developers improve their products.
Virtual Interior Designer
Help clients design and decorate their spaces remotely, providing advice and recommendations.
Online Travel Agent
Assist individuals in planning their trips, booking flights, accommodations, and activities from home.
Working from home offers a world of possibilities, and these Online Jobs From Home showcase just a fraction of the opportunities available. With dedication, skills, and a bit of creativity, you can find a fulfilling online career that suits your interests and lifestyle.