Let's discuss some Creative Ways to Make Money on Pinterest In 2023 for people looking to get started on a side hustle or extra income.
Pinterest has become a valuable resource for individuals, businesses, and content creators alike. It offers a unique opportunity for businesses to showcase their products and services through visually captivating pins.
Many entrepreneurs and influencers leverage Pinterest to drive traffic to their websites, promote their brands, and ultimately generate revenue.
Whether you're looking for creative DIY projects, planning your dream vacation, or searching for recipe ideas, Pinterest serves as a vast and ever-growing source of inspiration, ideas, and opportunities for users to discover, save, and share content in a visually appealing and organized way.
The key to massive success on Pinterest is to be authentic, engage with your audience, and provide value. Embrace your creativity and think outside the box when it comes to monetizing your presence on the platform.
With determination and a sprinkle of Pinterest magic, you'll be well on your way to making money in 2023.
Brief Description Of Pinterest
Pinterest is a popular social media platform and visual search engine that allows users to discover and save ideas for various topics and interests.
It serves as a digital pinboard where users can collect, organize, and share content in the form of images, videos, and GIFs, known as "pins."
On Pinterest, users can create personalized boards based on different themes or categories, such as home decor, fashion, recipes, travel, fitness, and more. They can then save or "pin" relevant content to these boards, essentially bookmarking them for future reference.
The platform offers a visually appealing and user-friendly interface, with a focus on high-quality images that capture attention.
One of the defining features of Pinterest is its search functionality, allowing users to discover new ideas and inspiration by entering keywords or browsing through curated categories.
The platform also utilizes algorithms to provide personalized recommendations based on a user's interests and previously saved content.
In addition to saving and organizing content, Pinterest encourages social interaction and engagement. Users can follow other users or specific boards, like, comment, and even share pins.
This makes Pinterest a collaborative platform where people can connect, exchange ideas, and find inspiration from others with similar interests.
Hey there, fellow hustlers! Are you ready to dive into the exciting world of Pinterest and make some serious cash in 2023?
Well, you're in luck because today, I'm going to spill the beans on some relatable ways to make money on Pinterest. So, grab your favorite beverage, get comfy, and let's get started!
Related: 9 Pinterest Niches That Makes The Most Money In 2023
Creative Ways to Make Money on Pinterest In 2023
1. Become a Pinterest Affiliate Marketing Pro
Affiliate marketing is still all the rage, and Pinterest is an ideal platform to capitalize on this trend. Find products or services that align with your niche and create visually appealing pins with compelling descriptions.
Don't forget to include your affiliate link, so when people make a purchase through your pin, you earn a sweet commission.
2. Offer Pinterest Management Services
If you're a Pinterest whiz, why not share your expertise and help others grow their presence on the platform? Many businesses and bloggers struggle with managing their Pinterest accounts effectively.
You can offer services like creating and scheduling pins, optimizing boards, and implementing SEO strategies. Be their Pinterest superhero and charge a fee for your valuable assistance.
3. Create and Sell Printable Products
Pinterest is a treasure trove for printable products like planners, wall art, and checklists. If you have a knack for design, create eye-catching printables and promote them on Pinterest.
You can either sell them directly on platforms like Etsy or your own website or use a print-on-demand service to handle the fulfillment process.
4. Launch an E-commerce Store
Did you know that you can now sell products directly on Pinterest? Take advantage of this feature by setting up your own e-commerce store and linking it to your Pinterest profile.
Create visually appealing product pins, optimize them with keywords, and watch the sales roll in. Don't forget to leverage Pinterest's shopping ads to reach even more potential customers.
5. Offer Pinterest-inspired Services
Pinterest is a hub for inspiration, whether it's home decor, fashion, or party planning. If you're skilled in any of these areas, turn your passion into profit.
Offer services like interior design consultations, personal styling, or event planning based on Pinterest trends. Market yourself as a Pinterest-inspired expert and watch clients flock to you.
6. Write and Sell E-books
Are you a wordsmith with a wealth of knowledge in a specific niche? Convert your expertise into e-books and promote them on Pinterest. Create eye-catching pins that showcase your e-book's value, and link them to your sales page.
With the right marketing strategy, you can generate passive income from your digital creations.
7. Collaborate with Brands
Pinterest is a hub for brand collaborations. If you have a substantial following and an engaged audience, brands might be interested in working with you.
Reach out to companies that align with your niche and propose partnerships where you create content featuring their products. It's a win-win situation for both parties involved.
8. Offer Pinterest Ad Management Services
Pinterest ads can be incredibly powerful for businesses looking to reach their target audience. If you have experience with advertising platforms, consider offering Pinterest ad management services.
Help businesses create captivating ad campaigns, optimize their targeting, and track their results. By demonstrating your expertise in this area, you can attract clients and charge a premium for your services.
9. Create and Sell Digital Courses
If you have in-depth knowledge in a specific field, why not create a digital course and sell it on Pinterest? Use your pins to promote your course, highlight its benefits, and drive traffic to your sales page.
Pinterest users are often eager to learn new skills and gain valuable insights, so tap into that demand and share your expertise through an online course.
10. Start a Subscription Box Business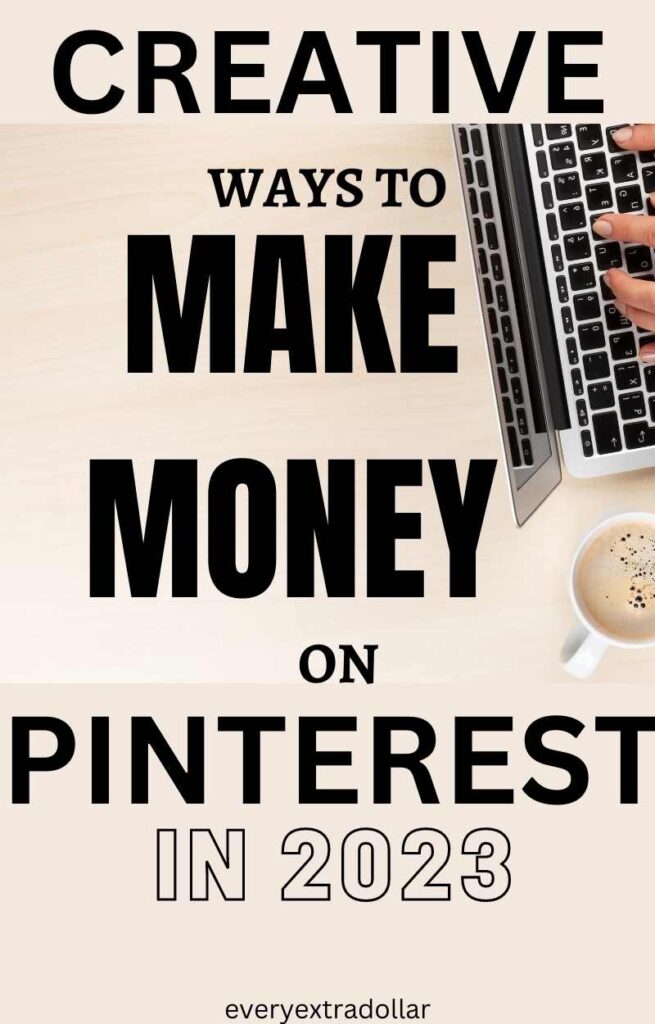 Subscription boxes continue to be a hot trend, and Pinterest is an ideal platform to showcase the unique products you curate. Find a niche market that you're passionate about, source or create products that fit the theme, and offer a monthly subscription box service.
Create captivating pins that highlight the contents of each box and link them to your subscription page. As your subscriber base grows, so will your recurring revenue.
So, are you ready to turn your Pinterest obsession into a money-making venture by exploring these Creative Ways to Make Money on Pinterest? Get out there, pin like crazy, and let your entrepreneurial spirit shine through!
Get ready to pin, profit, and enjoy the journey of turning your passion into a thriving business!