Writing good SEO blog posts requires skill. To keep your reader engaged and well educated, you should think about the structure of your content and keep it enjoyable.
If people like and understand an article, they will be much more inclined to share it with others – and that will increase your rankings. So, if you want to improve your rankings, improve your writing skills.
The first most important factor is ensuring you are using the right host. Your hosting company determines how fast and well your blog survives on the internet.
Bluehost is a hosting company I always recommend for their free content management system and speed.
You can use my code to get 60% off your first hosting year.
Here are 7 helpful tips on How to Optimize Your Blog Post For SEO that shows up on SERPS!
This post provides tips on writing blog posts that are SEO-friendly, readable, and educative.
How to Optimize Your Blog Post For SEO
1. Utilize keywords throughout your post.
Once you have targeted a couple of valuable, relevant keywords, it is important to place them where they will have the most impact on humans and search engine crawlers indexing your content. Try to include them in the following places:
Title: Place keyword on Title
Headings and subheadings: Put keywords on Headings and subheadings:
Introductory sentence: Place keywords at the beginning of your paragraph.
Concluding paragraph: Put keywords on your concluding paragraph.
Anchor text ( hyperlink to other related pages on your site)
Title tags and meta descriptions: You need keywords on your title tags and meta descriptions.
2. Optimize your images
Whenever you upload a photo to your blog, be sure to include keywords in the title tag and fill out the alternate text field with a brief, keyword-rich description of the photo and your targeted keyword.
Sometimes images appear on the search results and send you traffic.
3. Do Keyword Research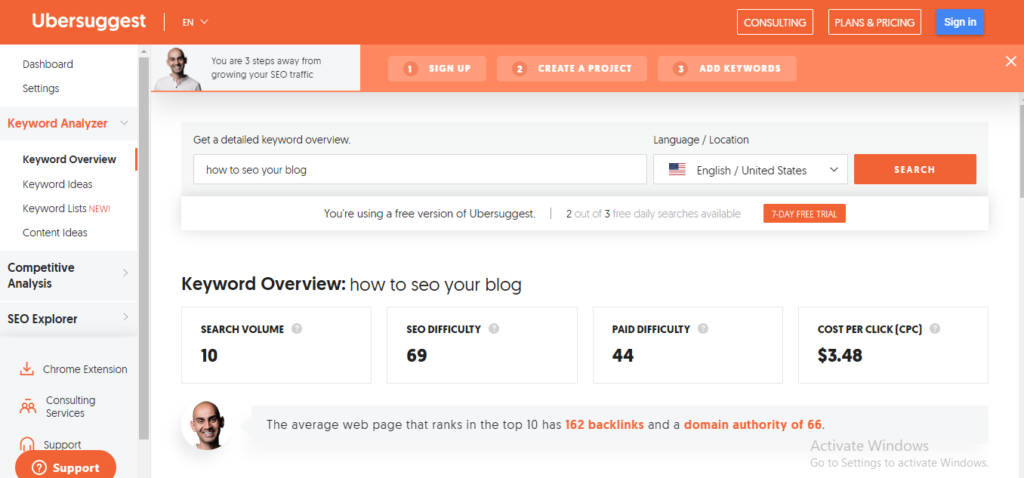 Keyword research is essential for on page optimization. Chances are you are naturally including keywords without realizing it simply by providing valuable content on a topic.
However, there are a variety of tools and techniques for finding related keywords relevant to your blog post that you may not have considered.
The Google Adwords Keyword Tool and semrush.com both offer great tools that allow you to find keywords related to your topic and even spy on your competition to see what words and phrases they are targeting to bring traffic to their sites.
Having a targeted keyword is essential to optimize your blog post for SEO.
4. Make Internal Linking a Habit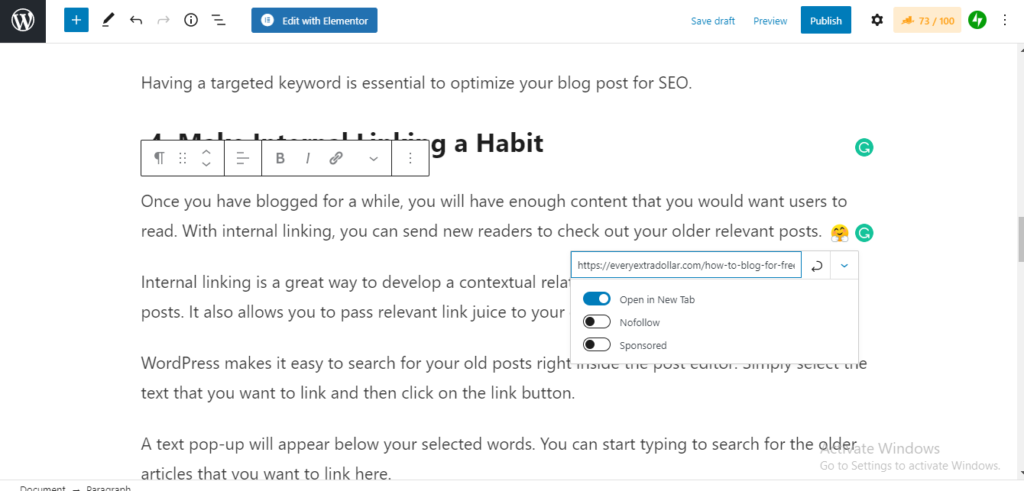 Once you have blogged for a while, you will have enough content that you would want users to read. With internal linking, you can send new readers to check out your older relevant posts.
Internal linking is a great way to develop a contextual relationship between your new and old posts. It also allows you to pass relevant link juice to your older articles.
WordPress makes it easy to search for your old posts right inside the post editor. Simply select the text that you want to link and then click on the link button.
A text pop-up will appear below your selected words. You can start typing to search for the older articles that you want to link here.
Making internal linking a habit will make sure that your on-page SEO is good, and that your older articles continue to get new links.
Often beginners make the mistake of doing 1-way internal linking where they link to older posts from new articles. You can and should also go back to edit older posts to link to your new articles for maximum benefits.
5. Use Categories and Tags to Organize Content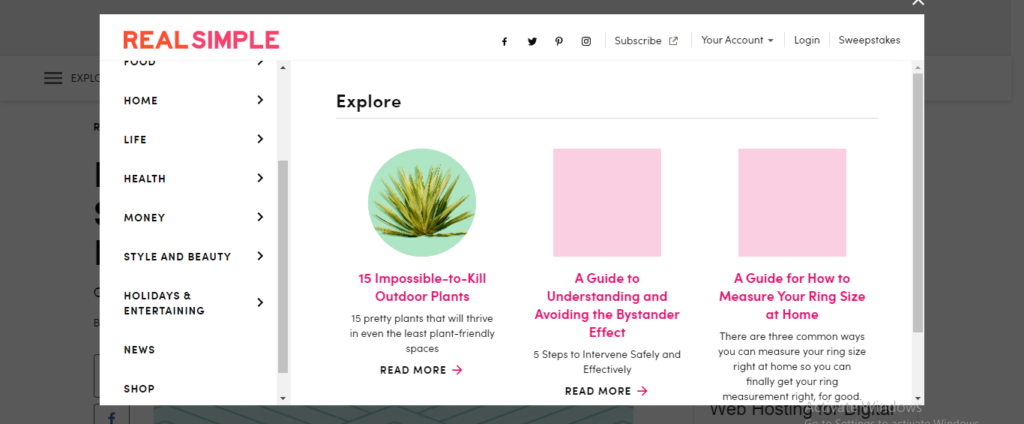 Categories and tags help you sort your content not only for yourself but for the readers and search engines.
The problem is that many WordPress beginners often end up using them incorrectly.
If you think about your website as a book, then categories would be the table of contents and tags will be the index part of the book.
Categories are used to divide your content into major topics discussed on your blog. Tags, on the other hand, are the topics discussed in an individual blog post.
6. Make sure your blog is mobile-friendly (or has a responsive design)
Did you know more people use a search engine from their mobile phones than from a computer?
So, how do you make your blog mobile-friendly? By using a web responsive design. Websites that are responsive to mobile allow blog pages to have just one URL instead of two — one for desktop and one for mobile, respectively. This helps your post's SEO because any inbound links that come back to your site won't be divided between the separate URLs.
As a result, you'll centralize the SEO power you gain from these links, helping Google more easily recognize your post's value and rank it accordingly.
7. Optimize the length of your article
Make sure your blog posts have a minimum of 300 words but keep the length of your article balanced. Google likes long articles, however, if your article is too long it can scare users away.
I would advise to only write long articles when you know you're a skilled writer. It's asking a lot of your visitors to read your entire post when it's lengthy.
Check out this article if you're not quite sure how long a blog post should be. And remember to keep using your focus keyphrase throughout your text to make sure you end up with an SEO-friendly blog post!
These are the best tips on How to Optimize Your Blog Post For SEO.
RELATED