Hey there, fellow pinners! Today, I want to dive into the wild and wonderful world of Pinterest niches that are raking in the dough in 2023.
Whether you're a seasoned Pinterest aficionado or just getting started, these money-making niches will surely make your wallet do a happy dance. So grab your virtual glue gun and let's get pinning!
9 Pinterest Niches That Makes The Most Money In 2023
1. Sustainable Living and Eco-Friendly Products
In an era where saving the planet is more important than ever, Pinterest has become a hub for all things sustainable. From zero-waste hacks to DIY eco-friendly products, this niche is not only good for Mother Earth but also great for your bank account.
Pinners are always on the lookout for tips on reducing waste, upcycling, and embracing a greener lifestyle. So, jump on this trend and start pinning your way to a greener and richer future.
2. Home Organization and Decluttering
In a world filled with Marie Kondo enthusiasts, it's no surprise that home organization and decluttering is a hot niches on Pinterest. Pinners are obsessed with clever storage solutions, minimalistic designs, and decluttering hacks.
So if you have a knack for organizing spaces, start pinning your genius ideas and watch your follower count (and income) soar.
3. Personal Finance and Money Management
Who doesn't want to make more money and master their finances? Pinterest has become a treasure trove of personal finance tips, budgeting techniques, and investment advice.
Pinners are constantly looking for ways to save, invest, and grow their wealth. If you have expertise in this area, create eye-catching pins that offer valuable financial insights, and you'll be counting dollar bills in no time.
4. Fashion and Style
Fashionistas, rejoice! Pinterest remains a fashion lover's paradise, and there's no shortage of style inspiration on the platform. Whether it's outfit ideas, fashion hacks, or tips on thrifting, pinners are always on the hunt for the next trendy look.
If you have a flair for fashion, curate boards that showcase your unique style and collaborate with brands or monetize through affiliate partnerships to turn your passion into profit.
5. Travel and Adventure
After spending months cooped up at home, people are itching to explore the world again. Travel and adventure-related pins are hot commodities on Pinterest, with users planning their dream vacations and seeking wanderlust-inducing inspiration.
Whether you're a travel blogger, photographer, or adventure enthusiast, pinning breathtaking destinations, travel itineraries, and insider tips can help you turn your passion for exploration into a lucrative business.
6. DIY Crafts and Creative Projects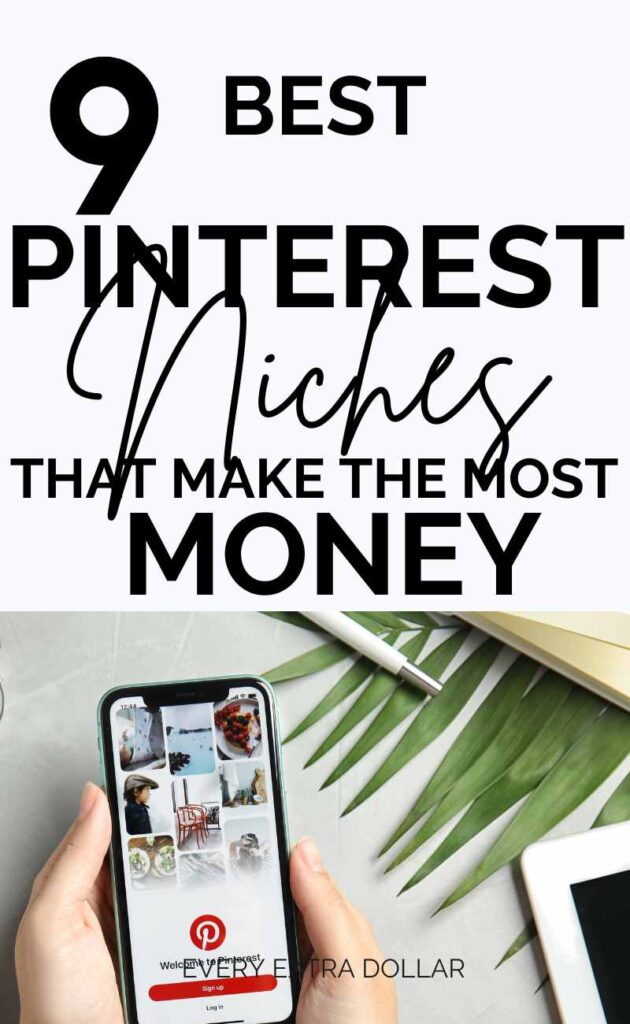 Pinterest has long been a hub for crafty individuals, and in 2023, the DIY trend is still going strong. Pinners are always searching for unique DIY projects, craft ideas, and creative inspiration.
Whether it's handmade jewelry, home decor, or personalized gifts, Pinterest offers a platform to showcase your creativity and sell your handmade goodies through platforms like Etsy or your own online store.
7. Health and Fitness
With the rising popularity of health and wellness, the health and fitness niche on Pinterest is thriving. Pinners are looking for workout routines, healthy recipes, meal prep ideas, and fitness challenges.
If you're passionate about fitness and have expertise in this area, create visually appealing pins that offer valuable advice, workout plans, and nutrition tips. You can monetize this niche through affiliate marketing, sponsored content, or even by creating your own fitness products or online coaching programs.
8. Parenting and Kids' Activities
Parents are always on the lookout for inspiration and ideas to keep their little ones entertained and educated. Pinterest is a treasure trove for parenting tips, kids' activities, crafts, educational resources, and parenting hacks.
If you're a parent or have expertise in this field, curate boards that offer valuable parenting advice, share creative activities and provide solutions to common parenting challenges.
Collaborate with brands that cater to parents and kids, and explore opportunities for sponsored content or creating your own parenting-related products.
9. Food and Recipe
Blogging Foodies unite! Pinterest is a food lover's paradise, with countless recipes, food photography, and culinary inspiration. If you have a passion for cooking, creating delicious recipes, or food photography, the food and recipe niche can be a feast for your bank account.
Pinners are always searching for mouthwatering recipes, meal prep ideas, quick and easy dishes, and special dietary options.
Create visually stunning pins featuring your recipes, share cooking tips and tricks, and consider monetizing through sponsored content, advertising, or even creating your own digital cookbooks or cooking courses.
The key to success in any Pinterest niche is to provide value, engage with your audience, and stay consistent with your pinning efforts. Keep up with the latest trends, experiment with different pin styles, and don't be afraid to think outside the box.
Happy pinning and may your Pinterest journey be filled with both inspiration and income!