Hello, fellow energy-slashing enthusiasts! Are you tired of your energy bills shooting through the roof faster than a rocket to Mars?
Well, fear not, because I'm here to equip you with some out-of-the-box strategies to combat those monstrous bills while having a good laugh along the way. Brace yourself for a wild ride through the world of energy-saving shenanigans in 2023!
I know you hate looking at your bill at the end of the month or maybe you don't even know your bills but you're waiting haha everyone seems to be there🧐
These days, since I am trying to slash my expenses and be more at peace with money, I find my energy bills a disruptive Factor as I seem to always hope to get a better deal at the end of the month_ which means, I do everything possible to slash it down. I mean it.
Let's go!
Related: 30 Sensible Frugal Ways to Cut Down Expenses In 2023
7 Smart Ways to Slice Your Energy Bills in 2023
1. Exercise with Purpose
Have you ever considered turning your daily workout routine into an energy-saving extravaganza? Picture this: instead of the gym, you power your house by cycling on an electricity-generating exercise bike.
Not only will you stay fit, but your electric meter will be wondering if it's broken.
2. Sock Puppet Power
Remember those mismatched socks that you can never find a match for? Well, it's time to put them to good use! Transform those lonely socks into energy-saving sock puppets.
They'll help you remember to turn off lights, unplug devices, and give you hours of spooktastic entertainment. Who knew saving energy could be so sock-cessful?
3. The Fridge Challenge
Have you ever wondered what's lurking in the depths of your refrigerator? Well, it's time for a challenge! Put on your detective hat and see how long you can go without opening the fridge door.
You'll reduce the energy needed to cool the fridge each time you peek in, and who knows, you might discover a hidden treasure that's been forgotten for ages.
4. The Strategic Oven Shuffle
Are you guilty of baking just one lonely cookie or a small snack in a big oven? It's time to play the strategic oven shuffle! Gather all your baking needs, your neighbor's baking needs, and your neighbor's neighbor's baking needs.
Maximize your oven's efficiency by cooking multiple items at once, and invite the neighborhood over for an impromptu feast. Sharing is caring, and so is saving energy!
5. Light-Switch Olympics
Transform energy-saving into a competitive sport! Challenge your friends, family, and pets to a light-switch Olympics. Time yourselves as you sprint through the house, turning off lights left, right, and center.
The fastest light-switcher wins the gold medal, and your energy bill will be lighter than a feather. It's an electrifying way to save!
6. The Pet Power Hour
Who says your furry friends can't contribute to energy-saving efforts? Introducing the Pet Power Hour! Attach small energy-generating devices to your pet's accessories, like their collar or harness, and let them roam around freely.
Watch in awe as your pet's playful antics power up your electronic devices. It's a win-win situation—your pets stay active, and you save on your energy bill. Just be prepared for a hilarious chase when your pet discovers they can unplug the TV with a sudden burst of enthusiasm!
7. Energy Dance Party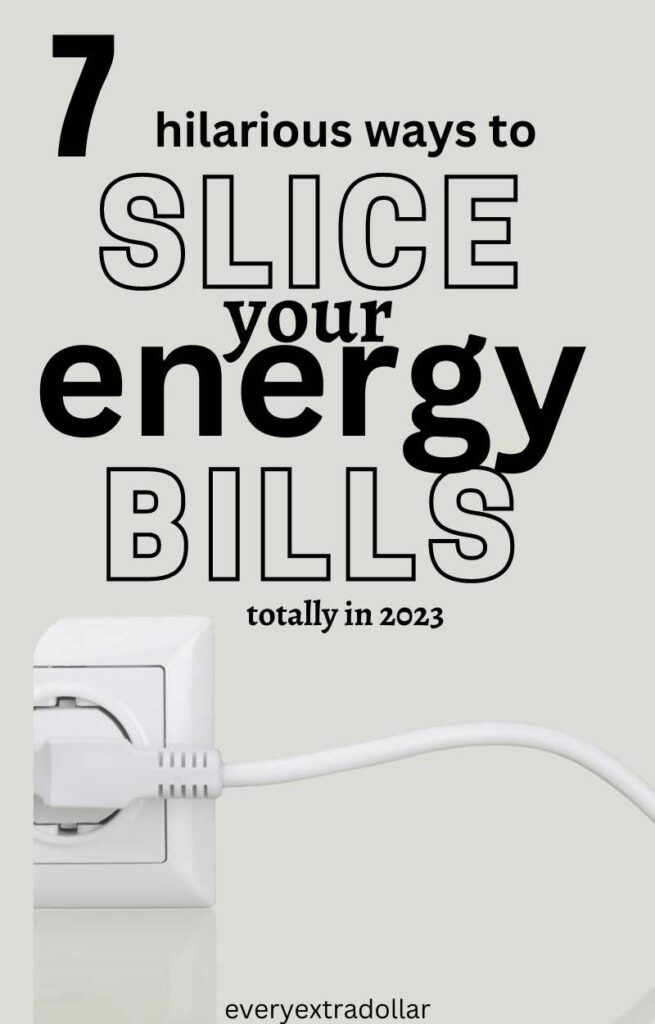 Who says cutting energy bills can't be fun? Host an energy dance party and get your groove on! Dim the lights, crank up the tunes, and dance like no one's watching.
You'll burn calories, create a disco atmosphere, and save energy all at once. Talk about being the life of the party and an energy-saving guru!
Folks, saving energy doesn't have to be a chore. With a little imagination and a sprinkle of humor, you can become the reigning champion of energy efficiency in 2023. So go ahead, embrace your inner energy ninja, and let the laughter and savings flow!
Disclaimer: The tips mentioned in this blog post are purely for comedic purposes. Please consult real energy-saving resources and professionals for genuine advice. Laughter is free, but energy bills are not!