We've rounded up a collection of "Spooktacular DIY Halloween Crafts to Make and Sell." So, grab your crafting supplies, embrace the Halloween spirit, and let's start crafting our way to some extra treats this season!
Get ready to turn your creativity into cash with these spine-tingling DIY Halloween crafts! With Halloween just around the corner, there's no better time to conjure up some spooky, yet charming, creations that can be crafted and sold for extra income. From eerie home decor to hauntingly beautiful accessories,
Here are some unique DIY Halloween crafts that are not only fun to make but also great for selling. Even If you're a seasoned crafter or a beginner looking to dip your hands into crafting for money, then, these simple and spooky crafts are sure to be a hit.
Related:
25 Spooktacular DIY Halloween Crafts to Make and Sell for Extra Income
1. Wicked Witch Hat Wreaths
Materials Needed
Black felt, a foam wreath form, ribbon, and a hot glue gun.
Instructions to make
Cut the black felt into strips and wrap them around the wreath form, securing them with hot glue. Create a bow with the ribbon and attach it to the wreath. Hang it on your door or sell it as a unique Halloween decoration.
2. Mason Jar Jack-o'-Lanterns
Materials Needed
Mason jars, orange paint, black paint, paintbrushes, and tea lights.
Instructions
Paint the mason jars orange and let them dry. Then, paint spooky faces with black paint. Place tea lights inside the jars for an eerie glow. These make great table centerpieces or porch decorations.
3. Spiderweb Dreamcatchers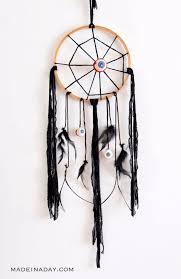 Materials Needed
Embroidery hoops, black yarn, white yarn, black beads, and a hot glue gun.
Instructions
Wrap the embroidery hoop with black yarn to create the frame. Then, use the white yarn to weave a spiderweb design within the hoop. Add black beads to represent spiders. These unique dreamcatchers are perfect for hanging in windows or on walls.
4. DIY Ghostly Luminaries
Materials Needed: White paper bags, black construction paper, LED tea lights, and scissors.
Instructions: Cut ghostly faces out of the black construction paper and glue them onto the paper bags. Place LED tea lights inside the bags, and watch as they create a spooky atmosphere when lit. These luminaries are perfect for lining your walkway on Halloween night.
5. Easy Bat Garland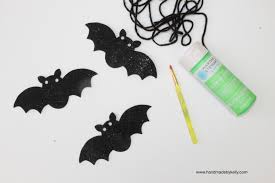 Materials You Need
Black felt, white paint, a bat-shaped template, string, and a hole punch.
Instructions
Trace and cut out bat shapes from the black felt using the template. Use white paint to add spooky details to the bats. Punch holes in the bats and string them together to create a garland. Hang it indoors or outdoors for a festive touch.
6. Haunted House Terrariums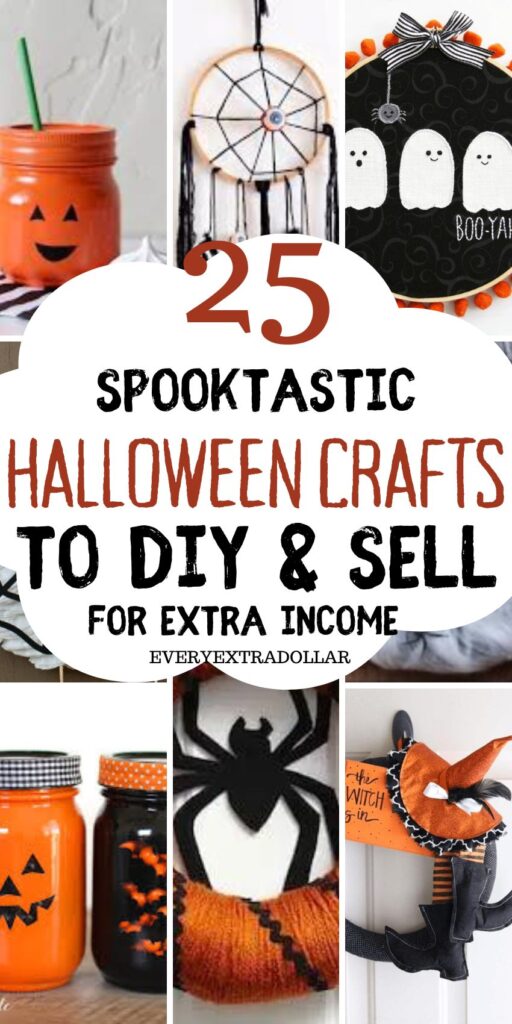 Materials
Small glass jars, miniature Halloween figurines, faux moss, and black paint.
Instructions
Paint the lids of the glass jars black for a spooky base. Add faux moss and miniature Halloween figurines inside the jars to create your own tiny haunted scenes. These make for unique and eye-catching decorations.
7. Potion Bottle Decorations
Materials
Small glass bottles, labels, and various colored liquids (water with food coloring).
Instructions to Make
Fill small glass bottles with colored liquids and label them as spooky potions. These make great decorations for shelves or tabletops.
8. Witches' Broomstick Pens
Materials Needed
Small twigs, black thread, and ballpoint pens.
Instructions
Attach a small twig to the top of a ballpoint pen using black thread to create a mini witches' broomstick pen. Perfect for Halloween-themed stationery.
9. Halloween Lollipop Bouquets
Materials You Will Need
Halloween-themed lollipops, a flowerpot or container, foam, and ribbon.
Instructions
Insert the lollipops into the foam inside the container, arranging them like a bouquet. Decorate with ribbon and sell these sweet treats as Halloween gifts.
10. Monster Bookmarks
Materials Needed
Craft foam sheets, googly eyes, and markers.
Instructions
Cut out bookmark shapes from craft foam, decorate them as colorful monsters, and attach googly eyes. These make fun and functional Halloween-themed bookmarks.
11. Halloween Bat Mobile
Materials
Black construction paper, string, and a stick.
Instruction Guide
Cut out bat shapes from black construction paper, attach them to strings, and hang them from a stick to create a spooky mobile.
12. Candy Corn Vases
Materials Needed
Glass vases, white, orange, and yellow paint, and paintbrushes.
Instructions
Paint glass vases to resemble candy corn. Fill them with seasonal flowers or use them as candle holders.
13. Haunted House Cookie Jars
Materials Needed
Glass jars with lids, black paint, and miniature haunted house figurines.
Instructions
Paint the jar lids black and glue miniature haunted house figurines on top. These make for spooky kitchen decorations or gift containers.
14. Halloween Tote Bags
Materials Needed
Plain canvas tote bags, fabric paint, and stencils.
Instructions
Use stencils to create Halloween-themed designs on plain tote bags. These are perfect for trick-or-treating or carrying groceries.
15. Ghostly Candle Holders
Materials Tips
Glass candle holders, white tissue paper, and Mod Podge.
Instructions
Tear white tissue paper into ghostly shapes, adhere them to the candle holders using Mod Podge, and place LED tea lights inside for a haunting glow.
16. Candy Corn Bath Bombs
Materials Needed
Bath bomb molds, baking soda, citric acid, Epsom salt, essential oils, food coloring, and candy corn-shaped molds.
Instructions
Create candy corn-shaped bath bombs with Halloween scents and colors. Package them attractively for a unique bath-time treat.
17. Halloween Coasters
Materials Needed
Wooden coasters, acrylic paint, and sealant.
Instructions
Paint Halloween-themed designs on wooden coasters and seal them for a lasting finish. These make great home decor items.
18. Rope Spiderweb Earrings
Materials
Black wire, jewelry pliers, and earring hooks.
Instructions
Use black wire to create intricate spiderweb designs and attach them to earring hooks. Sell them as spooky accessories.
19. Witch's Hat Planters
Materials Needed
Small plastic or clay planters, black paint, and faux spiders.
Instructions
Paint the planters to resemble witches' hats and add faux spiders for a creepy touch. Ideal for small plants or succulents.
20. Halloween-themed Soaps
Soap molds, glycerin soap base, essential oils, and Halloween-themed soap embeds (e.g., spiders, pumpkins).
Instructions
Make Halloween-themed soaps using a glycerin soap base and embed spooky shapes inside. These make unique and functional gifts.
21. Cemetery Terrariums
Materials
Glass jars or containers, miniature tombstones, black sand, and miniature skeletons.
Instructions
Create mini cemetery scenes inside glass containers using tombstones, black sand, and skeletons. These are perfect for Halloween decor.
22. Pumpkin Spice Candles
Materials Needed
Candle wax, pumpkin spice fragrance oil, candle wicks, and orange candle dye.
Instructions
Make pumpkin spice-scented candles with orange coloring. Package them in decorative jars or tins.
23. Halloween Garland with Paper Bats
Materials Needed
Black and orange paper, string, and scissors.
Instructions
Cut out bat shapes from black paper and attach them to orange string to create a festive Halloween garland.
24. Spiderweb Table Runners
White or black fabric, fabric paint, and a paintbrush.
Instructions
Paint spiderweb designs on fabric table runners for a spooky addition to your Halloween table decor.
25. Halloween-themed Pillow Covers
Materials Needed
Plain pillow covers, fabric paint, and stencils.
Instructions
Use stencils to add Halloween-themed designs to plain pillow covers. These can instantly transform your home's decor.