As autumn paints the world in fiery hues, and the nights grow longer, our spirits awaken to the allure of Halloween's dark enchantment. And what better way to beckon the spirits than adorning our doors with DIY Spooky & Eerie Halloween Wreaths that embody the essence of this bewitching season?
No more mundane decorations for us; we crave something more sinister, more mysterious. We seek to celebrate the spookiness, the otherworldly, and the uncanny.
These Halloween wreaths are no mere ornaments; they are portals to a world of uncensored imagination, where frightful delights await those daring enough to venture forth.
Imagine a wreath of twisted branches, entwined with shimmering spiderwebs, and adorned with hauntingly realistic faux ravens. Or perhaps, a wreath of black roses, symbolizing beauty in darkness, with a touch of sinister elegance.
These Halloween wreaths breathe life into your doorways, enticing curious visitors and granting safe passage to the spirits that roam this hallowed eve.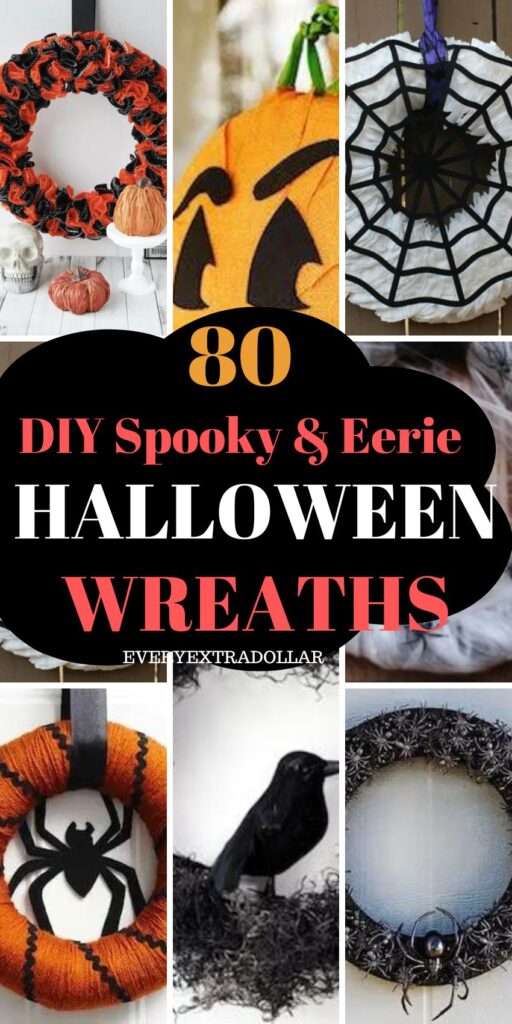 80 DIY Spooky & Eerie Halloween Wreaths For 2023
Spider Web
This eerie spiderweb wreath may be made using supplies from the dollar shop. Wire wreath, ribbon, and a spider in a web to glue in the center are all required materials.
Black ribbon wreath for Halloween

Normally, an all-black wreath wouldn't be thought of as particularly warm, but on Halloween night, it couldn't be more fitting. To complete the witchy theme, add a silhouette made of kraft paper.
Learn more by visiting Country Living.
Ghost Wreath

On this amusing and simple wreath craft, the sentence "The witch is in" is shown. Here, the legs and boots were actually purchased from a store and were taken from another Halloween decoration.
Learn more at Lolly Jane.
Hoops of Embroidery with Ghosts

Make a charming DIY project with an embroidery hoop, where the ghosts are much more adorable than frightening.
Visit Flamingo Toes to access the Ghost Embroidery Hoop Art lesson.
Chevron Halloween Wreath

This striking fabric-wrapped wreath features glittery bats that appear to swoop across the landscape.
Tater Tots and Jello has a tutorial for a Halloween Chevron Wreath.
White Paper Fan Wreath

Making this wreath from paper fans couldn't be simpler. Simply cut them open and glue them to a foam wreath form. Add any finishing touches you choose.
Learn how to make a paper wreath fan at Design Improvised.
Spider Web Boo Decoration

In order to give this project the appearance of a spider web, weave yarn around a grapevine wreath. Add wooden letters that spell out a brash Halloween message to complete the image.
Learn how to make a Boo Spider Web Wreath at Chicken Scratch NY.
Sugar Skull Wreath
The ideal contrasting element for this black and white striped wreath is provided by tropical tones. To match the other elements of your porch's decor, you can also choose your own colors.
The Crafted Sparrow has the instruction manual.
Black Cat Bouquet
Wreath looks awfully like a cat when two black ears are added. This easy project creates the ideal Halloween atmosphere!
Visit Shaken Together for the instruction.
Skull Wreath for Halloween

Okay, it's official—we're terrified. The tiny styrofoam skulls that make up this wreath are attached together with a combination of strong wire and hot glue.
Visit Tried & True to download the guide.
Wreath with Ribbons and Ghosts
This Christmas DIY wreath is so simple to make that you won't believe it. Knowing how to tie a slip knot puts you in the driver's seat.
Learn more by visiting Positively Splendid.
MIKE GARTEN
MIKE GARTEN
MIKE GARTEN
MIKE GARTE
MIKE GARTEN
ANTONIS ACHILLEOSH.
CHIKAPHOTOGRAPH//GETTY IMAGES
LISA HUBBAR
STEVE GIRALT
KATE MATHIS
BRIAN WOODCOCK
HANA-PHOTO//GETTY IMAGES
Halloween Wreath with a Black Crow

With this wreath design in all-black, spookiness is served. A creepy fake crow has the ideal "nest" made out of a base of grapevine that has been spray-painted.
Visit A Pumpkin & a Princess for the instruction.
Halloween Ribbon Wreath
Choose an array of black, white, orange, and red ribbons and alternate tying them around a foam wreath. The best part, imperfection is the point!
Get the tutorial at Landeelu.
Customized Hay Wreath
Black wooden letters and hay bales are common farmhouse-chic Halloween decorations. This wreath is fantastic since you can personalize it in three different ways for re-use each year!
Glittery Spider Wreath
Glittering and eerie? Please, yes! The components on this eerie wreath have an extra exciting splash of color thanks to the blogger's usage of glitter.
Get the tutorial at Dream a Little Bigger.
Witch Crash Bouquet

With this one-of-a-kind door decoration, you may make your visitors look twice. It's horribly unanticipated!
The Alison Show has the instruction.
Dessert Liner Wreath

Put your glue gun away and get your baking supplies ready! To build this wreath, all you need is a foam wreath form, some cupcake liners, pins, and ribbon.
Visit MomDot to get the tutorial.
Halloween Spider Web Wreath

This wreath is the ideal fusion of charming and spooky thanks to a little gingham, lots of glitter, and a few miniature skeleton heads.
Visit A Pumpkin & a Princess for the instruction.
Spider Wreath
All you need to build this wreath is spider web, a white berry wreath from the craft store, and toy spiders..
Pink Peppermint Design has a tutorial for a Spider Wreath.
Nightmare Before Christmas Wreath
Simple Pumpkin Wreath from Parents
Chevron Spiderweb
Wreath Chevron fabric and web netting give this wreath a pleasant and bright appeal rather than sinister or spooky.
Making Home Base has instructions for a Spiderweb Chevron Wreath.
Halloween Coffee Filter Wreath

Whether you like coffee or not, you can easily build this eerie wreath with only four supplies. Keep an eye out for spiders if you hang it on your front door!
Get the Halloween Coffee Filter Wreath tutorial from Made With Happy.
Get the tutorial at The Homes I Have Made.
Spider Web Wreath from Mom Endeavors
Musty Wreath Relic from Martha Stewart
Orange and Black Spider Wreath from Better Homes and Gardens
Crow Wreath from Celebrate and Decorate
DIY Halloween Crow Wreath from Boxwood Clippings
Wriggling Snake Wreath from Martha Stewart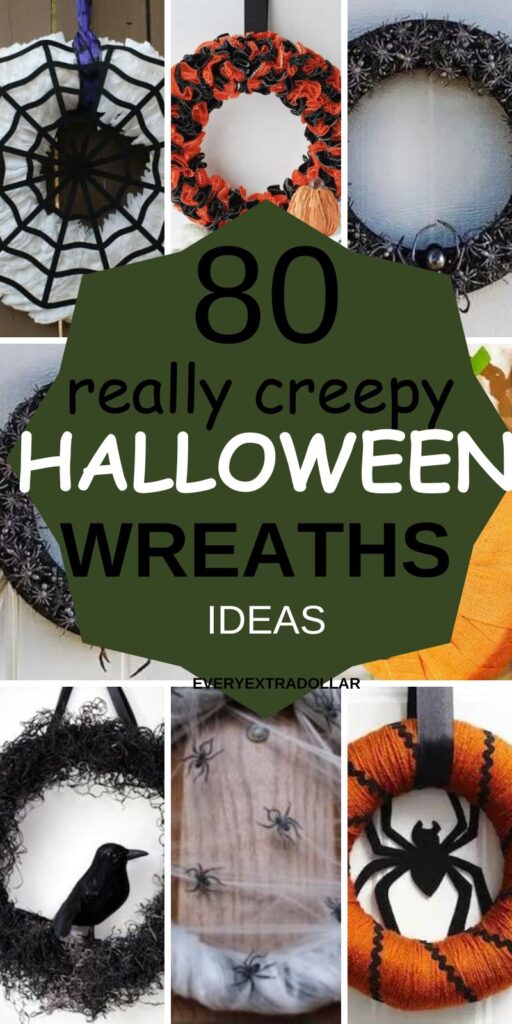 Related: 30 Cheap Halloween Snacks Ideas to Serve at Your Party