Get into the autumn spirit with these collections of 120 Cheap & Easy Fall Crafts For Adults. Be madly creative with charming DIY projects that capture the essence of the season, from cozy home decor to delightful accessories. Find the beauty of fall without breaking the bank. #FallCraftsForAdults
As fall approaches in just a few weeks, it's a great time to start thinking about fun craft ideas for you, your family, and your friends.
We're talking about things like painting pumpkins, both the carved and non-carved kind, making leafy garlands, and doing DIY projects that can be used for Thanksgiving and Halloween decorations.
Your kids are probably excited about these fall crafts, and it would be even more enjoyable if you joined in on the crafting fun with some ideas for adults.
There's something special about getting everyone together for a day of crafting, especially when the weather starts to get cooler in the fall.
This season offers activities that you might not find in other months, like picking apples, going on hayrides, and enjoying the beautiful colors of the leaves.
While you're doing all these things, you can collect leaves, apples, and pinecones to make beautiful fall decorations.
You can create cool wreaths and decorate your mantel and fireplace with carved pumpkins and candy corn garlands (though you can't eat the garlands, unfortunately!).
The best part is that a lot of these craft ideas are easy for both beginners and experienced crafters. Even your little ones can help with painting, drawing, and cutting (with your supervision, of course).
So, grab your crafting supplies and get ready to make this fall season super cozy and amazing!
Related: 102 Lovely DIY Christmas Cards Ideas
120 Cheap & Easy Fall Crafts For Adults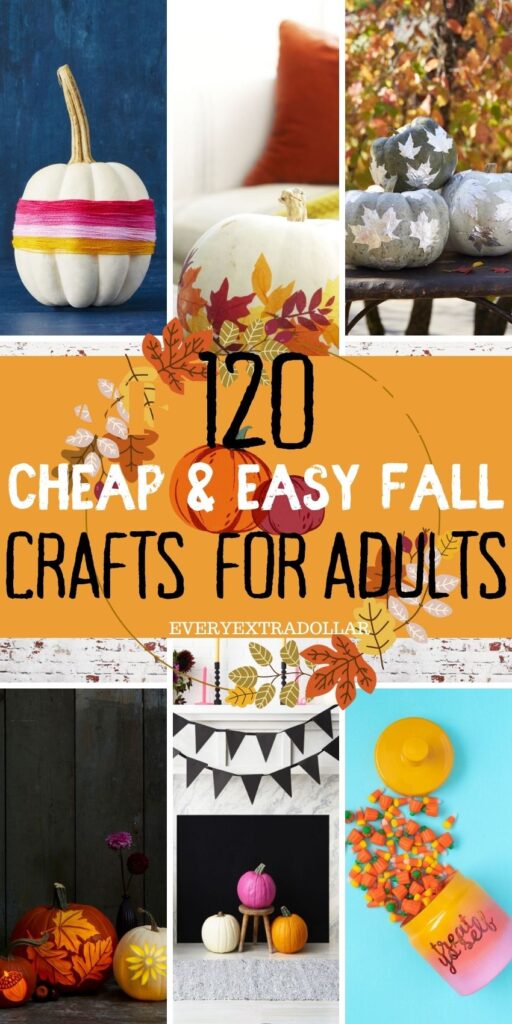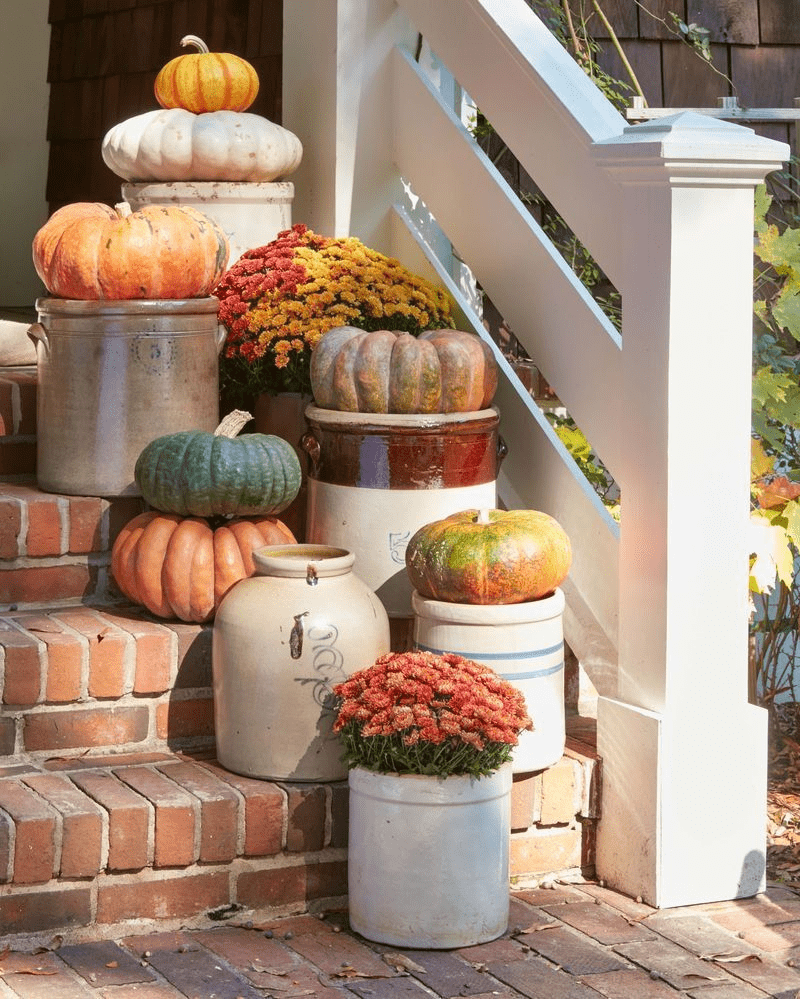 Becky Luigart-Stayner
Crock Pumpkin Perch
This decoration really screams autumn! Decorate the porch or front stairs with a collection of mums and flat, wide pumpkins sitting atop crocks.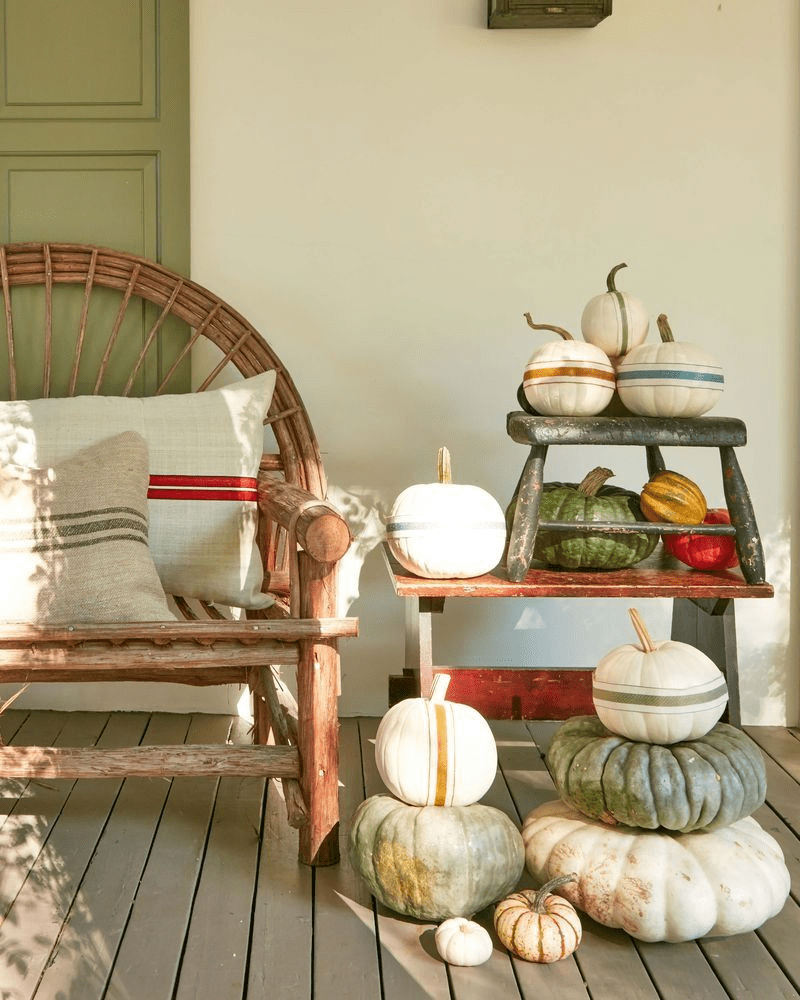 Becky Luigart-Stayner
Sack Pumpkins in Grain
For this year's pumpkin decor, draw inspiration from a classic of the American countryside: vintage French grain sacks. To create a cozy fall greeting, put on display on the front porch, perhaps next to a bench with pillows covered in grain sacks.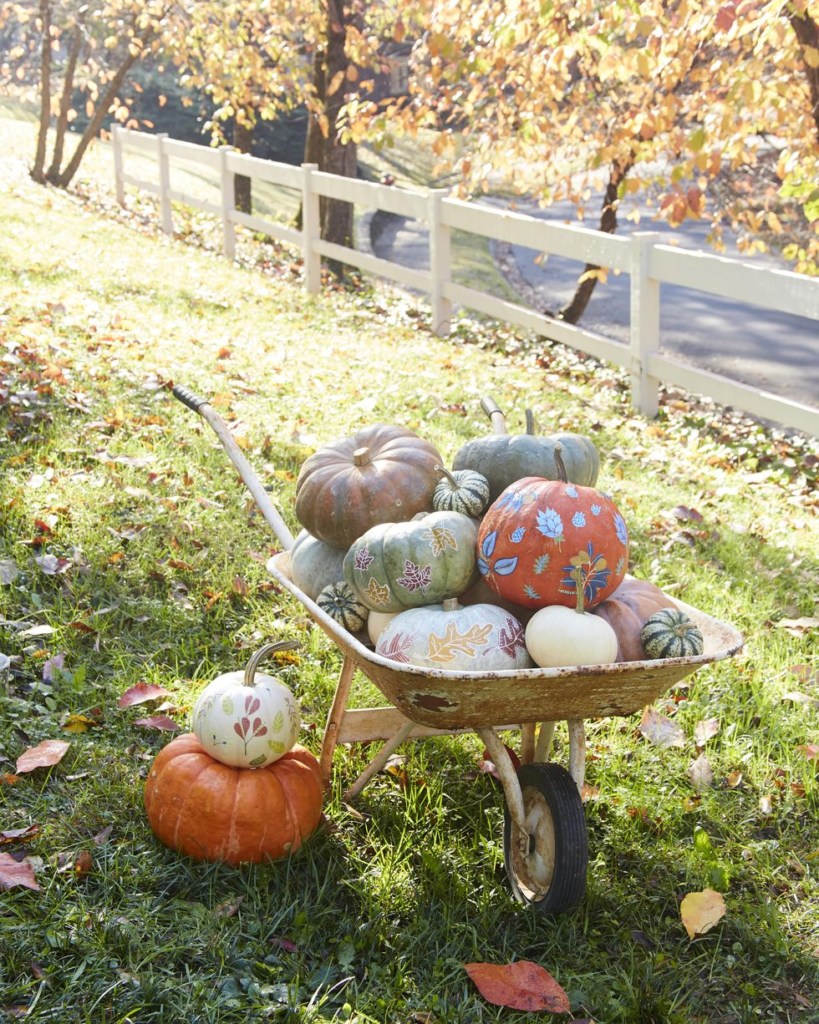 Becky Stayner
Leaf-inspired pumpkins
With a wheelbarrow full of pumpkins that have been painted and decoupaged with leaf patterns, greet trick-or-treaters and well-wishers. To bulk out the display without adding additional work, include a ton of pumpkins in all sizes and hues.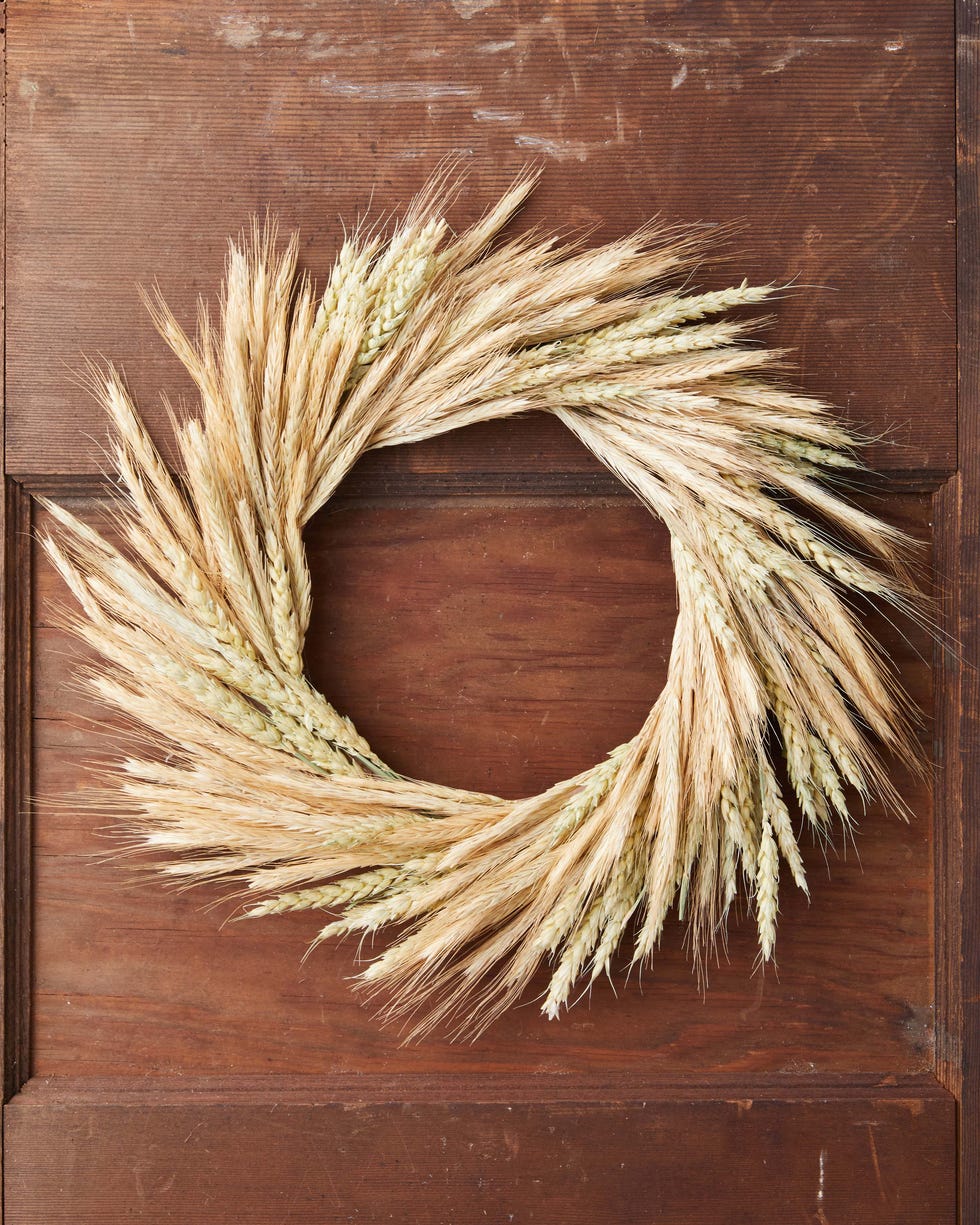 Wheat Wreath
The common wheat wreath was given more texture and color by using two distinct kinds of wheat.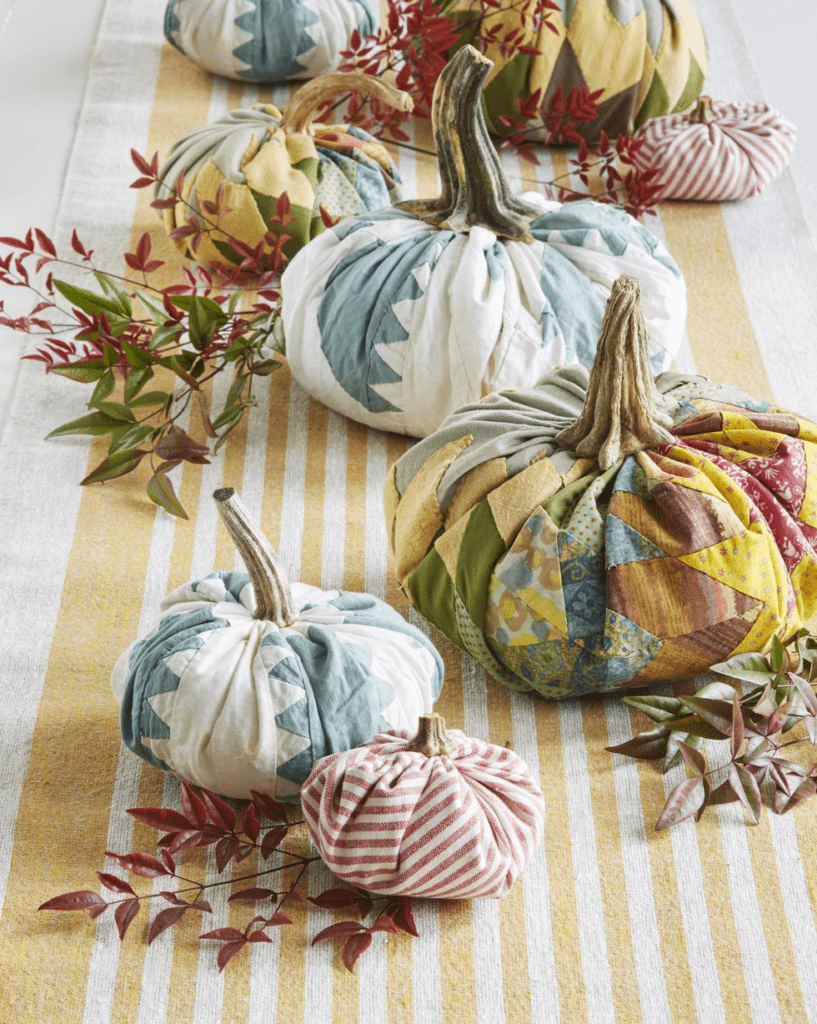 Annie Schlechter
pumpkin centerpiece made of fabric
Make your own custom pumpkin patch out of discarded fabric and old quilts. To make, begin with a ball of batting and a round piece of cloth (about the size you want your finished pumpkin to be).
The cloth should be gathered up around the batting, and the center should be hot glued. For a genuine touch, gather dried stems or buy artificial stems and glue them on. Place a runner along the center of a long farmhouse table before adding your masterpieces and other seasonal foliage. They would also make a sweet addition to a buffet or mantel.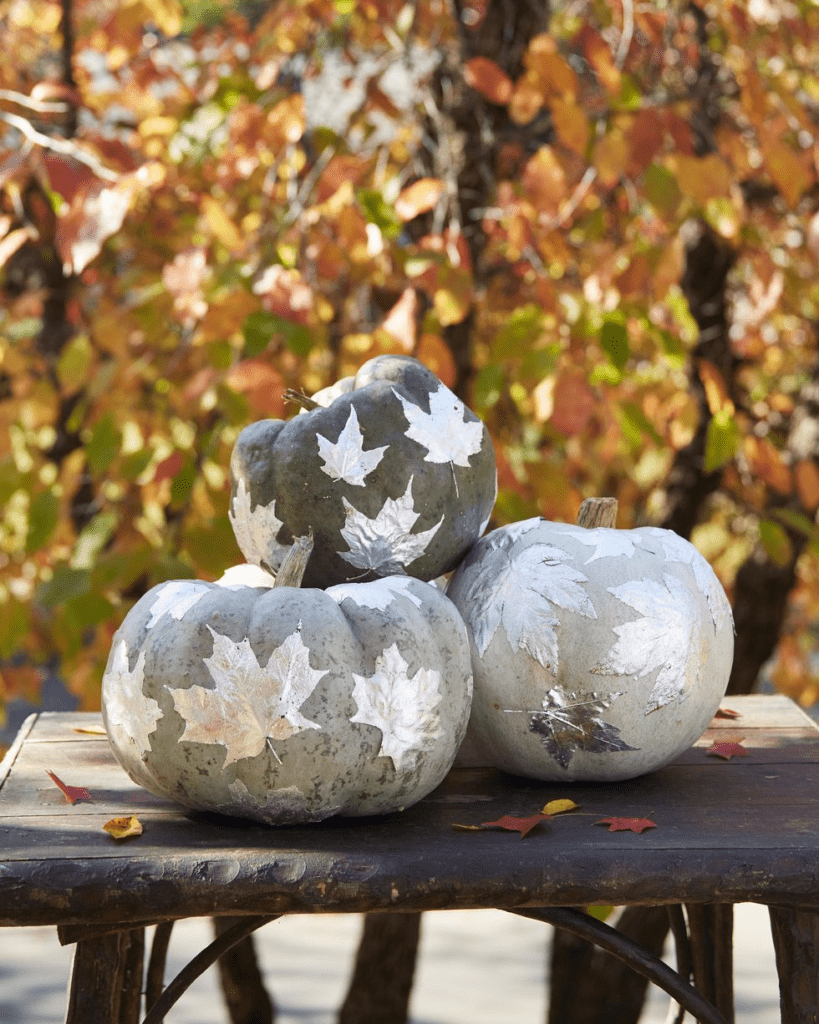 Becky Stayner
Pumpkins with silver leafing
On green or blue-hued pumpkins like Jarrahdale, Blue Doll, Blue Moon, and Fairytale, these homemade shimmering leaves look fantastic.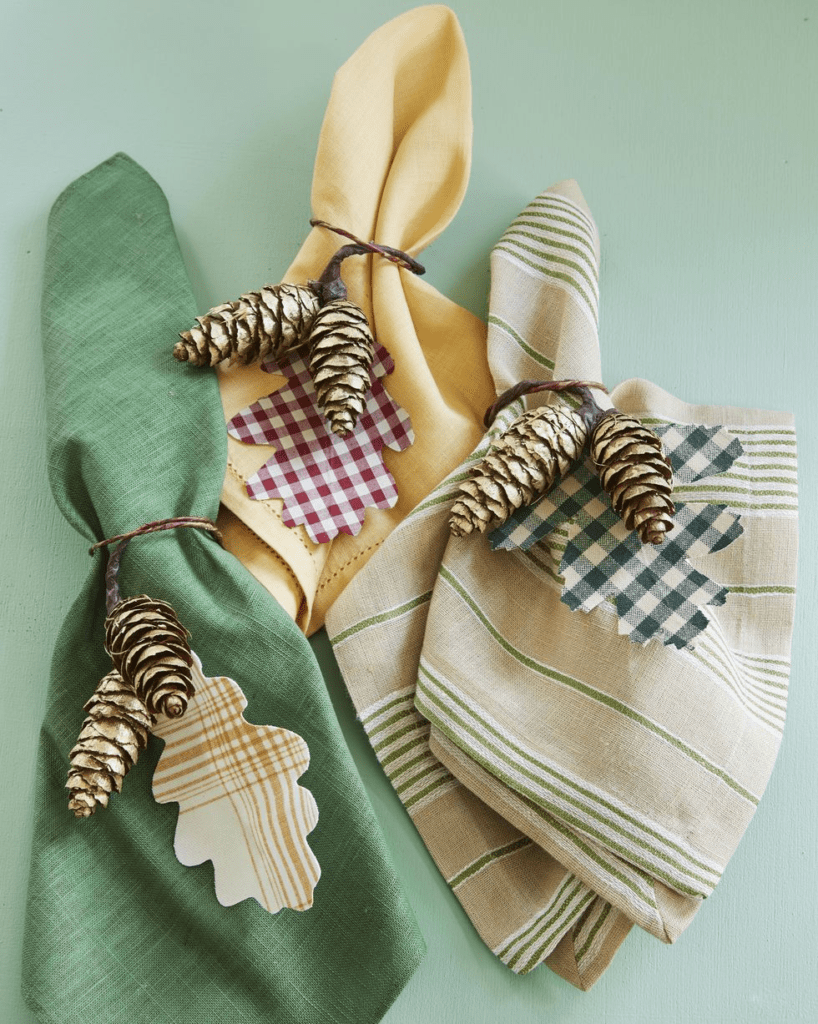 Annie Schlechter
Pinecone & Leaves Napkin Rings
Cutouts of cloth in the shape of oak leaves are tied together with miniature pine cones that have been spray painted gold. To create a stylish dining arrangement, tie around napkins of the same hue.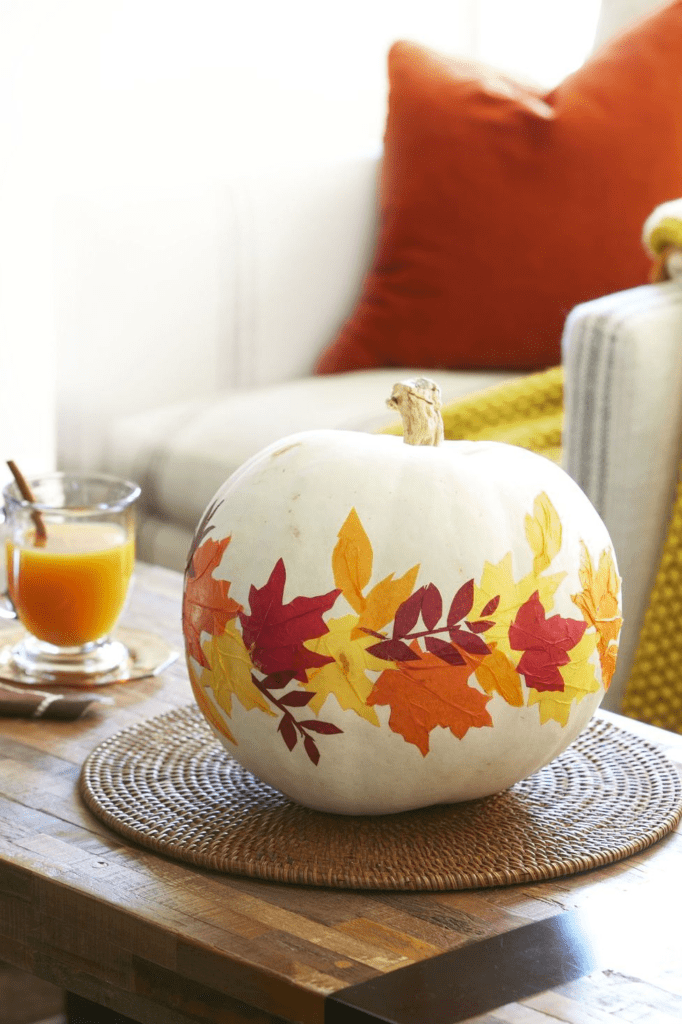 MICHAEL PARTENIO
Pumpkins painted with leaves
Not everyone will love carving pumpkins, especially if they dislike the sticky sensation that goes along with it. Before using glue, trace leaves onto tissue paper and cut them out.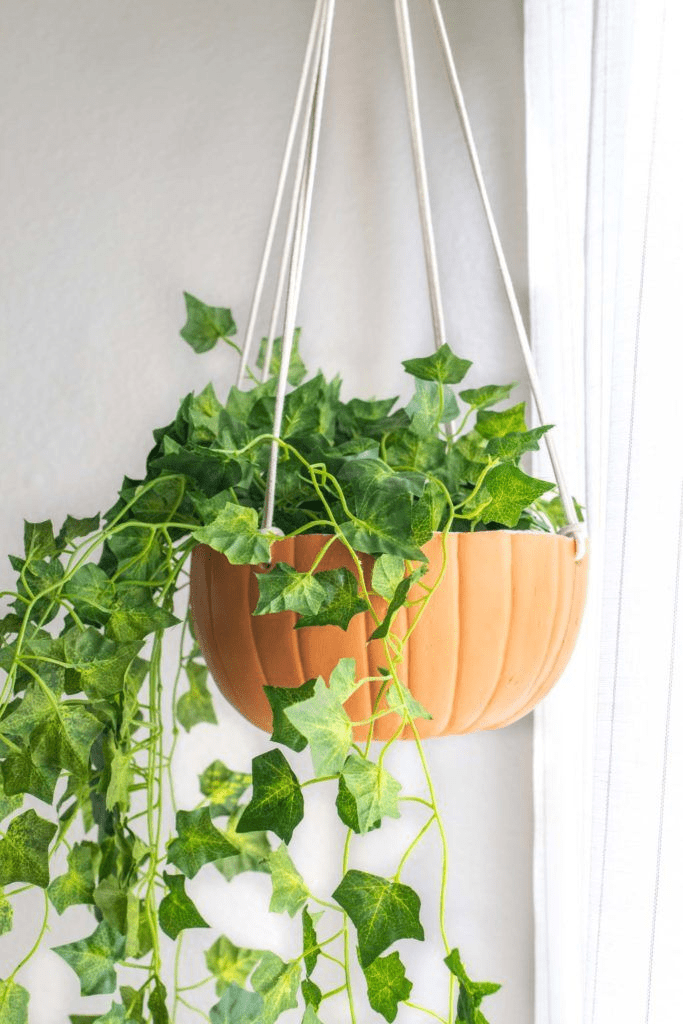 CLUB CRAFTED
Hanging Pumpkin Planter
Before wrapping a rope or Macrame cord around the top of a plastic pumpkin, carve out the shape using a craft knife. Put your favorite plant in the vacant spot, then save your new planter for when you decide to transplant.
Get the tutorial at Club Crafted »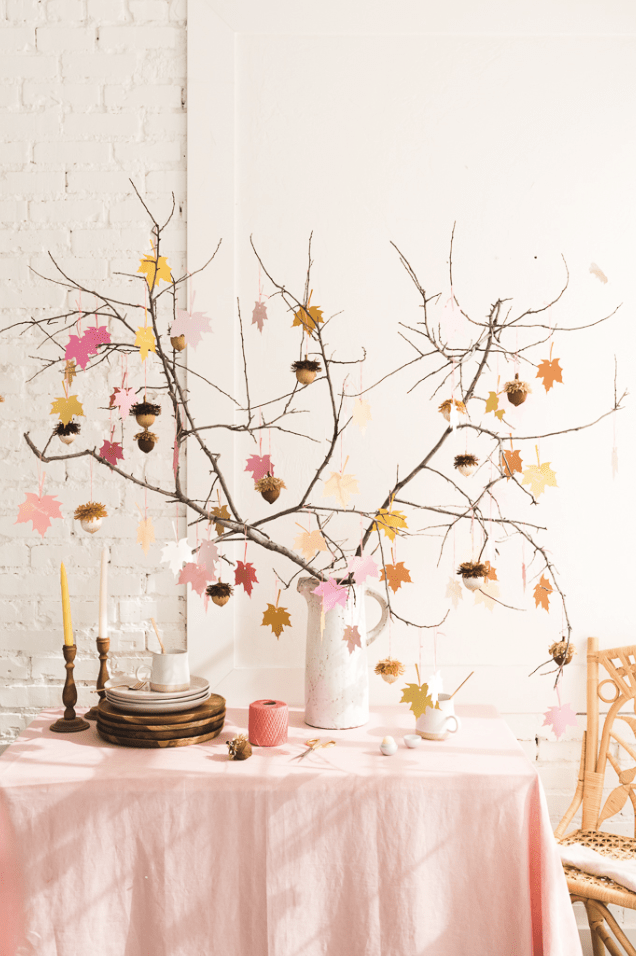 THE HOUSE THAT LARS BUILT
Thankfulness: Acorn Tree
An innovative approach to express your gratitude is with a gratitude tree. Homemade paper leaf and acorn ornaments can give the tree an autumnal look.
Get the tutorial at The House That Lars Built »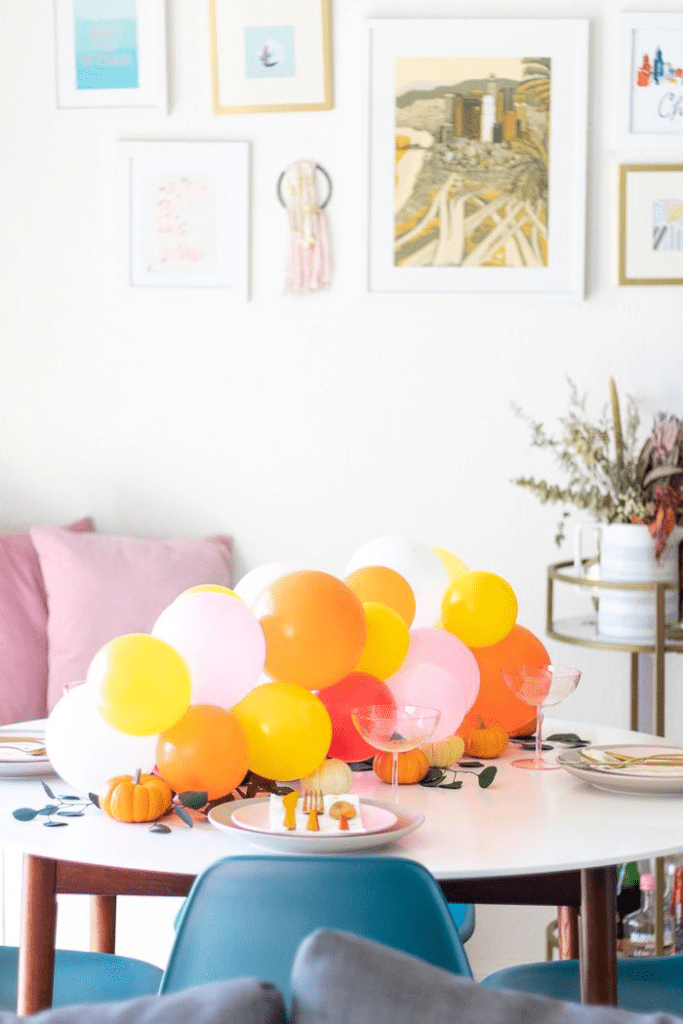 CLUB CRAFTED
Balloon and pumpkin centerpiece
Your table might get the update it needs to stand out with the help of the ideal centerpiece. Create a colorful focal point by blowing and tying together balloons, and then add real or fake pumpkins as a decorative finishing touch.
Get the tutorial at Club Crafted »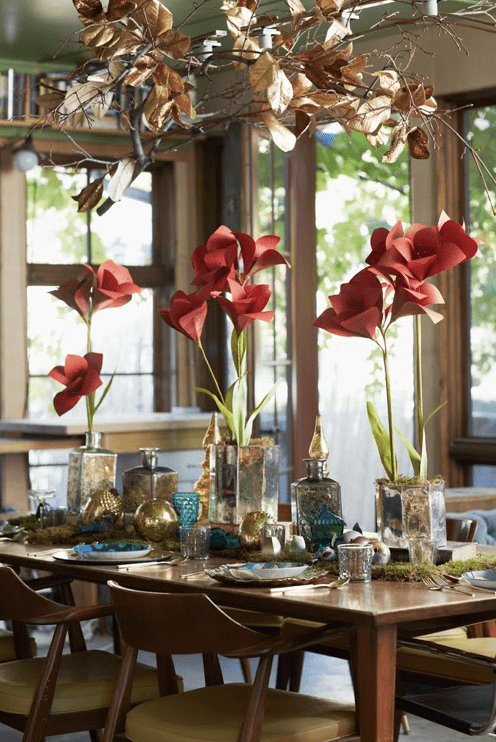 THE HOUSE THAT LARS BUILT
Amaryllis in paper
Why spend money on an amaryllis plant when you can make your own and have it last longer all month? This blogger created hers herself as a centerpiece and added gold flatware to improve the appearance.
Get the tutorial at The House That Lars Built »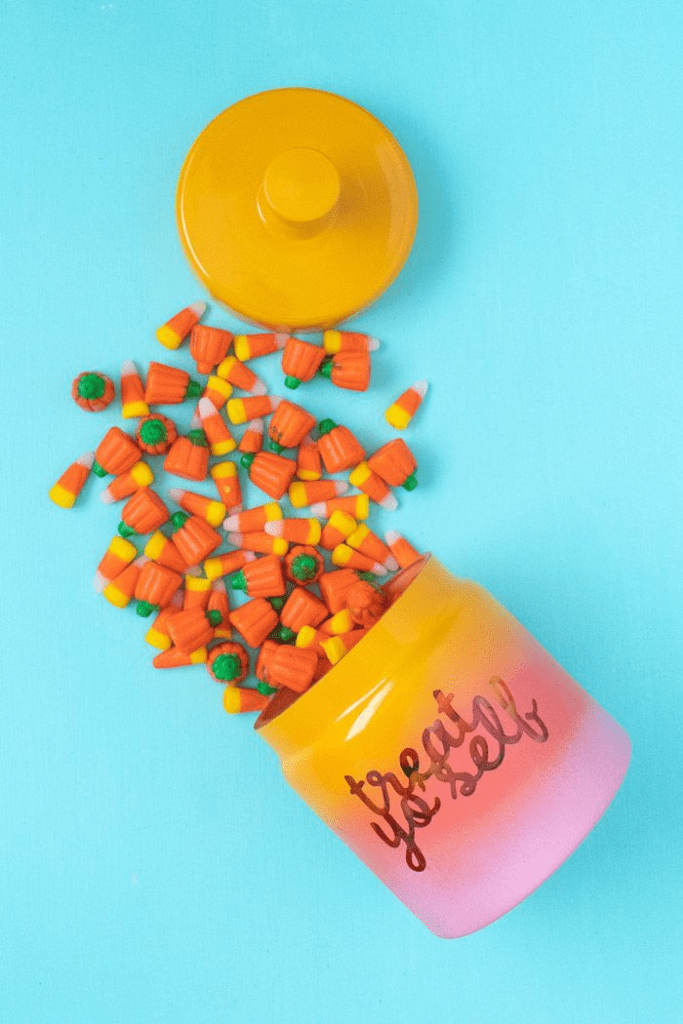 CLUB CRAFTED
Jar of Halloween treats
Before spray painting your glass jar in a rainbow of hues, add a cute sticker. Paint in the colors orange, white, and yellow to resemble candy corn.
Get the tutorial at Club Crafted »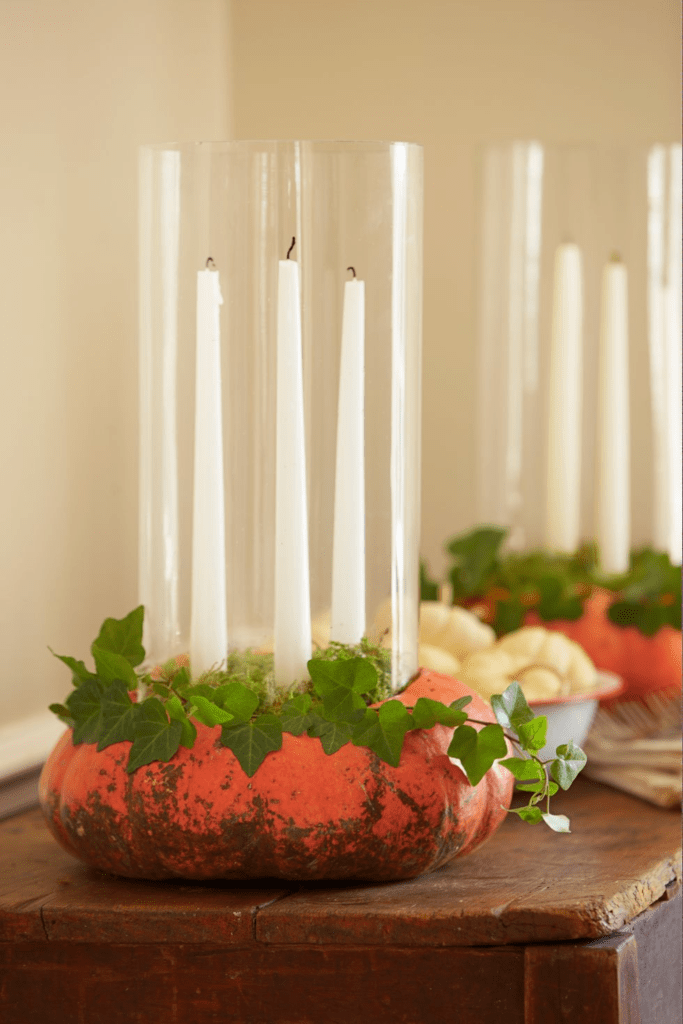 MICHAEL PARTENIO
Luminaries Pumpkins
This concept allows you to make use of any surplus or unused candlesticks. Scoop out low-lying pumpkins, then insert taper candles. Give your sculpture a rustic and gloomy look by wrapping it in artificial vegetation.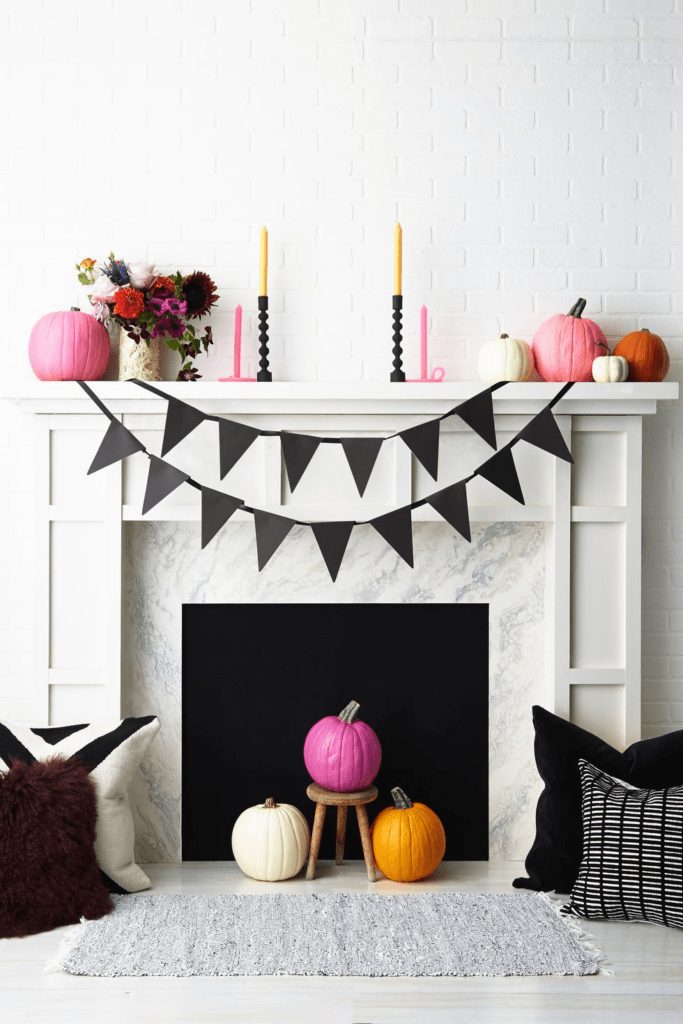 DANIELLE OCCHIOGROSSO
White Bunting
By cutting pennants from thick construction paper, you may make a banner that is worthy of serving as the centerpiece of your mantel. You can leave them blank or type your desired message in full.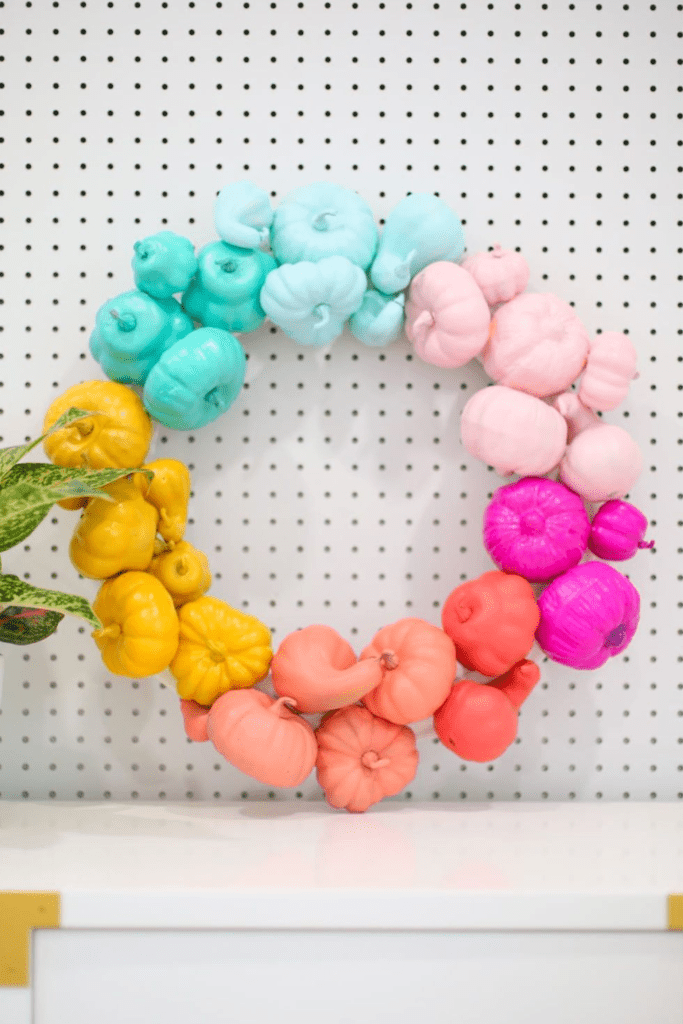 LOVELY INDEED
Bright Gourd Wreath
Decorate your walls or front door with a vibrant gourd wreath. Employ fall colors if you choose, or a rainbow color scheme.
Get the tutorial at Lovely Indeed »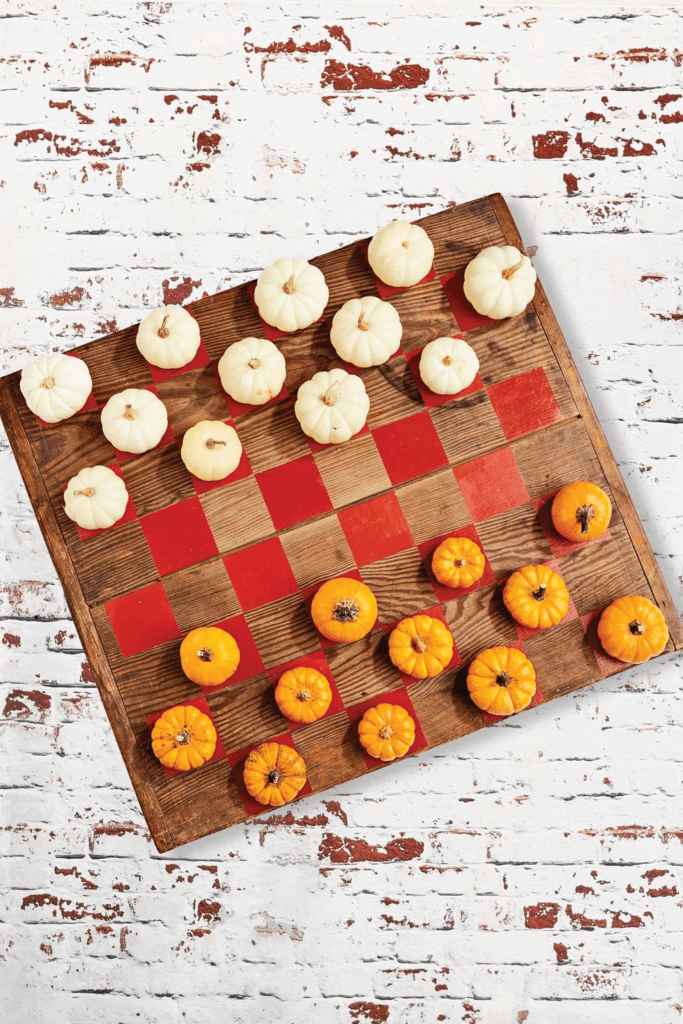 BRIAN WOODCOCK FOR COUNTRY LIVING
Pumpkin Checkers
Fans of crafts and games will appreciate this DIY pairing. As an entertaining substitute for the typical store-bought version. On a sizable wood board, use burnt orange craft paint to create 32 squares. You will need small white and orange pumpkins for your parts.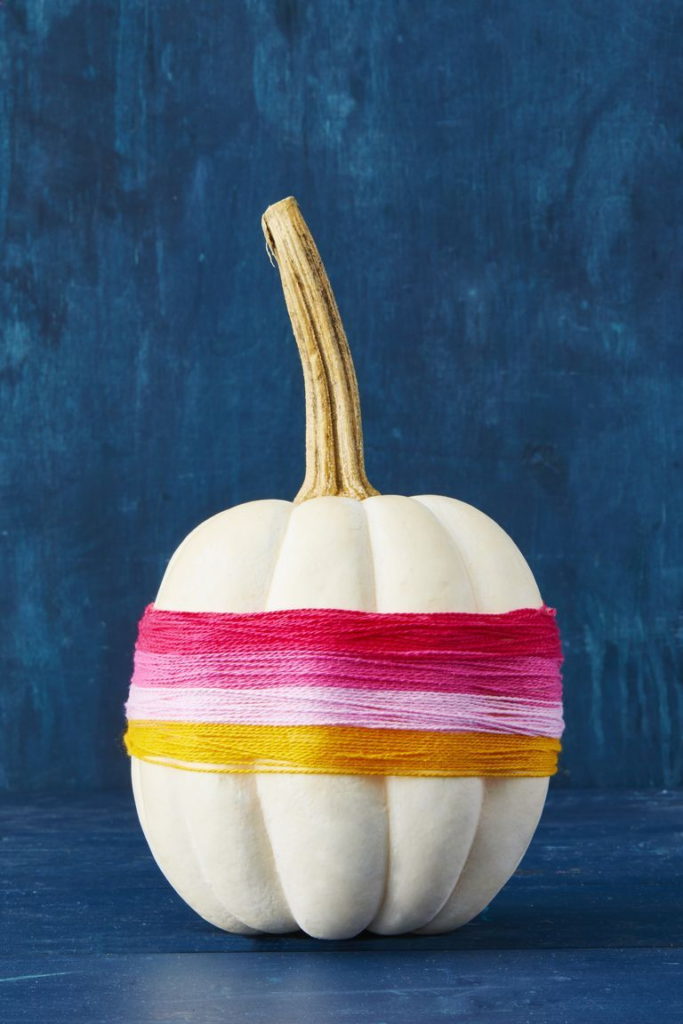 MIKE GARTEN
Pumpkin Embroidery Thread
Instead of a scary jack-o-lantern, choose a lovely pumpkin. Wrap each thread around the pumpkin 20 times (about) and glue the ends together for a quick splash of color. Repeat in as many different hues as you desire.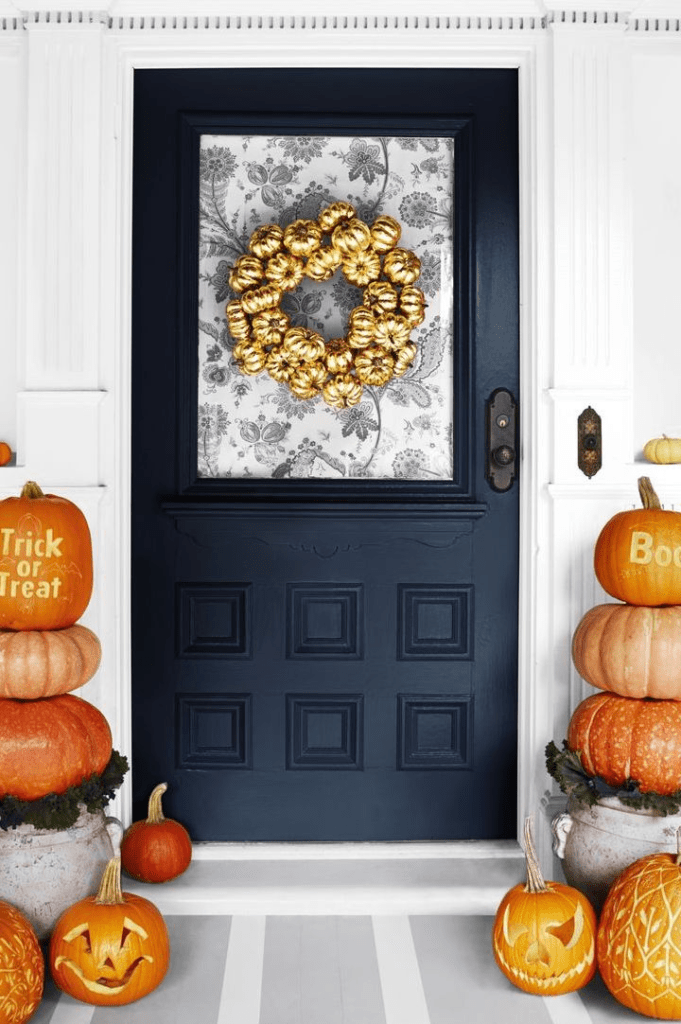 JOHN KERNICK
Small Pumpkin Wreath in Gold
Hang this wreath on your door in September and keep it up until Thanksgiving to get the most out of your DIY project. From beginning to end, it takes less than ten minutes: Place miniature plastic pumpkins in a circle around the wire wreath frame, glue them in place, and spray-paint the entire thing gold.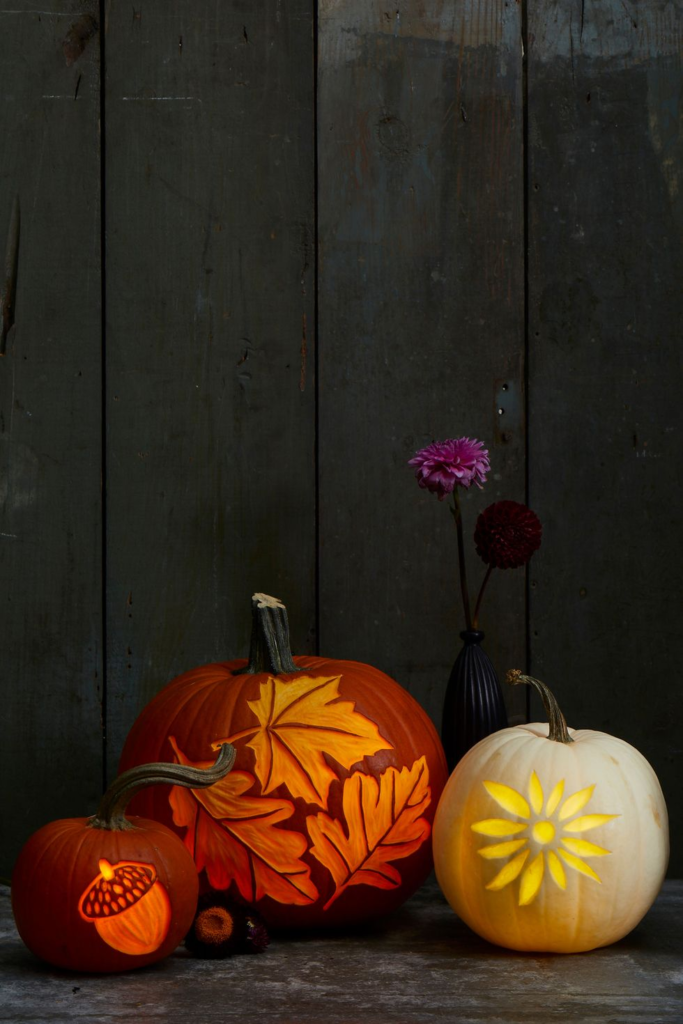 MIKE GARTEN
Pumpkins Inspired by Autumn
Keep in mind that you are merely carving the surface with these designs. Utilize Lino Cut tools for the carving and our templates (leaves, flowers, and acorns) together with washable chalk markers for tracing. To ensure that the pumpkins last as long as possible over the fall season, spray vinegar on them.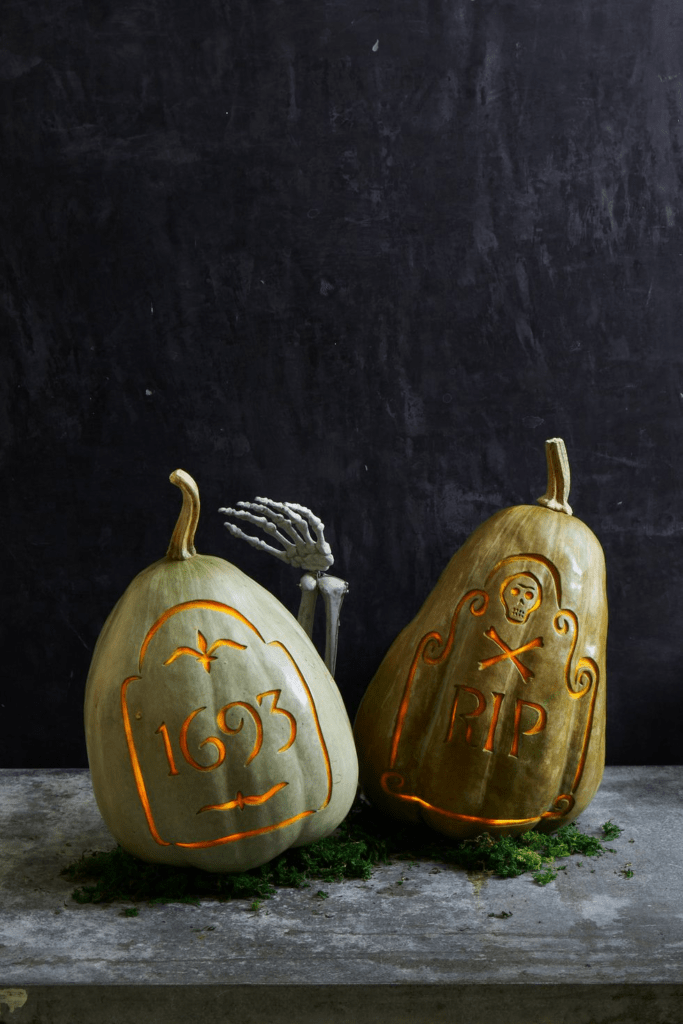 MIKE GARTEN
Pumpkins for gravestones
Let your Halloween and fall décor be inspired by old gravestones! Using a tall, black pumpkin, start by cutting out our headstone template. Before placing these eerie gourds on the front porch or lawn, add lights inside.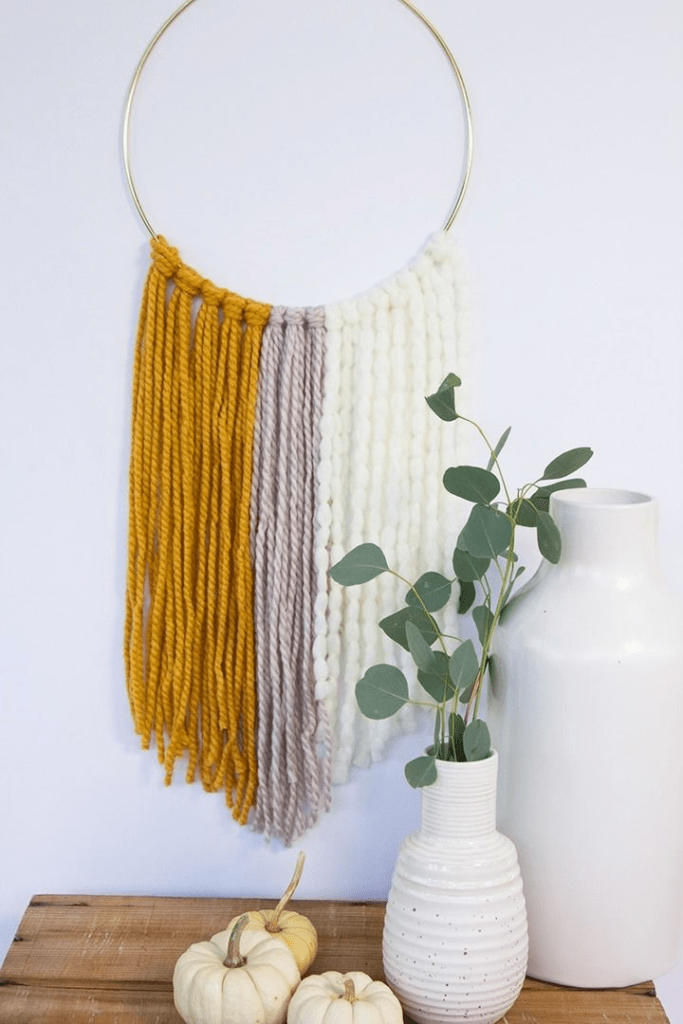 ALICE & LOIS
Yarn Wall Hanging
Create a beautiful wall hanging using a macrame gold hoop, chunky yarn, and oatmeal yarn. It may be left up long beyond fall. Hence, sewing is not necessary. You only need to be able to tie a simple knot!
Get the tutorial at Alice & Lois »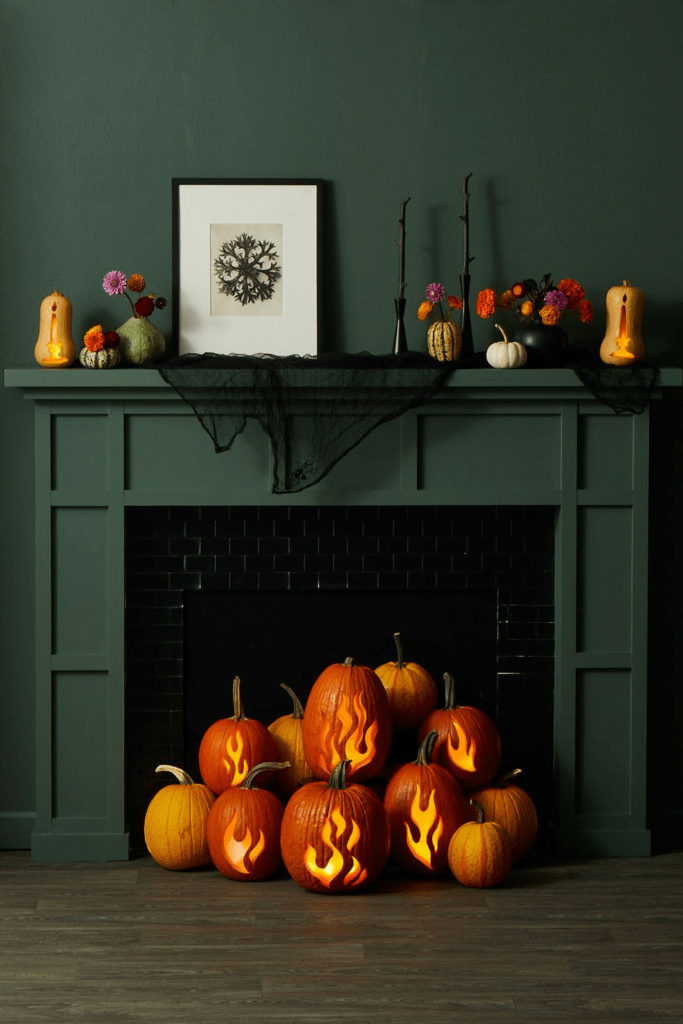 MIKE GARTEN
Burning Pumpkins
With lights inside for a spooky glow, these carved flame pumpkins will illuminate your environment. This flame pattern can be downloaded, traced, and cut out. To add your LED tealights, carve a hole from the bottom of the pumpkin.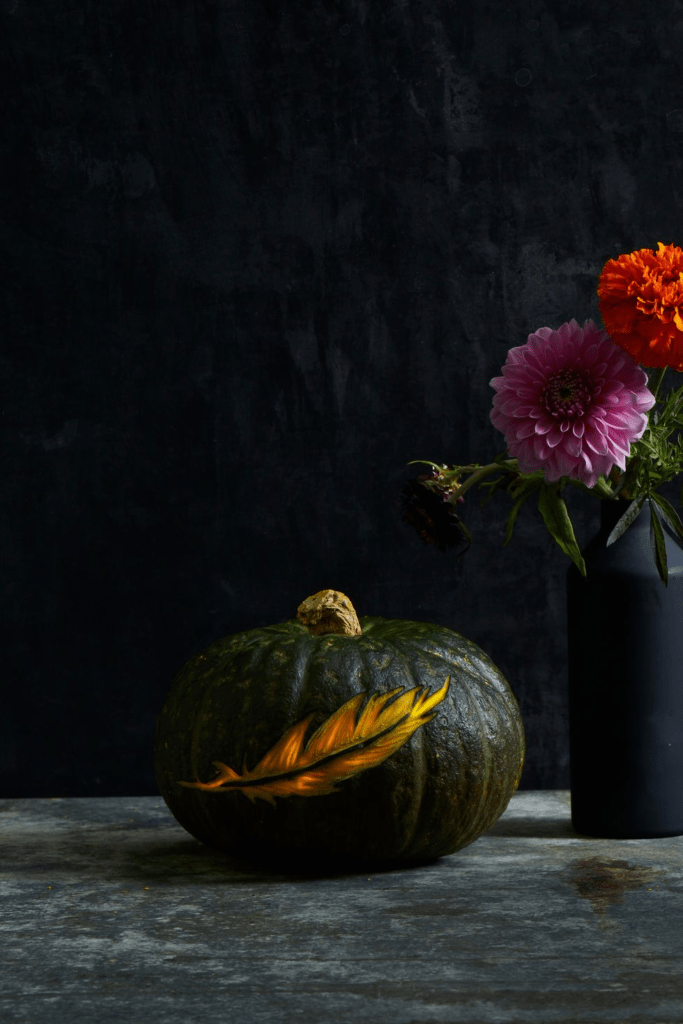 MIKE GARTEN
Feather Pumpkin
Use washable chalk markers to draw the pattern on your gourd, and then use Lino Cut tools to remove the skin's top layer. Use a combination of long and quick strokes to add texture. The design will then survive the season if vinegar is sprayed on it.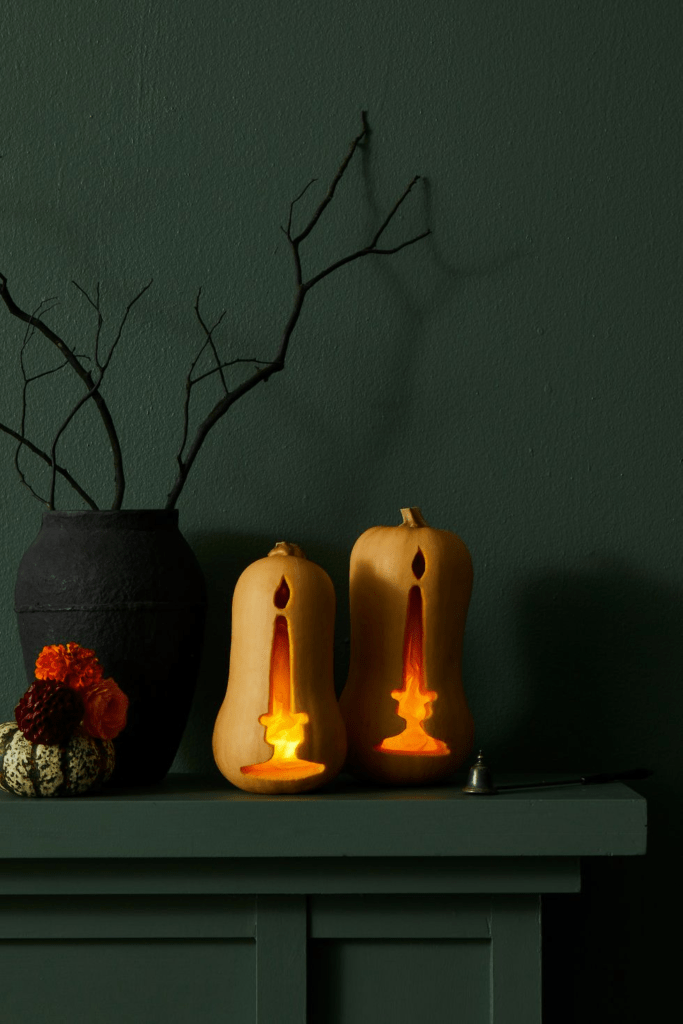 MIKE GARTEN
Pumpkins with candle carvings
Put these creative patterns on tall squash. You must first cut a circular aperture from the bottom. Afterward, download this candlestick template and use washable chalk markers to trace it. Place your new candlesticks over string lights for the glow after cutting along the design.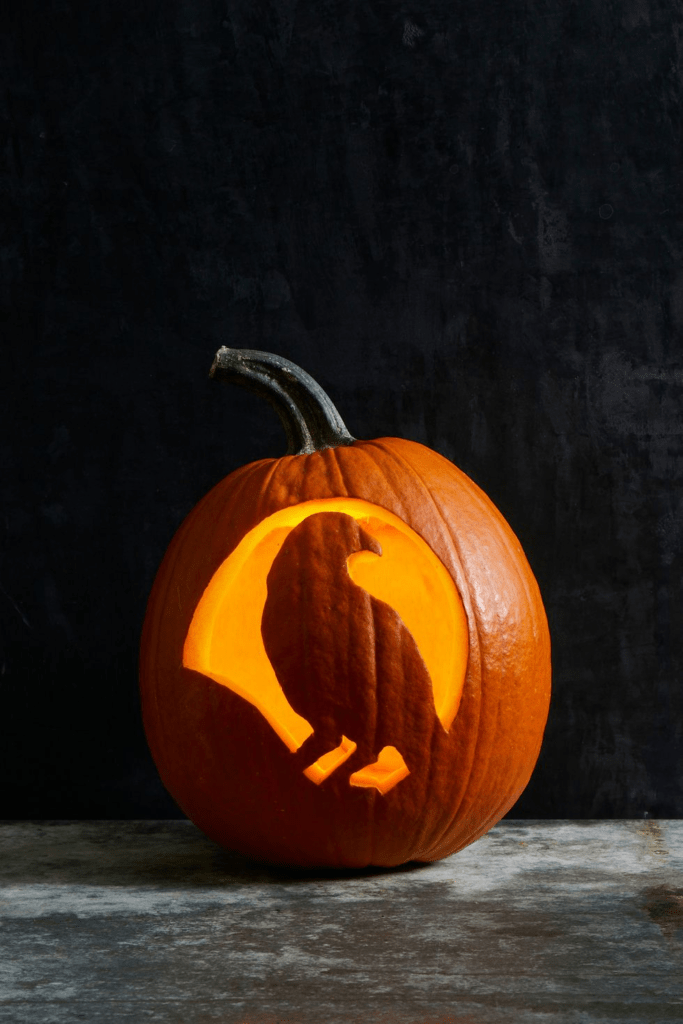 MIKE GARTEN
Raven, Pumpkin
Cut a circular aperture from the bottom of the pumpkin using your pumpkin carving tool. Scoop out the insides, then use washable chalk markers to trace this crow template onto the pumpkin. Put the pumpkin over a votive with LEDs or a string of lights.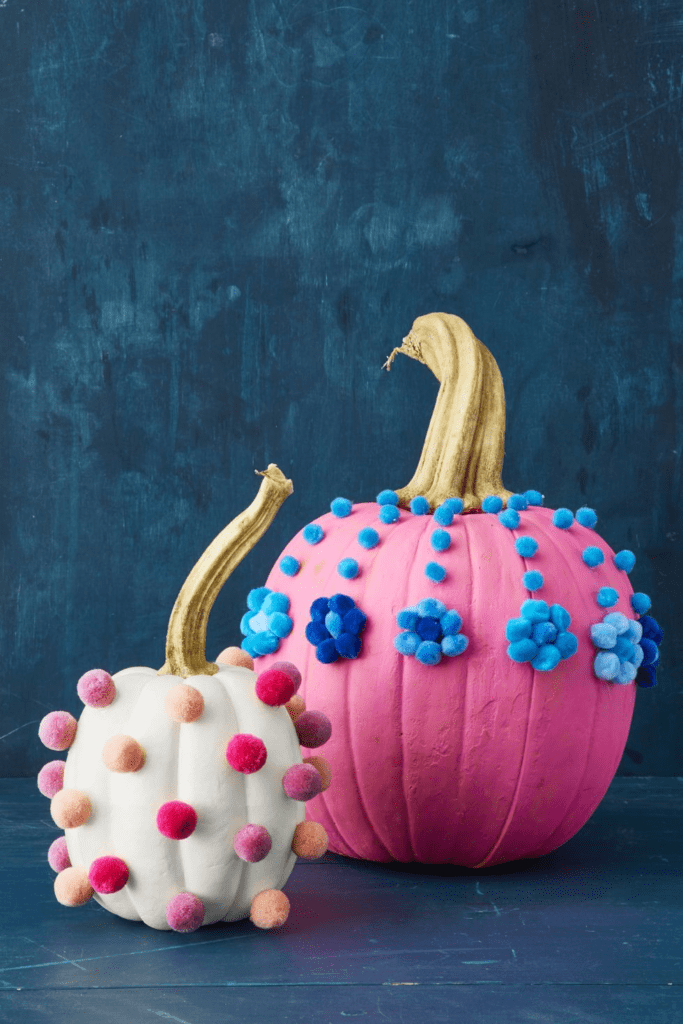 MIKE GARTEN
Cheery Pom-Poms
Your plain or painted pumpkins should be adorned with pom-poms. To add them in rows or clusters and make your design stand out, use hot glue.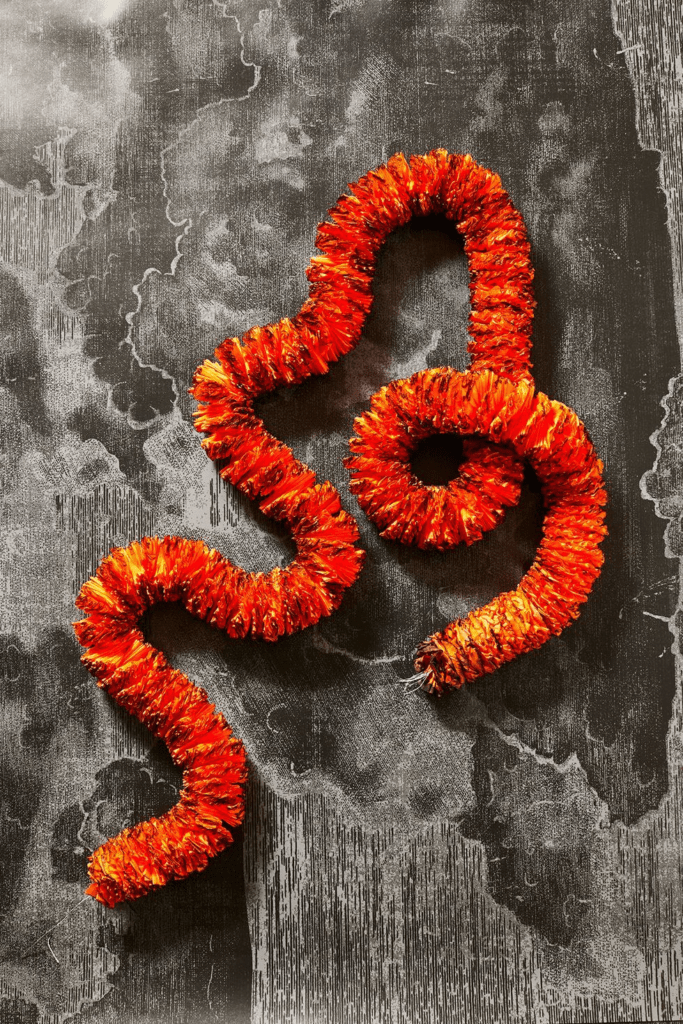 MIKE GARTEN
Paper Crepe Garlands
For a haunting yet autumnal effect, drape this garland across your mantel. An orange streamer roll's edges should be lightly coated in dark RIT liquid dye and allowed to dry. Before cutting the thread, measure one yard, then stitch a simple running stitch down the middle of the streamer. Make several stitches through the paper's top, then tie the thread. The garland can be made longer by continuing to thread through fresh layers of paper.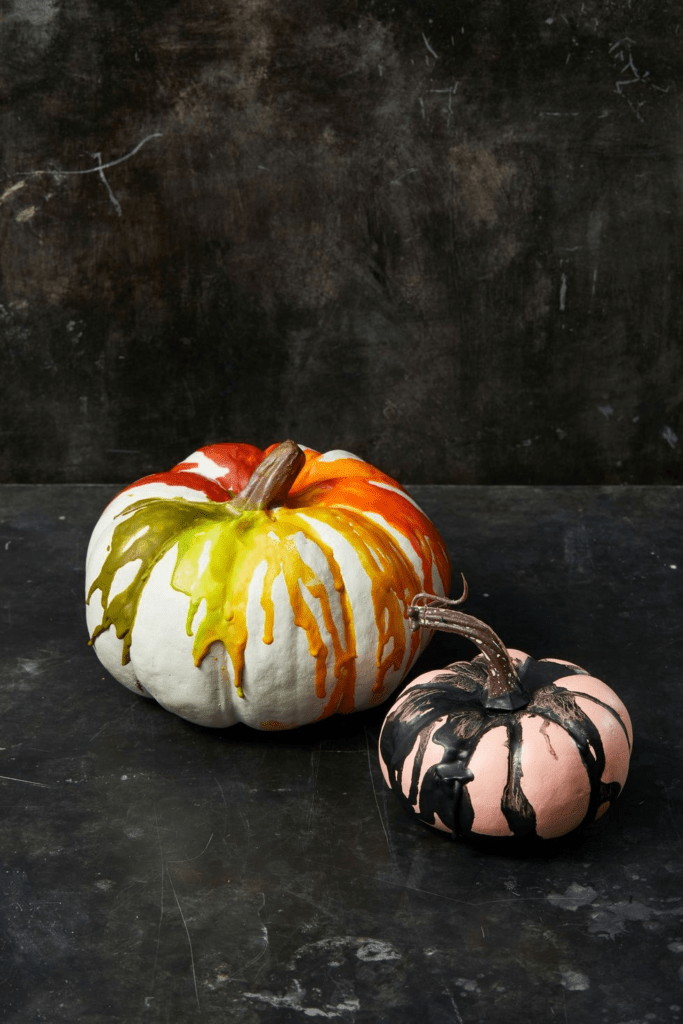 MIKE GARTEN
Drawn-On Pumpkins
Use melted crayons to achieve this drip-painted appearance. Melt crayons by placing them close to the pumpkin stem and using a low-heat hair drier. Changing the position of the pumpkins will affect how they melt. Before letting it dry completely, proceed to adorn the pumpkin all the way around.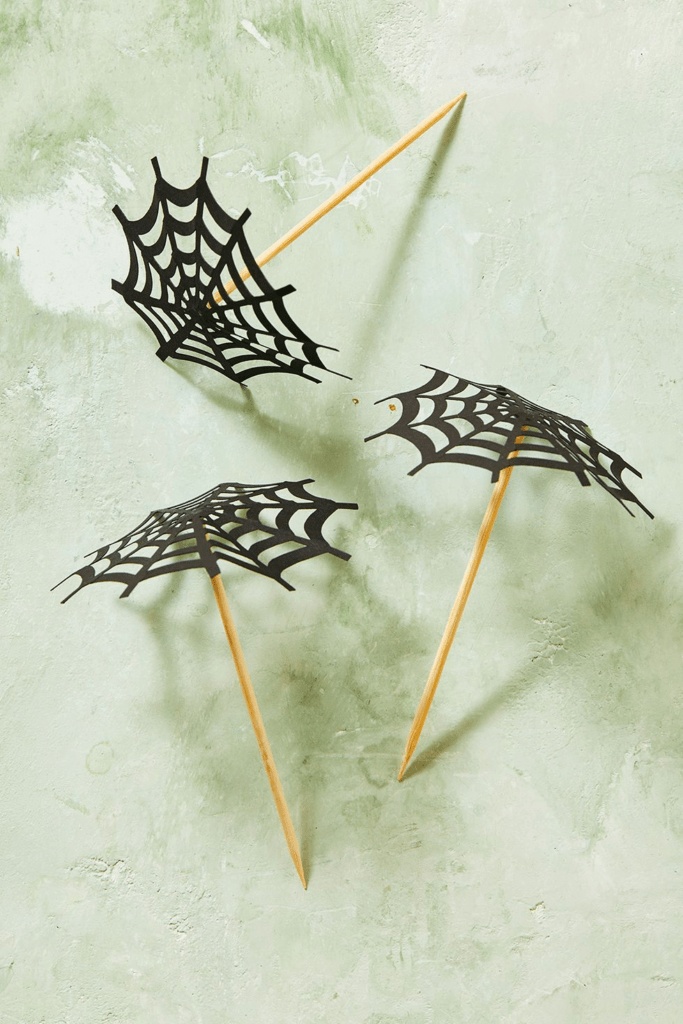 MIKE GARTEN
Drink umbrellas made of spiderwebs
With a Cricut and 12×12 black craft paper, cut out the spider web umbrella template. Using a bone folder to score the straight lines that go to the center, fold the straight lines to form an umbrella shape. Enjoy your new drink decoration after hot-gluing the web's center on a skewer stick!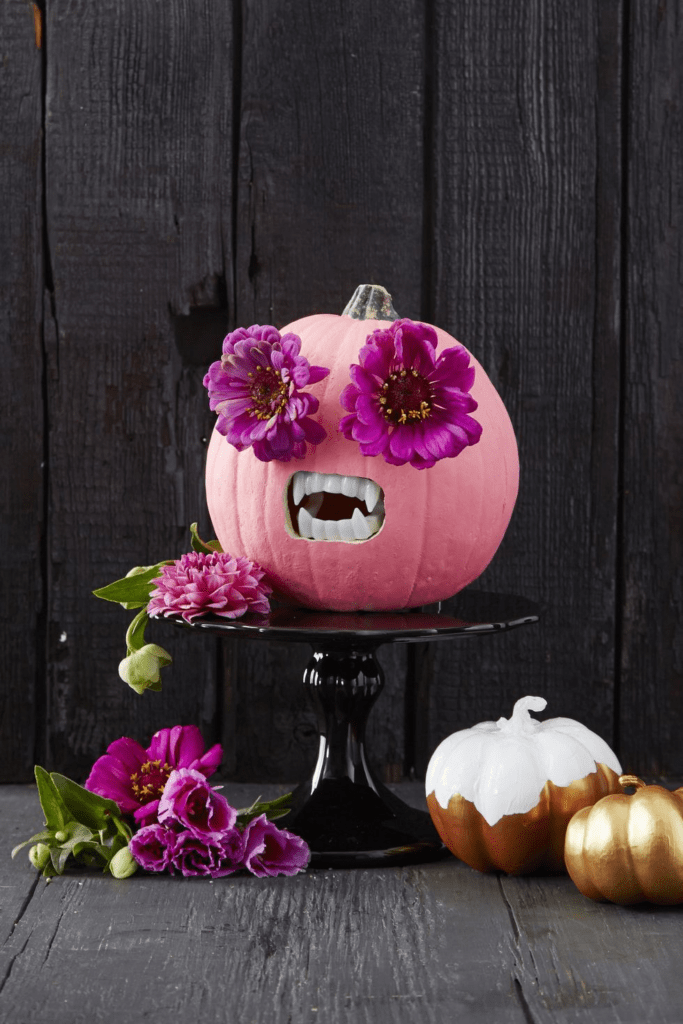 MIKE GARTEN
Vampy Jack o' Lantern
Who would have imagined a pumpkin vampire to be so attractive? Use an awl to make holes for the eyes. Before inserting two huge flower stalks, paint the pumpkin in the color of your choice. Be sure to leave room for the fangs.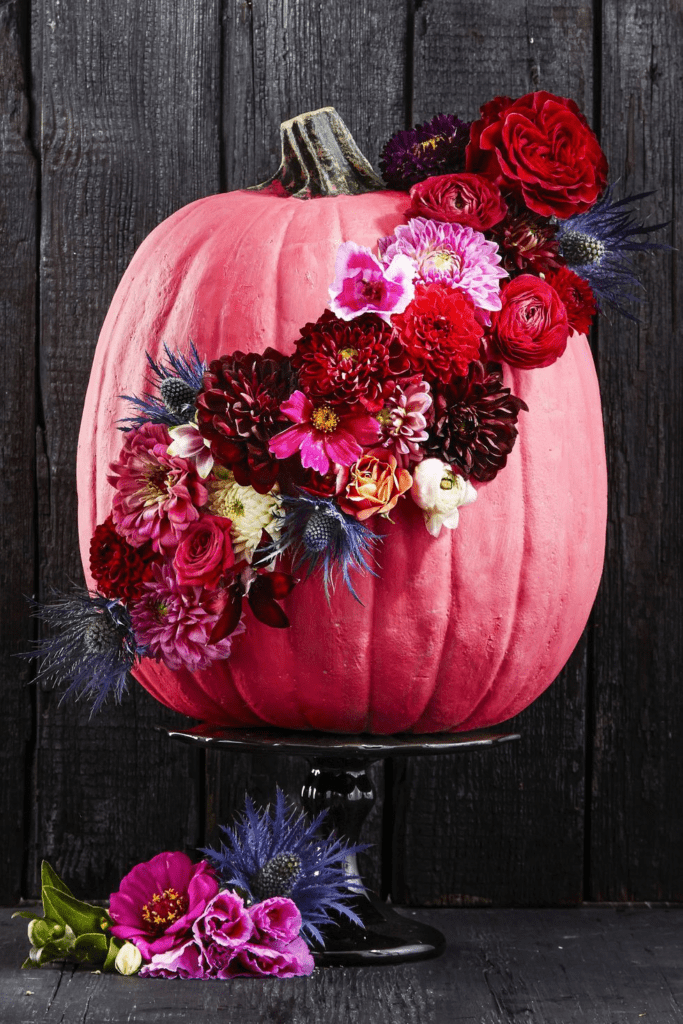 MIKE GARTEN
Pumpkins with flower crowns
The fresh blossoms on this centerpiece make it a stunning home accent. By cutting flower stems one to two inches from the buds, you can make your own. Prior to inserting the buds, make a few tiny holes in the painted rinds. To keep your flowers fresh, mist them with water.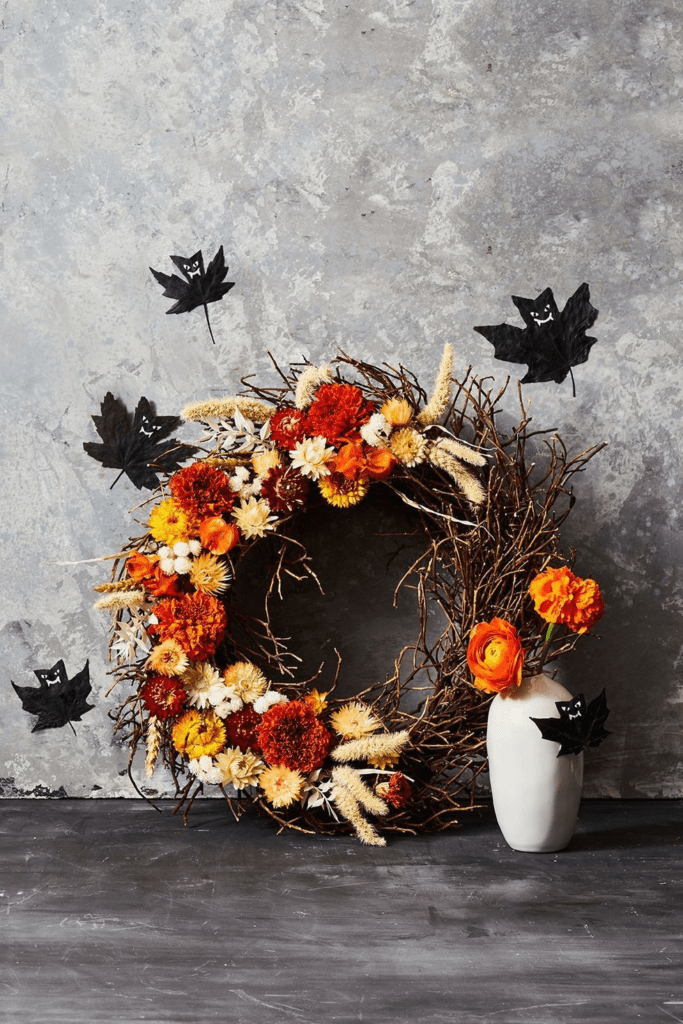 MIKE GARTEN
Crescent Flower Wreath
Where you hang this wreath is irrelevant. It will be noticed wherever it is placed. This one is simple to make by using thin grass to indicate the ends of the crescent shape. Fill in the center with a mixture of dried flowers, and then hot-glue everything to keep it all in place.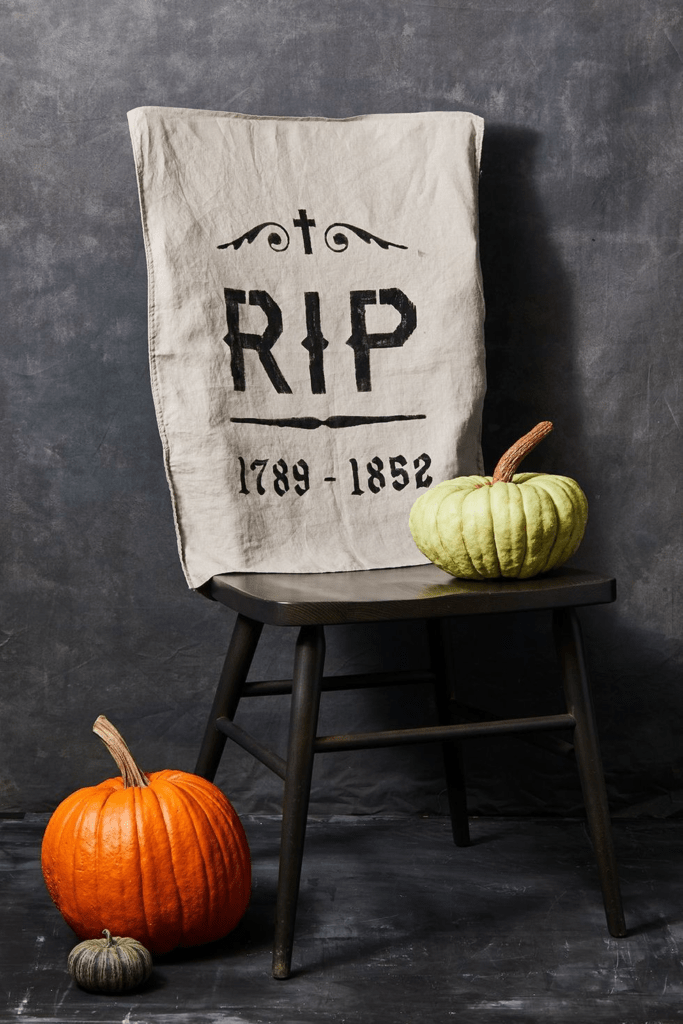 MIKE GARTEN
Covers for tombstone chairs
To keep the template in place, position it on your pillowcase and tape or pin the corners down. Place a few dots of black fabric paint where the stencils will be and let everything to totally dry.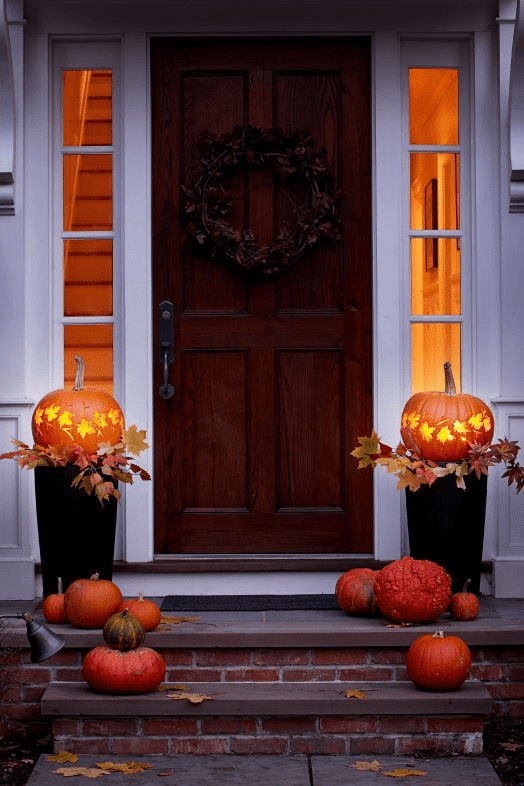 MICHAEL PARTENIO
Green Lanterns
With festive lanterns, give your porch a lush and gloomy atmosphere (particularly at night). This craft is made simpler with our leaf template. To make room for your lights, just scoop out the interior of the pumpkin.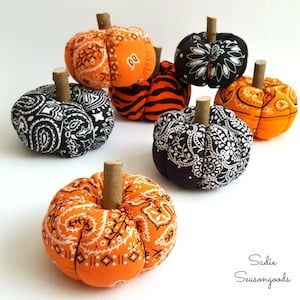 Halloween Bandana Pumpkins from Sadie Seasongoods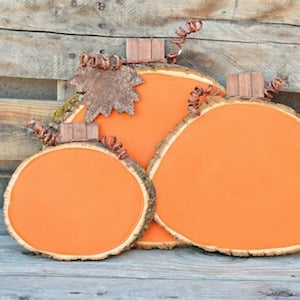 Painted Wood Slice Pumpkins from A Night Owl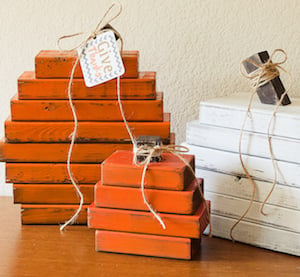 Rustic Wood Pumpkins from DIY Swank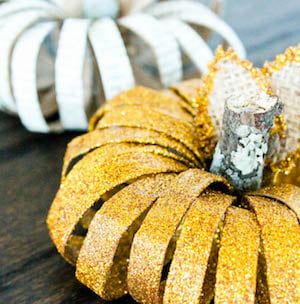 Paper Roll Pumpkins from Domestically Blissful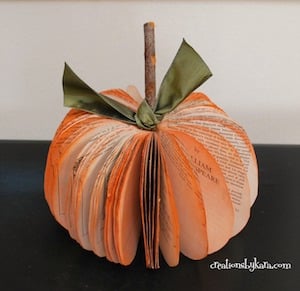 Book Page Pumpkin from Creations by Kara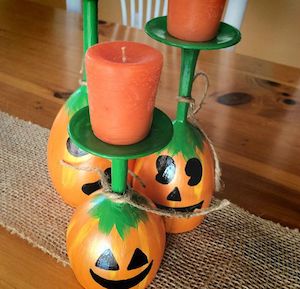 DIY Pumpkin Wine Glasses from Freebie Finding Mom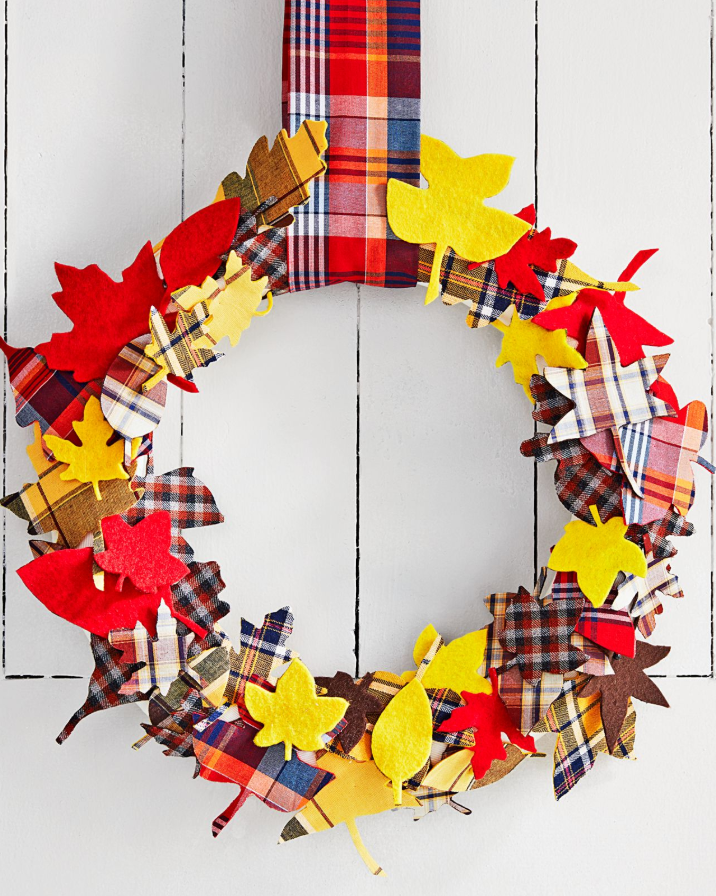 Plaid Fall Wreath
Fall leaves and plaid shirts go together like turkey and Thanksgiving! We adore the concept of combining those two traditional elements of fall into one cheery wreath.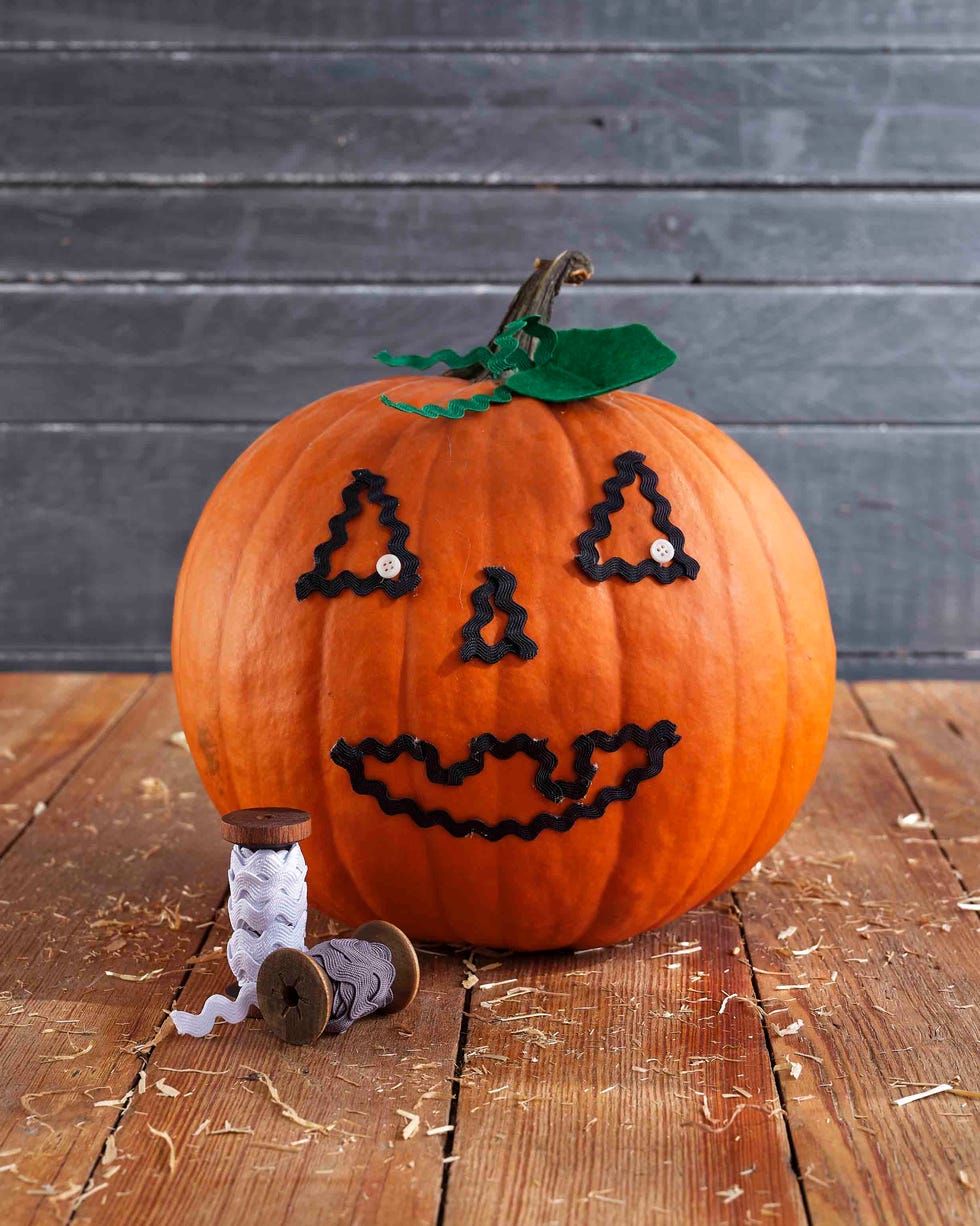 Halloween Rickrack Face
This charming pumpkin face may be made without any carving.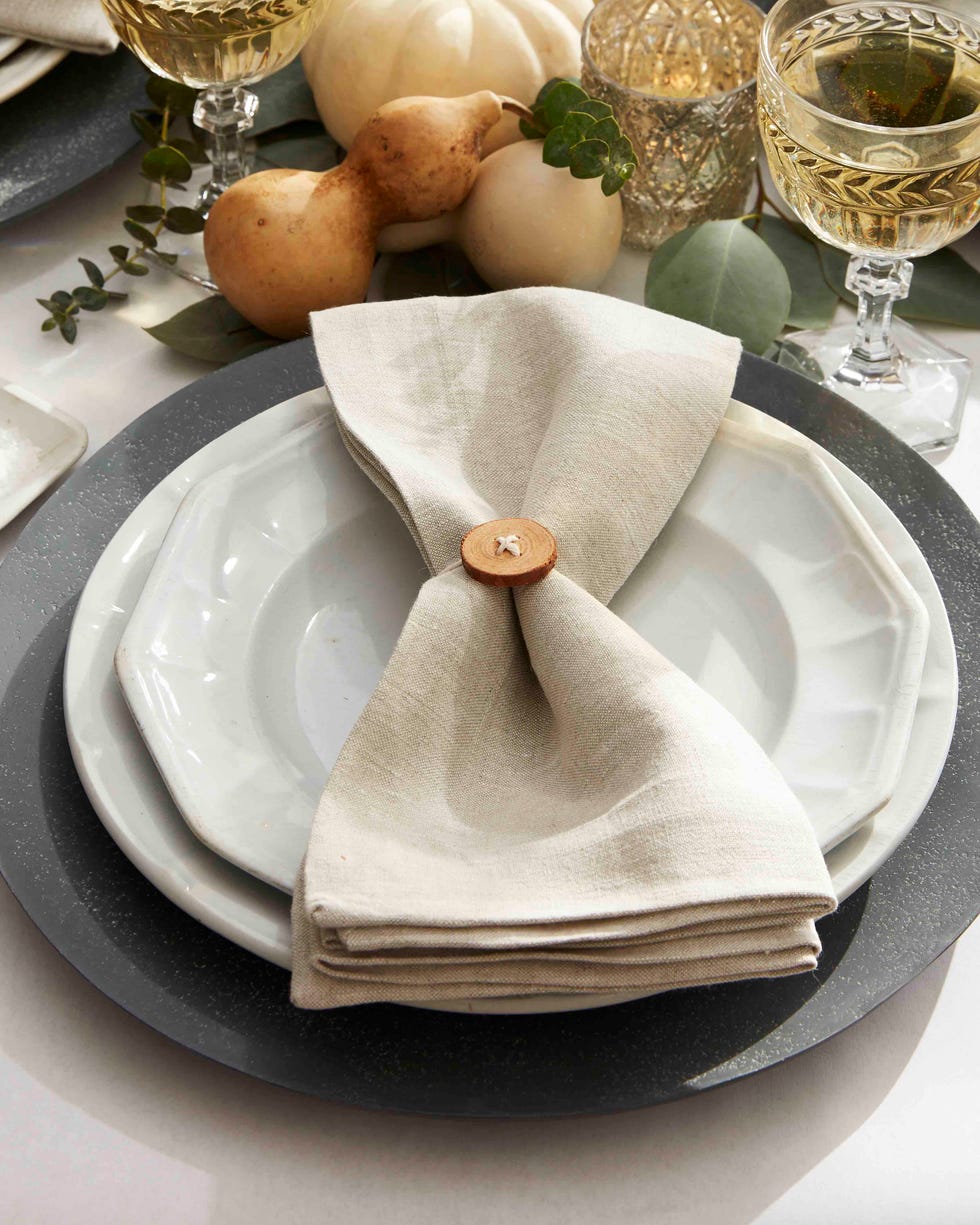 Button Napkin Ring
This place setting in muted tones is really adorable! How to make a napkin ring Either purchase wooden buttons or make little holes in rounds of wood. Tie napkins together by threading white yarn through the perforations.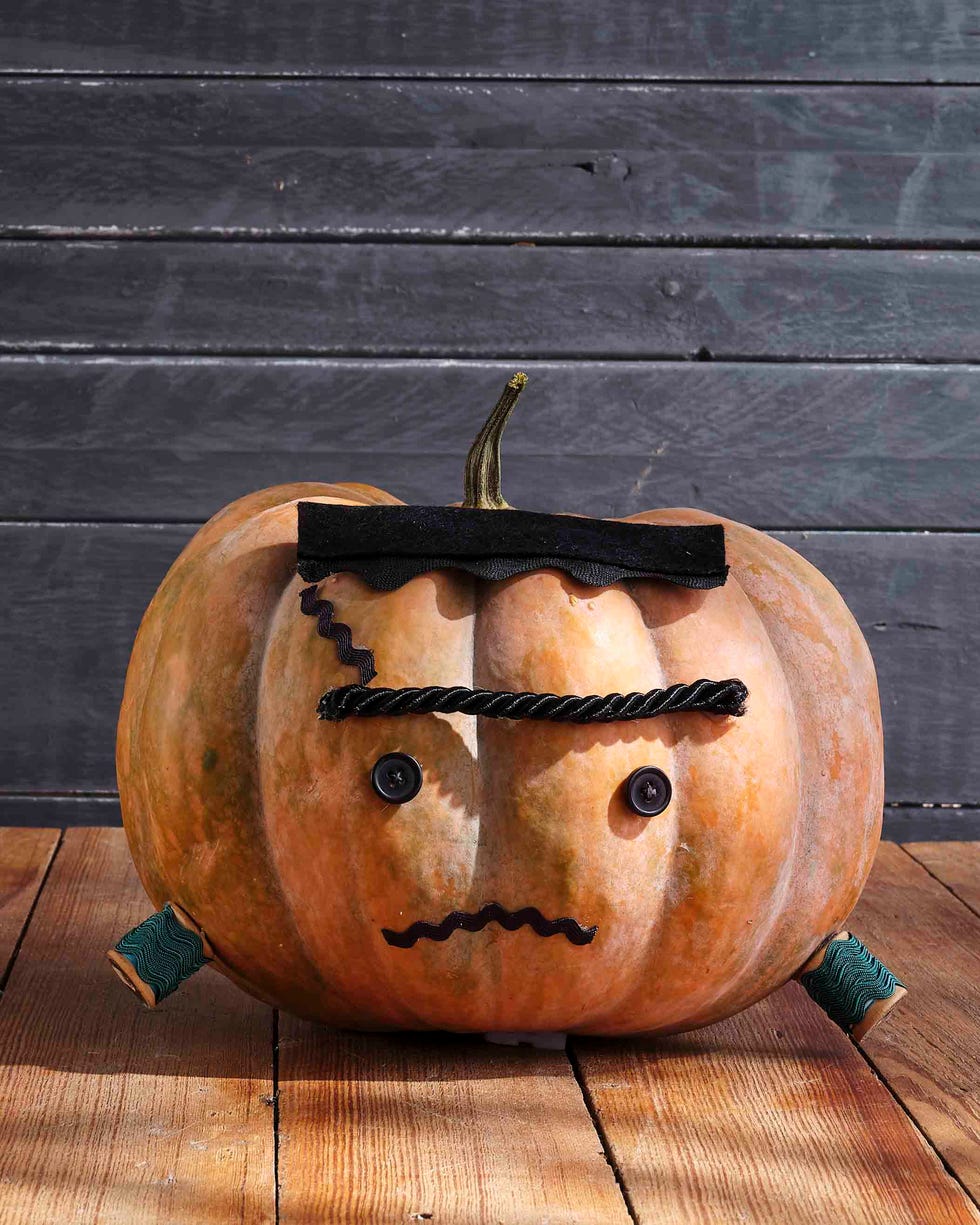 Rickrack Frankenstein
Does he seem friendly or not? How could he be anything other than cute and cuddly with rickrack spool bolts?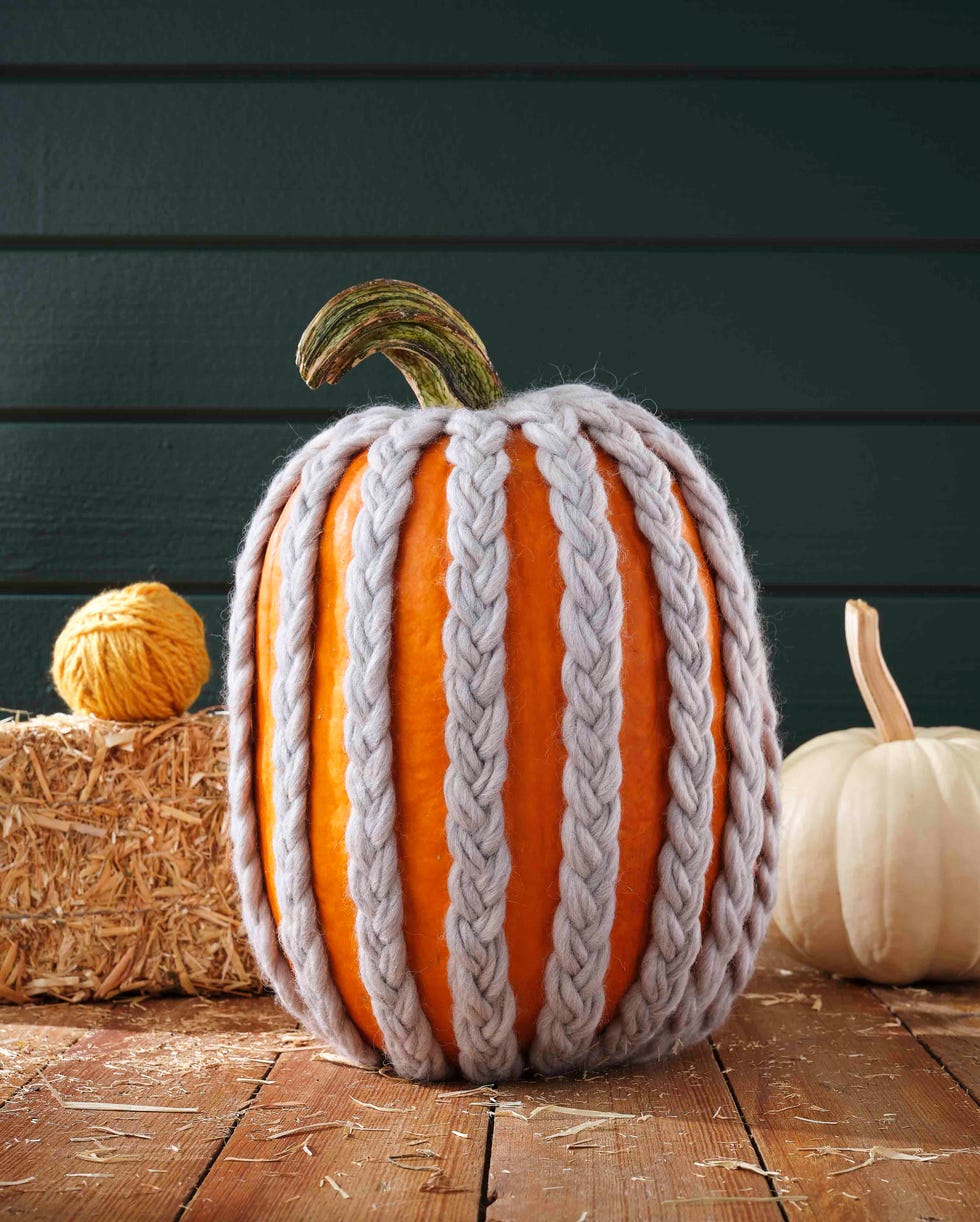 Snuggle Pumpkin
Come October 31st, silky yarn lengths braided into a pumpkin will keep you warm.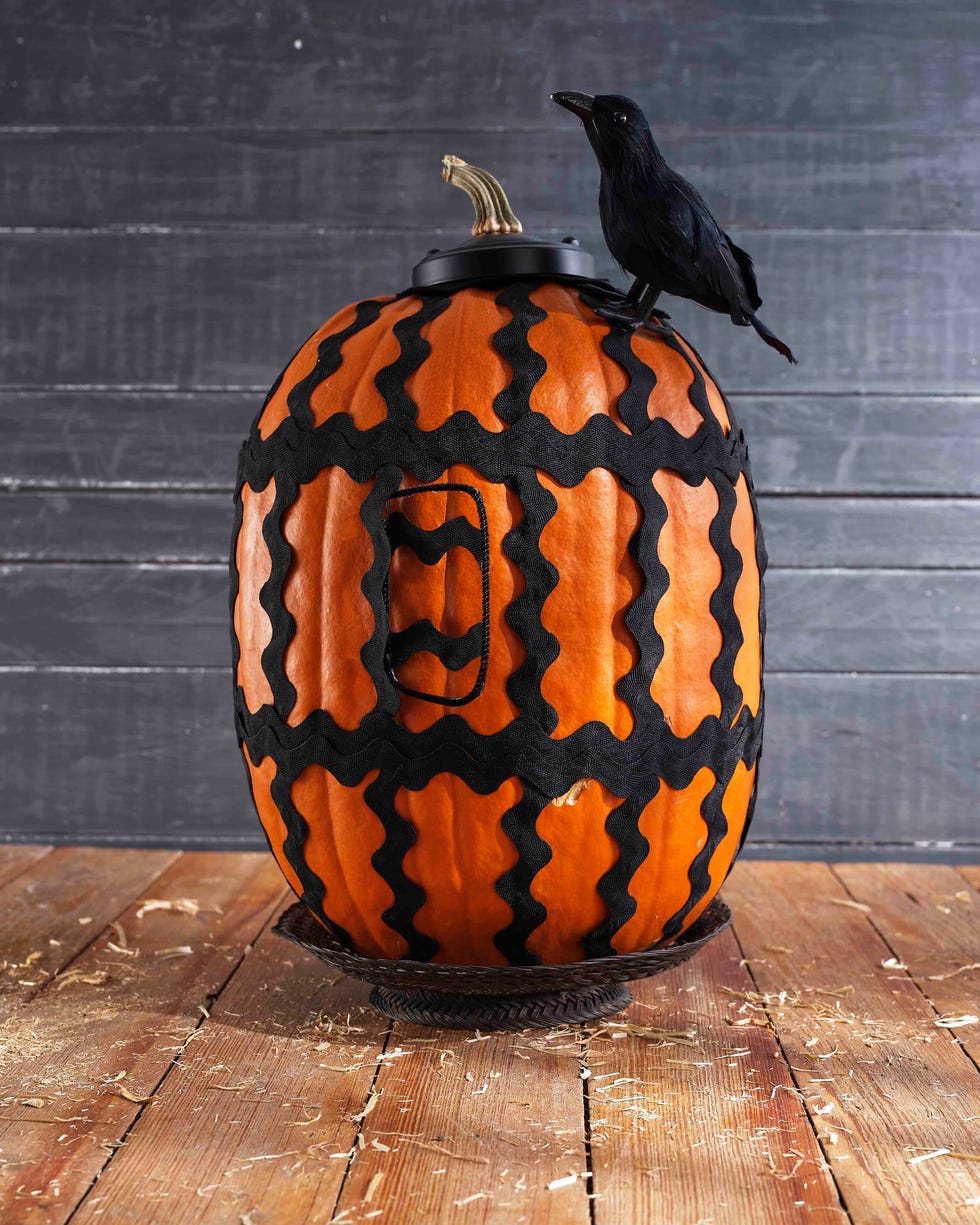 Rickrack Birdcage
To make the wires of a frightening birdcage, wrap a large black piece of rickrack around a round pumpkin. Optional: a corvid friend!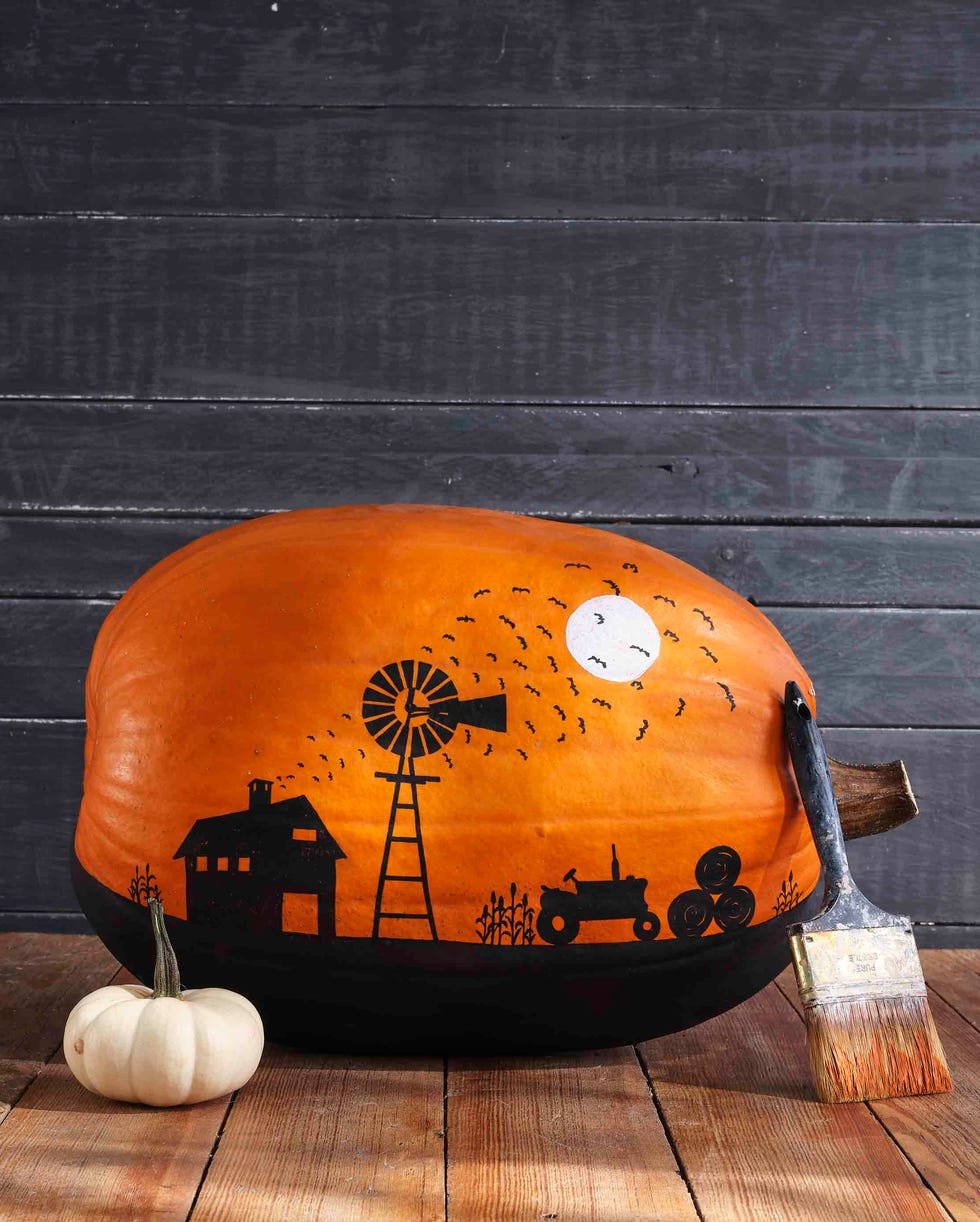 Farm Scene Pumpkin, painted
With this pumpkin with an agricultural landscape painted on it, a full moon guards a swarm of bats.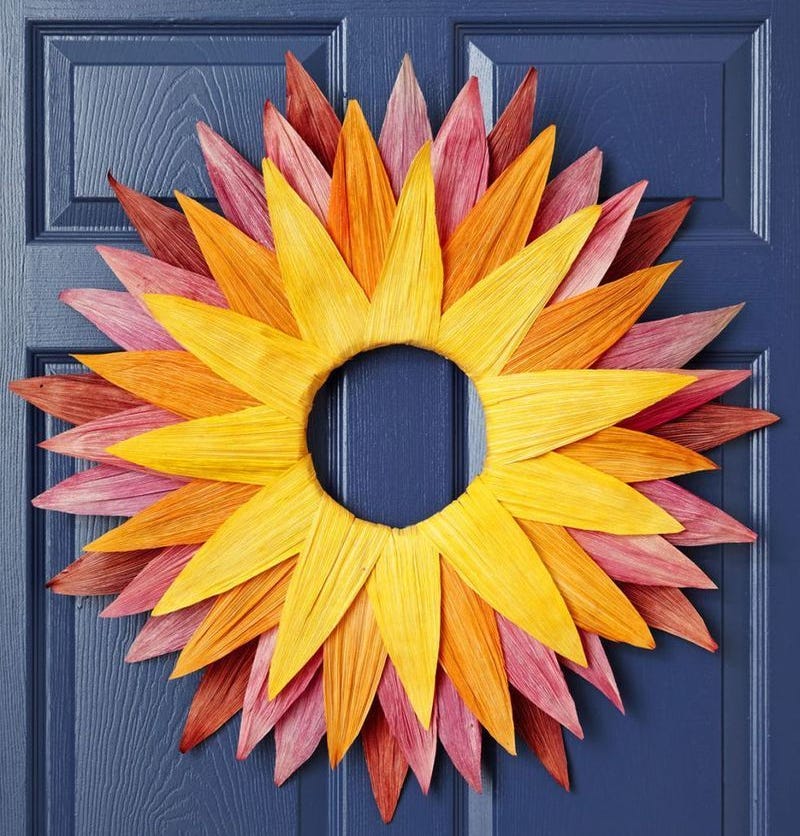 Autumn Wreath in Obrè
This wreath is the ideal accessory for the fall season thanks to its gorgeous combination of yellows, oranges, pinks, and reds. Nevertheless, we believe it would also look nice on your front porch in the spring and summer.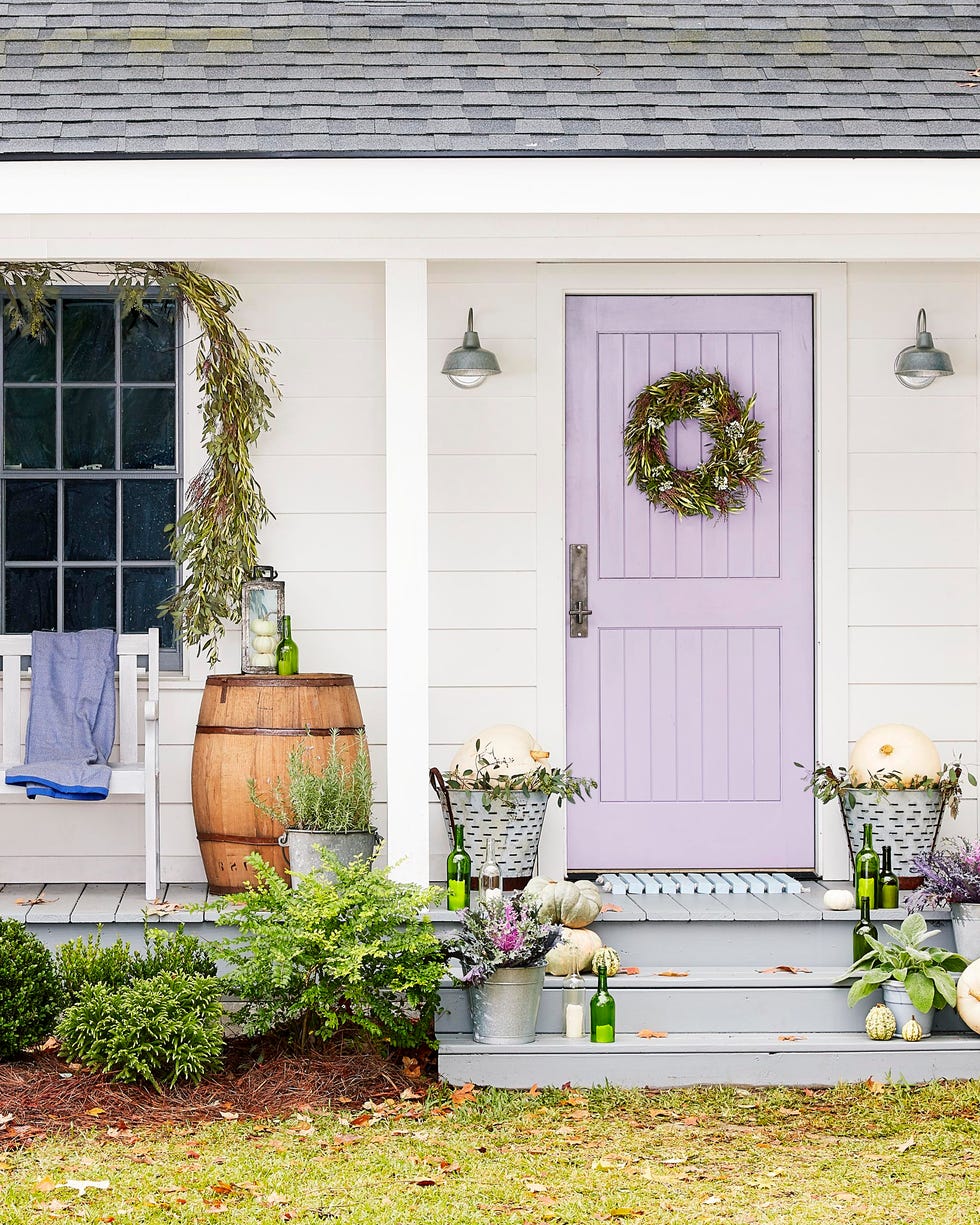 Grapevine Wreath and Garland
With this beauty, channel the wine valley of California.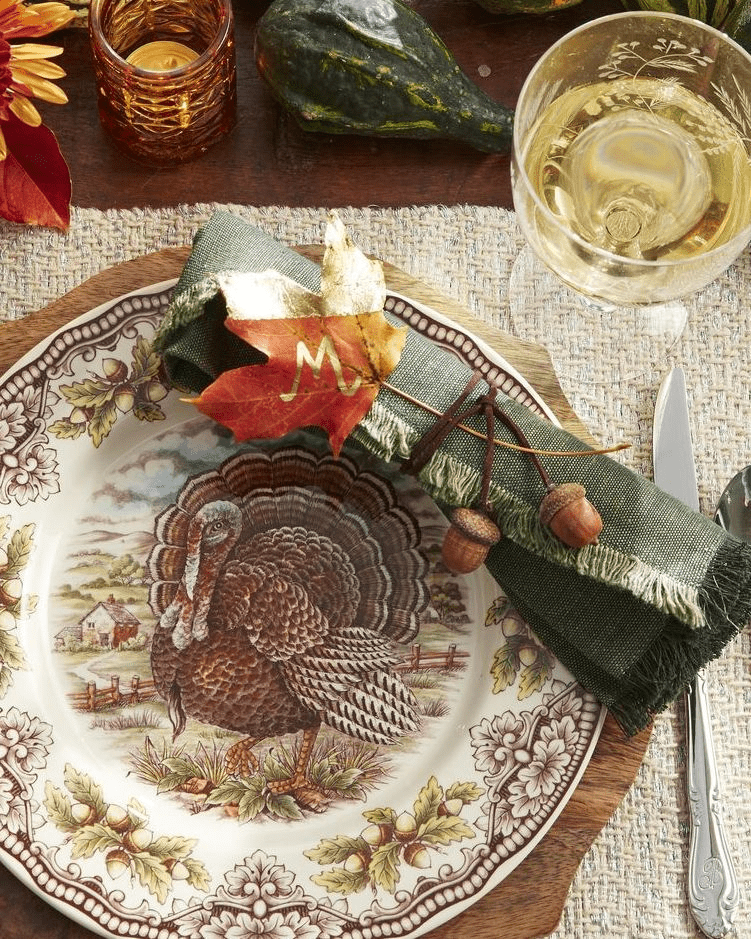 BRIAN WOODCOCK
Leaf napkin ring and place card
Nature is the theme of this classically fall-hued table.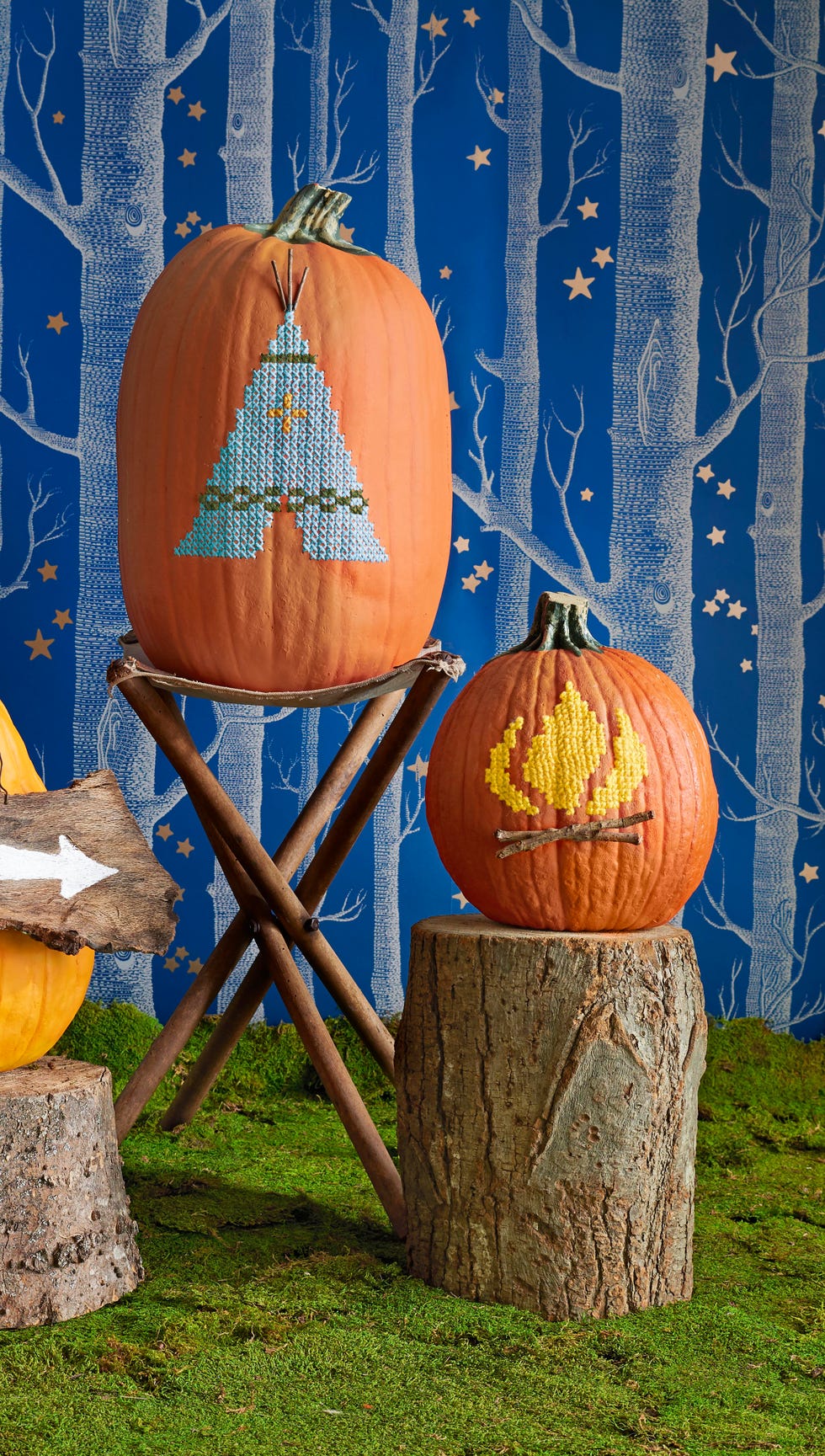 Pumpkins stitched by hand
With our tent and campfire, you can give your design a rustic character.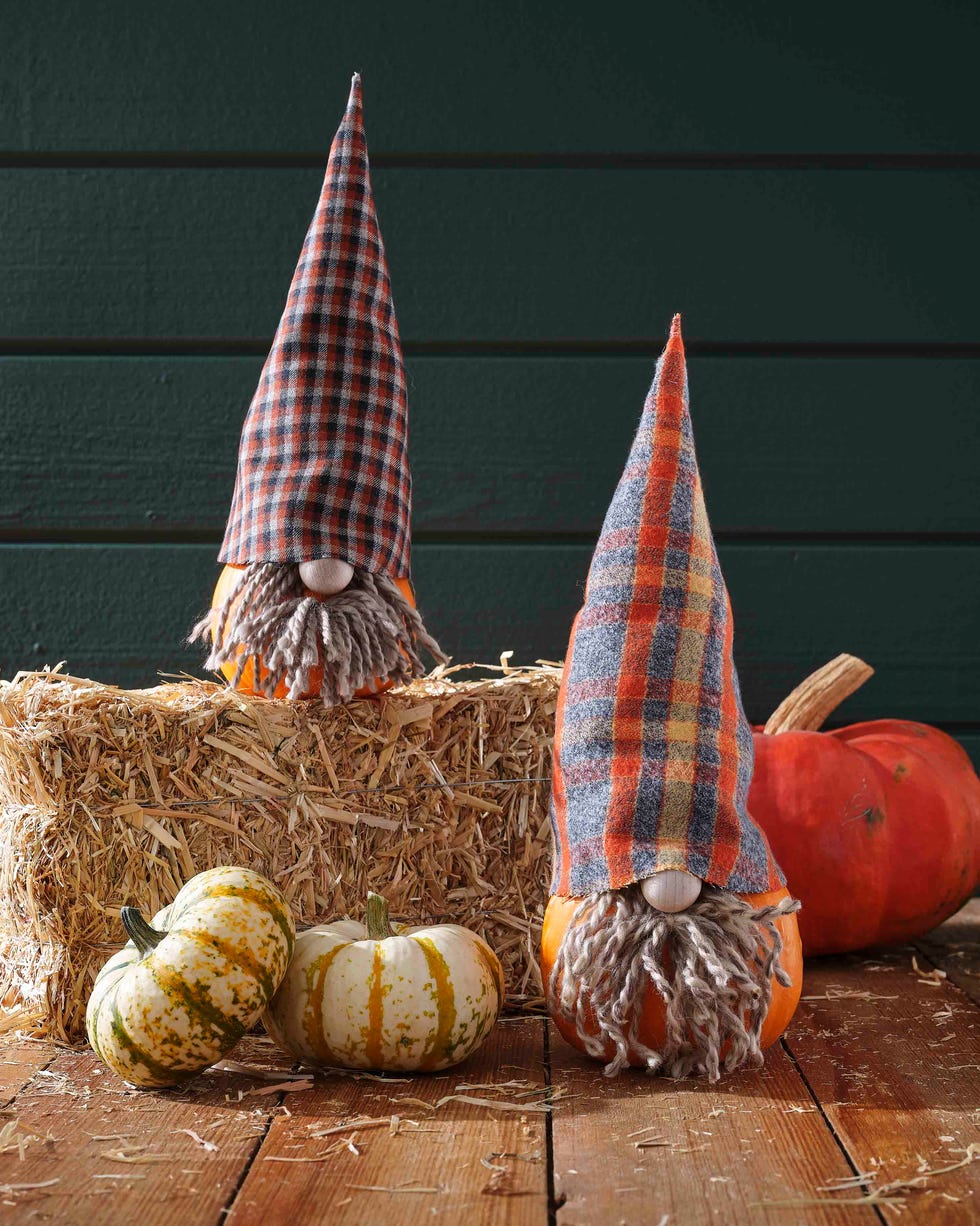 Dwarf pumpkins
Welcome visitors with these sweet petite gnome friends.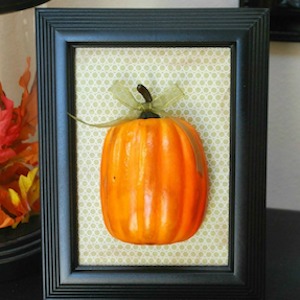 Framed Plastic Pumpkin from Creations by Kara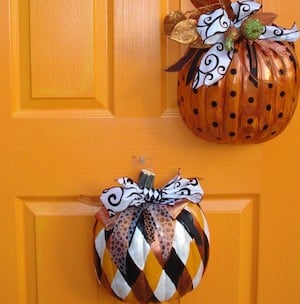 Pumpkin Door Decor from Everyday Celebrating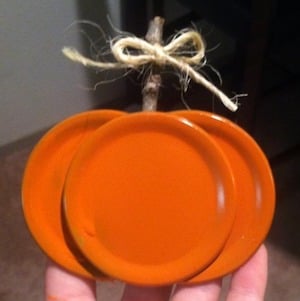 Pumpkin Craft With Mason Jar Lid from Surviving the Stores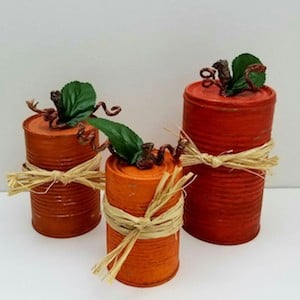 Easy DIY Tin Can Pumpkins from Mixed Kreations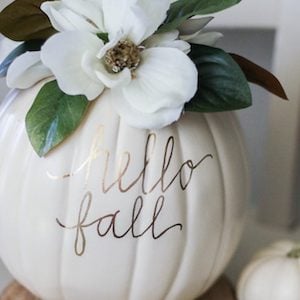 Magnolia Pumpkin from Lolly Jane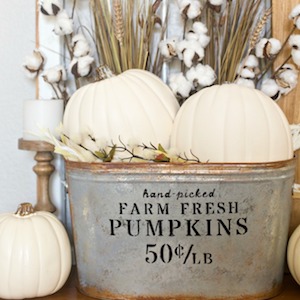 DIY Farmhouse Pumpkin Bucket from A Night Owl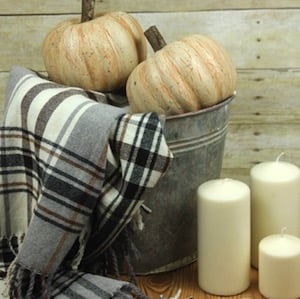 Distressed Pumpkins from The Kim Six Fix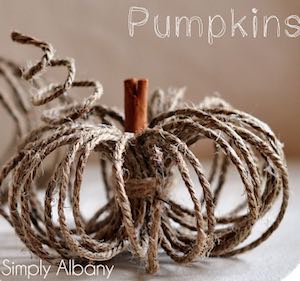 Twine Pumpkins from Simply Albany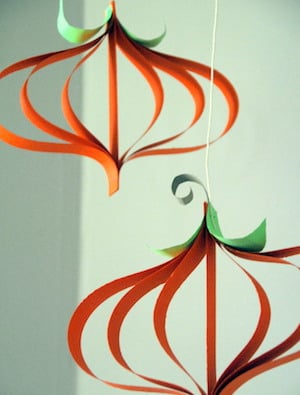 Paper Pumpkin from Meaningful Mama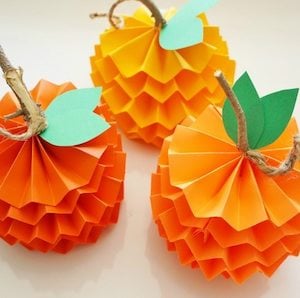 Paper Pumpkins from DIY Inspired