How to Blog For Free With Namecheap EasyWp Free Hosting
The pricing of hosting services is one of the greatest hindrances and setbacks for people who wish to start a small business online.
But Namecheap has been able to beat down that worries by providing affordable and excellent WordPress hosting for your small budget.
The NameCheap EasyWp is a reliable budget web solution that can easily get you online with a small or free hosting budget.
EasyWP is perfect for anyone who wants to create and manage their
website without doing the heavy lifting. Forget about managing your
hosting, navigating through complicated interfaces, or figuring out
how to install WordPress.
Namecheap will do everything for you!
Namecheap's very own cloud infrastructure is intuitively designed to allow each and every website to live and grow, without any hiccups on the web.
Amazing EasyWp Hosting Features
i) One Dashboard
Create and manage your WordPress websites from
a single dashboard, with a single login.

ii) Maintenance Mode
It's entirely up to you when you decide to go live.
Maintenance mode allows you to keep your visitors in
anticipation, without ruining the grand reveal!

iii) Simple Backups
Forget third-party security or backup tools. Here, it's one
click to back up and one-click to restore, all from one
straightforward interface.

iv) Free Positive SSL
Bring encryption, validation, and trustworthiness to your
EasyWP website with PositiveSSL from Sectigo. Included for
free with Turbo and Supersonic plans.

v) Domain Connects
Easily connect any domain name to a WordPress website,
inside the EasyWP dashboard. If your audience is unsure of
what domain name to use, we provide a free easywp.com
subdomain, for as long as they like.

vi) Easy SFTP & Database Access
Gain access to your database through phpMyAdmin and
to files through SFTP (Secure File Transfer Protocol). Unlike
FTP, SFTP features encryption—making it super secure for
sharing credentials with someone you trust.

vii) Free CDN
Get access to Namecheap's Content Delivery Network,
a tool that caches and delivers your website content in
record time from servers around the world.

Pros Of Using The Namecheap Free Hosting
Extremely affordable
Get online and blog for free. You won't find a better value managed WordPress hosting solution like this anywhere else.
2. 99.99% uptime
They have an amazing 99.99% uptime.
3. User-friendly interface
Designed for beginners and pros.
4. Powered by Namecheap's cloud technology
Can handle the traffic without downtime.
5. Easy database access through phpMyAdmin
Everything you need to manage your site's database is ready for use.
6. 24/7 Customer Support
Amazing customer support. You can email, live chat, and open a ticket with a good response rate.
7. Easy backups and restore
One-click is all it takes.
8. Three flexible pricing plans
All dependent on your bandwidth and needs.
9. Secure file access through SFTP
Gives you added peace of mind.
Cons.
Certain plugins have been blocked.
Slow support.
Pricing and Plans
Try all the EasyWp Bundles for the first month free.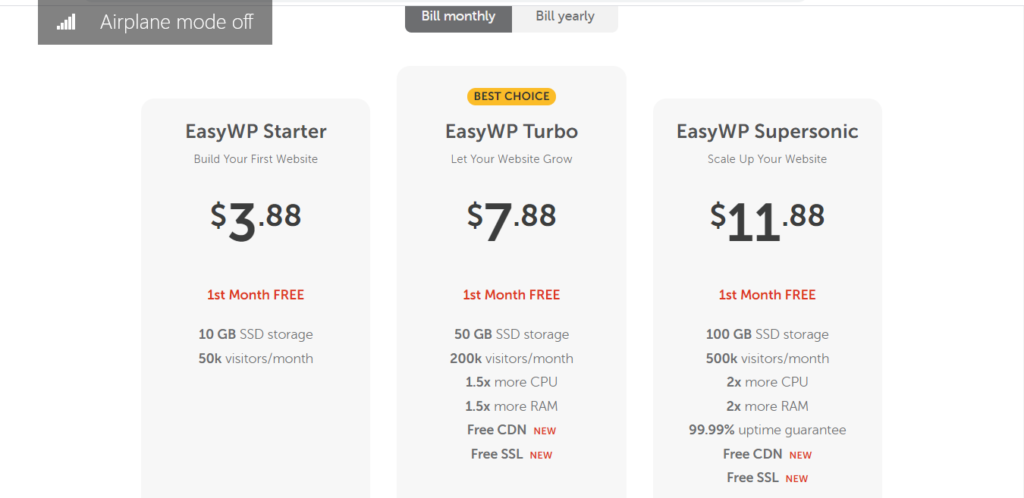 EasyWP has 3 different plans: Starter, Turbo, and Supersonic.
But which one should your audience choose? Here is the break down:

• Starter—perfect for anyone who may be new to building
their audience and/or speaking to a particular niche. It
handles sites up to 50k visitors per month and doesn't slow
things down. Only $1 for the first month.

• Turbo—ideal for high-traffic sites that have up to 250k
visitors per month. The plan has 1.5x more CPU and RAM
than the Starter plan. Only $2 for the first month.

• Supersonic—fully-equipped to handle up to 500k visitors per
month. It comes with 2x more CPU and RAM than Starter. Only $3 for the first month.
Will I Recommend Namecheap?
First off, Namecheap provides GREAT VALUE FOR MONEY.
It can be tough to stay on budget when launching a new website, even when it comes to web hosting. And while there are some really great hosting providers out there, some are very expensive to use.
With Namecheap, you get all the basics that should come with a hosting provider and for a very low price.
There aren't many managed WordPress hosts out there willing to provide things like routine backups, free SSL certificates, and 24/7 support for as low as Namecheap does.
And to top it off, the renewal price for Namecheap web hosting is still really cheap. The cheap price is, without a doubt, the best thing about EasyWP!
So yes, I Recommend Namecheap?
Namecheap has everything you need when it comes to your website's domain name:
Register: find the perfect domain name using Namecheap's domain name search function and register it right away.
Transfer: save on renewals by transferring your domain to Namecheap and get an extra year of registration free of charge.
Marketplace: browse available domains, buy a new one, or sell one you own in Namecheap's Domains Marketplace.
Personal Domains: create a personal domain using your very own name followed by .com or .me and brand yourself in this competitive internet landscape.
Namecheap also offers FreeDNS services to everyone, even those using other hosting or registrars for their domain names. This free service comes with an intuitive management console and 24/7 tech support.
The best thing about Namecheap domain names is the forever free WhoisGuard, this will keep your Whois details invisible from the very moment you purchase your domains from Namecheap.
Here is an easy starter guide.
Conclusion
EasyWP has improved greatly since we last saw it. It offers a robust service at a truly excellent price, and everything works as advertised.
Creating and managing websites is straightforward, and so is switching between them. The backup system has been amazingly simplified, but we'd really like a built-in automatic means of backing up – as, with everything, there's always room for improvement. But considering what you get for the price and how much it has improved in less than a year, this is a great service worth checking out.
No need to wait now, this is How to Blog For Free With Namecheap EasyWp Free Hosting.