The EasyWp is a service developed and offered by the Namecheap brand to make the process of creating a WordPress blog simplified.
EasyWP, like its name suggests, is a web hosting service designed around WordPress, which aims to make the entire web creation process much easier
EasyWP's purpose is to make managing your WordPress site(s) more effortless even as a novice.
About Namecheap?
Namecheap was founded in 2000 as domain registration and management service, and they have over 3 million clients and manage over 10 million domains today
When we first looked at the service back in March 2019, it was still in a developmental stage, but they have since improved dramatically.
EasyWP Features
EasyWP is a fully managed WordPress hosting, which means all the technical aspects of managing your website, like installing WordPress, backups, setting up SSL, caching, a free CDN, FTP, and all the other aspects are taken care of for you—you don't have to worry about it.
Using managed hosting does mean that you loose fine-grained control over these aspects of hosting, but for most people, this is a better choice as it allows them to focus on building their website instead of just managing it.
How to Blog For Free With Namecheap EasyWp Free Hosting
EasyWP Pricing
EasyWP offers 3 hosting packages, each with its own pricing. Here are the current prices for EasyWP Hosting
• EasyWP Starter Plan – $3.88 per month ($0 for the first month)
• EasyWP Turbo Plan – $7.88 per month ($0 for the first month)
• EasyWP Supersonic Plan – $11.88 per month ($0 for the first month)
You can get a good discount if you pay for the hosting yearly.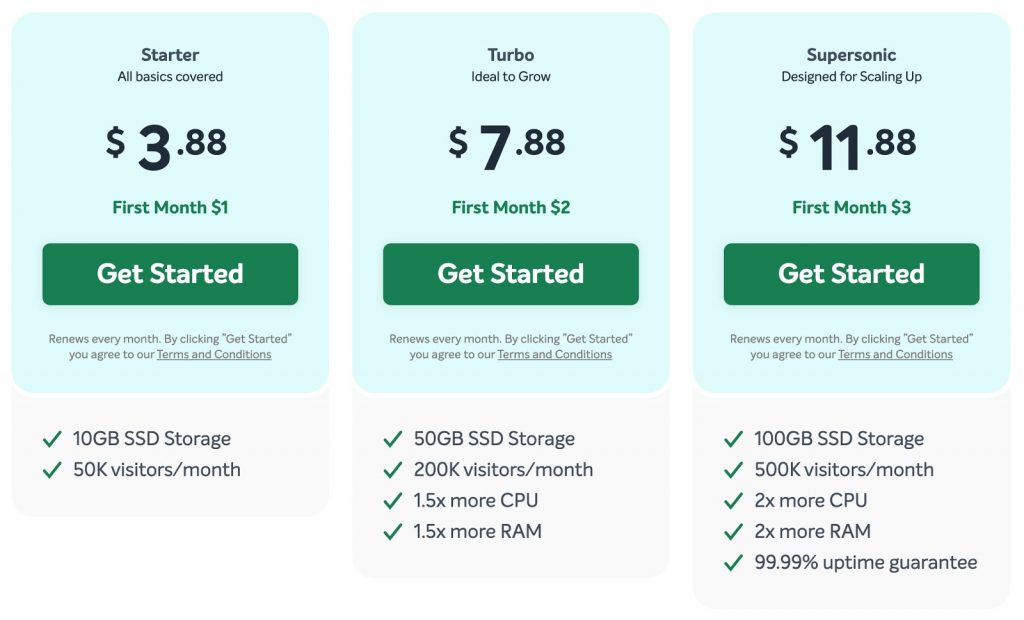 Note: EasyWP is a cloud-based hosting, which means you get all the benefits that you'd get from a dedicated server hosting while excluding all the problems that shared hosting or VPS providers might have—all for the price of shared hosting—which is awesome!
All plans include generous SSD storage. Also, the differences in the plans are easy to understand, as they are clearly put out just below the pricing.
For uptime, only the Supersonic plan has a 99.99% uptime guarantee, and the other two plans have a 99% uptime guarantee.
Now with an abundant free one-month trial, I see no reason why you should not give this a go. If for some reason you want to cancel your account, you are backed by a 30-day money-back guarantee. All you will have to do so is to get in touch with a customer representative.
Comparing the pricing to other managed hosting providers, like SiteGround, the pricing is similar, but EasyWP supports a significantly larger number of visitors on similarly priced plans.
For our testing and review, we purchased the EasyWP Supersonic plan.
Here is the quick setup guide.
Website Setup Process
Creating a website is a huge task in itself. But, if a host has an easy-to-use interface, then it takes some of the load difficulties. Let us see how is the experience of setting up a website is with EasyWP.
Once you select a plan, you are taken to the payment screen. Once you've made the payment, you can start the website creation process. Do keep in mind that the payment will happen through Namecheap, so don't be alarmed if the payment page takes you to Namecheap instead of EasyWP. After your purchase a plan, you will see EasyWP as an application inside your Namecheap account.
Here is a screenshot of the payment portal. Once you proceed to pay, you may be redirected to Namecheap.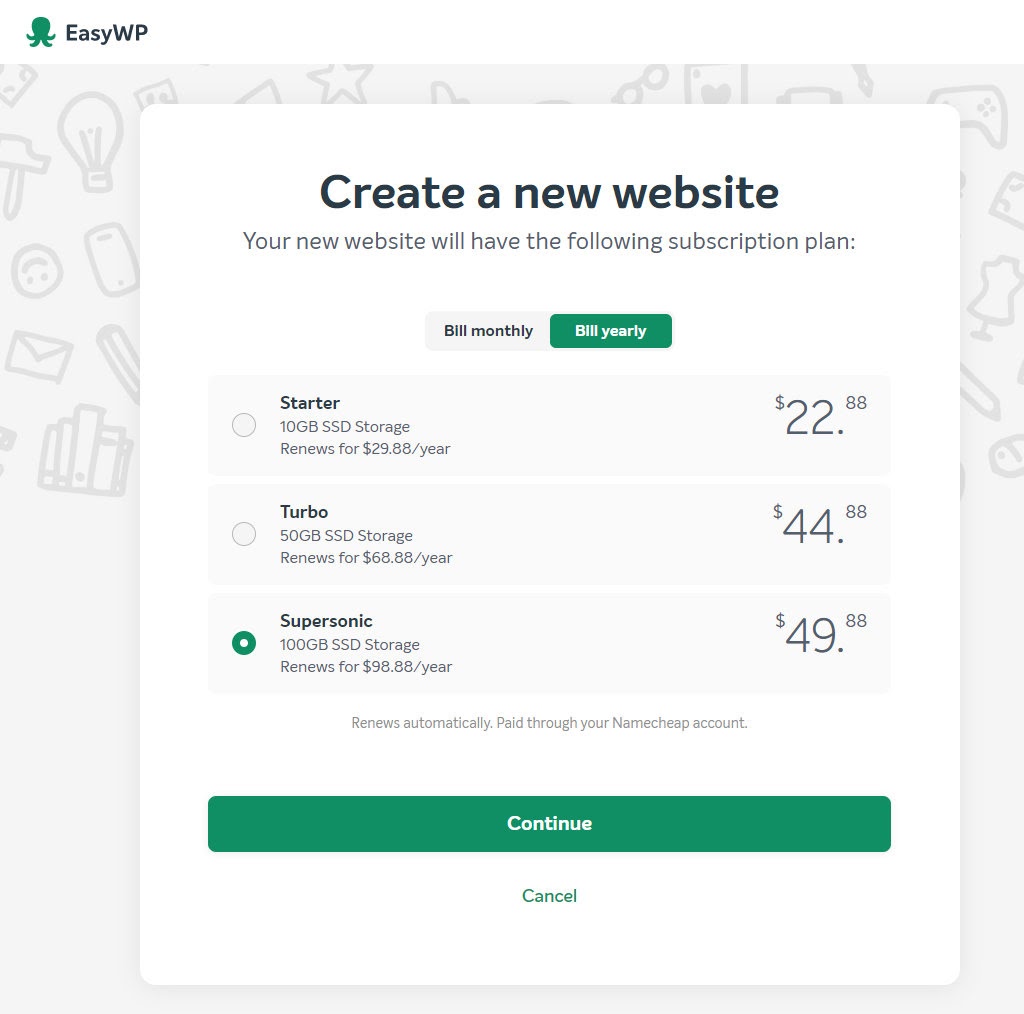 Once you make payment, the website creation process begins. The interface is pretty clean, and all I had to do was click "Set up WordPress." The process is comparable to one-click WordPress installs that most modern hosts offer.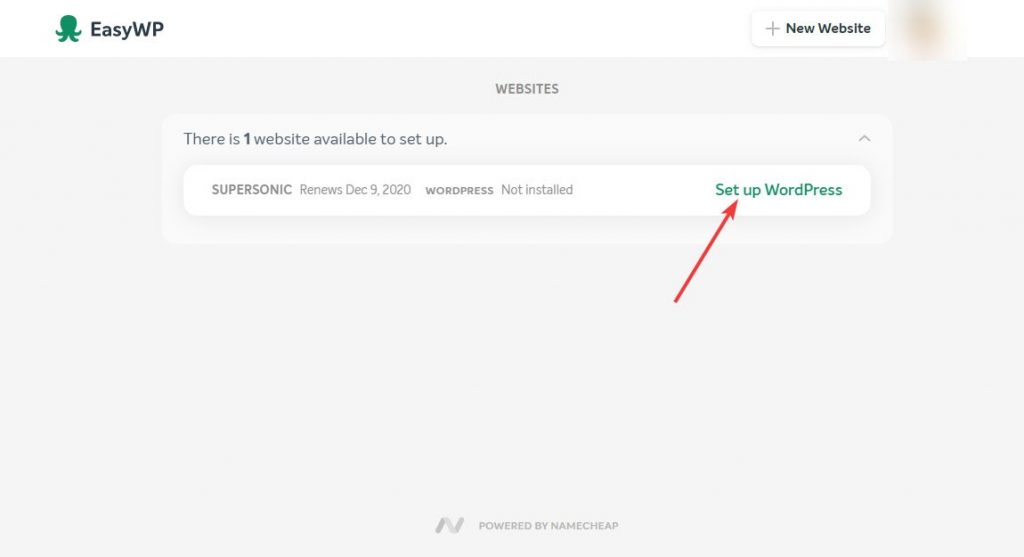 Next step, you can choose the domain you want to set up your website. You can use a domain you purchased on Namecheap or any other registrar. If you don't have a domain ready yet, you can choose a temporary domain name (set by EasyWP) as well. Later, you can change from the temporary domain to a new domain name.
Note: When EasyWP was launched, it only supported Namecheap domains, i.e., domains hosted with Namecheap. Now, you can use any domain, registered with any registrar, and use EasyWP hosting to set up your website.
I already registered a domain name from Namecheap (and received WhoisGuard for free), and we used the same domain to set up our website.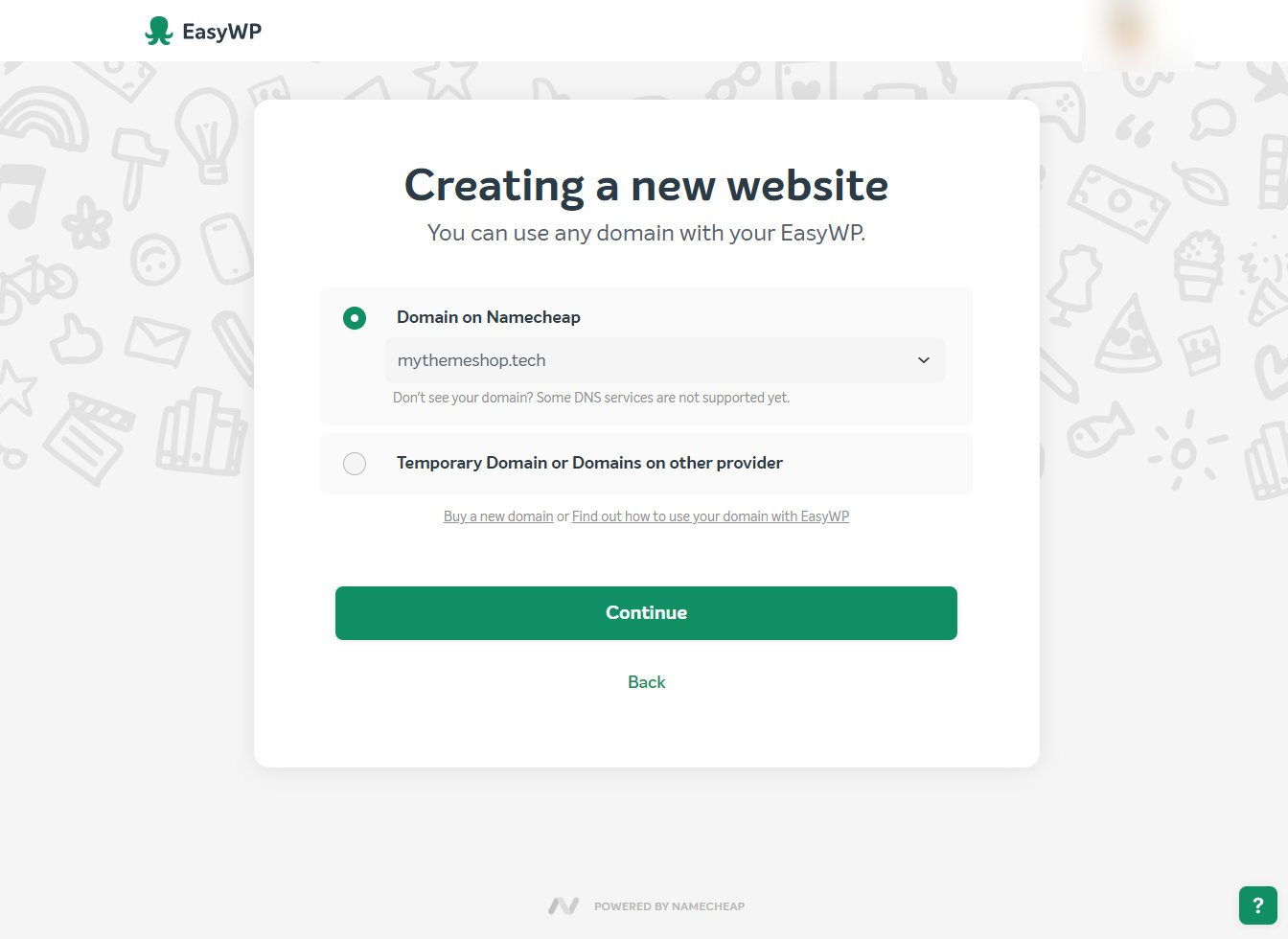 After selecting a domain name, you can start setting up WordPress. You have the option of using a 1-step WordPress install or customize your install.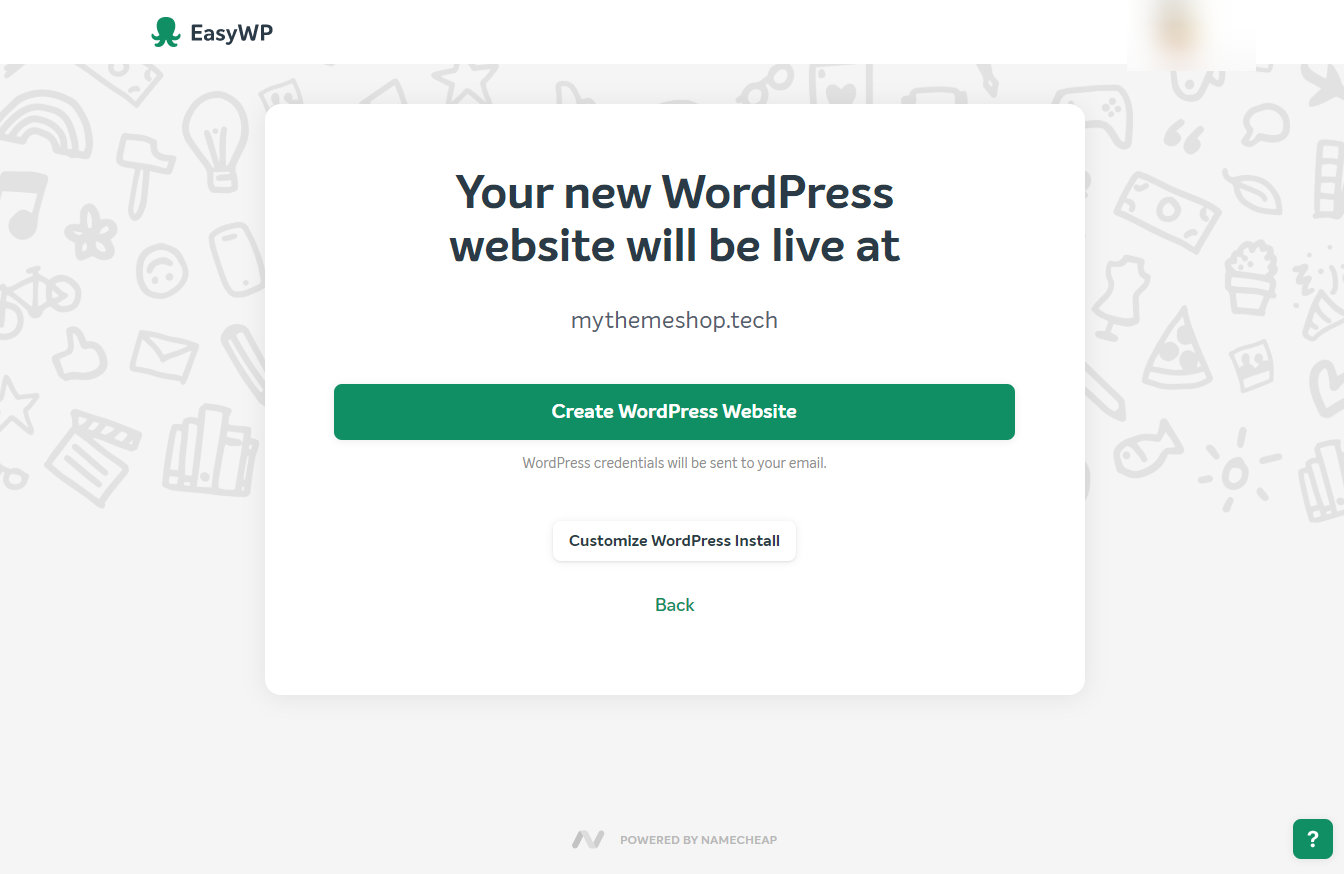 The customization options aren't complicated, though. You can select your website title, username, and password, and change your email address too. You can also choose any WordPress theme that will be used on your website and even select a number of plugins that you'd like to use on the site.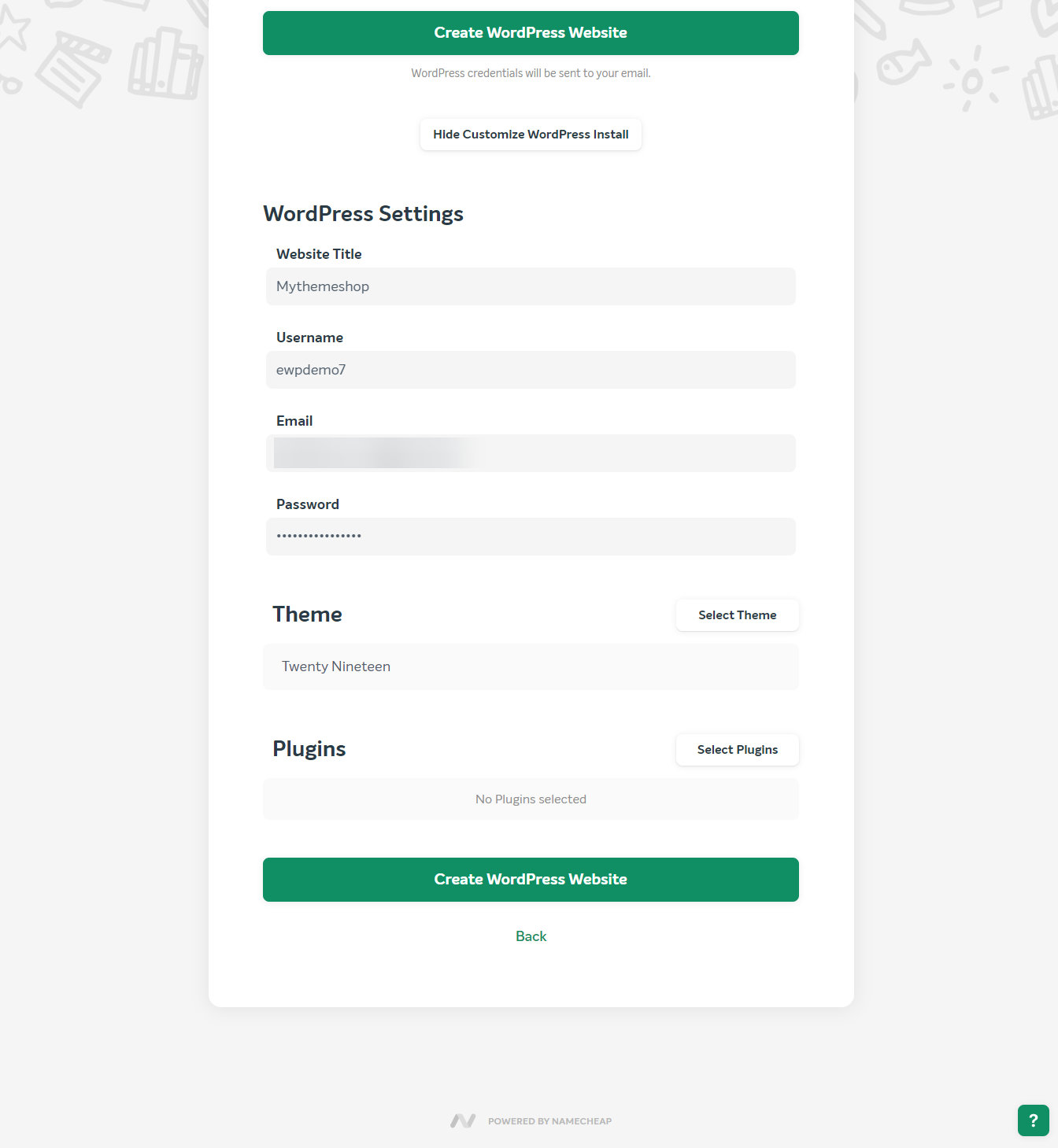 Once the website is being set up, you will see this warning. This is normal. Press Continue to proceed with the installation.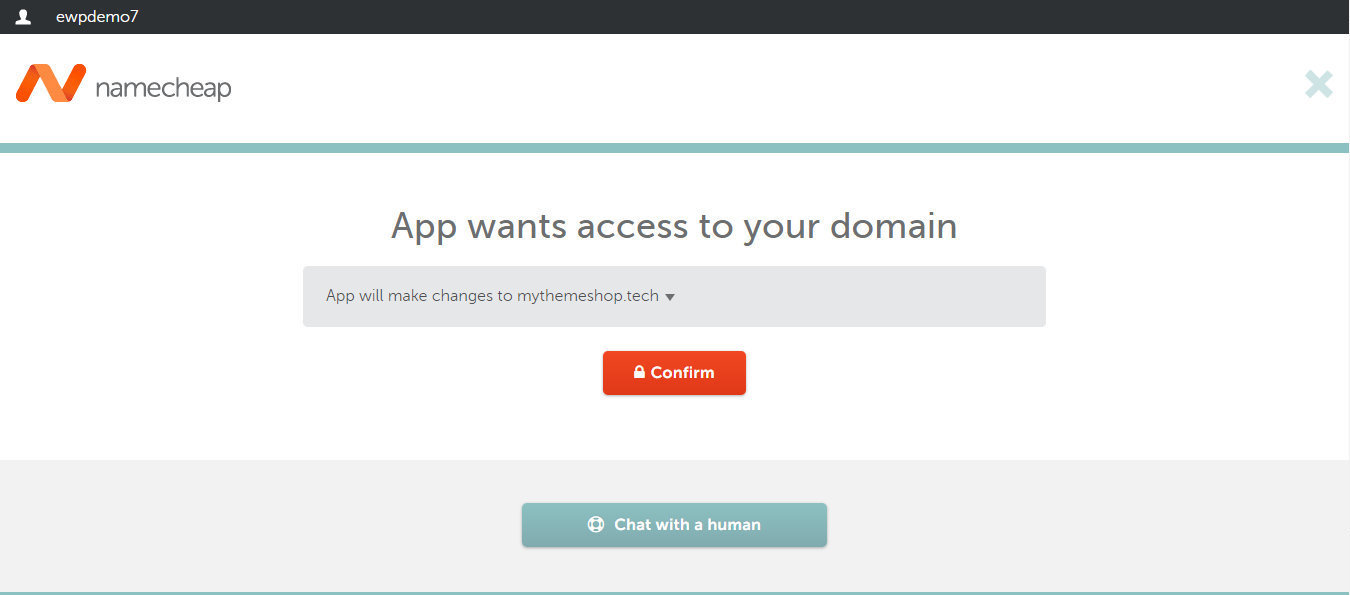 In just a few moments, WordPress will finish installing, and your website will be live. You should get the complete website installation login details in your email, which you can use to log into your website's WordPress backend.
How to Blog For Free With Namecheap EasyWp Free Hosting
You can also choose a custom domain name for your website, then EasyWP will configure the DNS for you, these might take up to 24 hours to take effect. In my case, the DNS propagation took a few hours, during which we couldn't access the website.
Once the DNS propagation is complete, you can log into the EasyWP Dashboard and access the dashboard, where you can proceed with other configurations or writing your first post.