Pinterest is a visual discovery engine for finding ideas such as recipes, home and style inspiration, and other things to do with your time. Here's how to sign up for Pinterest.
Create a Pinterest account to discover Pins that you like and save them to boards to keep your ideas organized and easy to find in the long run.
A new personal Pinterest account can be created if you have never used the service before.
If you've previously used Pinterest and would like to create a second account that is separate from your existing personal account and uses a different email address, you can do so by following the steps outlined below.
What is Pinterest
Pinterest is a visual discovery engine or social media search engine network that helps users organize information using online pinboards. It's great for storing and sharing images, as well as discovering new interests.
Thanks to the billions of Pins available on Pinterest, you'll never run out of ideas to get you started. Pins that you like should be saved to boards so that your ideas are organized and easy to find later.
If you're ready to get started with Pinterest, it's easy to create a free Pinterest account, whether it's for personal or business use.
Take a look at your home feed

As a result of your recent activity on Pinterest, your home feed is where you'll find Pins, people, and businesses that we think you'll enjoy. You will also see Pins from the people and boards you choose to follow, as well as Pins from other people and boards.
Searching for Pins can also be done by entering keywords into the search bar on the right. Fill in the blanks with the words "birthday party" in the search bar to see ideas for birthday party decor, party food recipes, and birthday gift suggestions.
Pins can be saved, tried, and shared.
Pins are bookmarks that people use on Pinterest to save content that they find interesting or useful. Pins can be images, videos, or products, among other things.
Clicking on the Pin will take you to the website where you can find out how to recreate or buy it. When you see something you like on Pinterest, click the red Save This Button to add it to one of your favorite boards.
When you attempt a Pin, you will be able to share your results with others via Pinterest. Trying to come up with a great birthday cake recipe but have failed? Pin a picture of your cake and a note about how it turned out or some helpful advice.
There are times when you'll discover a Pin and immediately think of a friend who would like it. Send Pins to a friend or a group by clicking the share icon to spread the love. Messages can be used to have private conversations with people you know. On your computer, click the speech ellipsis icon to see your messages. On your mobile device, hit the bell icon, then Chats to see your messages.
Pinterest Login, Signup, help, and Troubleshooting Guide
Pinterest Without Login Android & Desktop.
Are Pinterest Images Copyright Free
how to sign up for Pinterest
Go to Pinterest.com.
Select Sign up. You have the option of signing up with an email address and password or signing up through your Facebook or Google account.
Enter your email address, create a password, and select Continue.Alternatively, select Continue with Facebook and log in to your Facebook account.Or, select Continue with Google and log in to your Google account.
You'll receive a Welcome to Pinterest message. Select Next.
Answer the setup questions, select some areas of interest, and select Done.
Check your email for a message from Pinterest asking you to confirm your email address.
Your Pinterest account is set up, and you're ready to start browsing and pinning!
Create a personal account ( how to sign up for Pinterest )
Go to Pinterest
Enter your Email, Create a password, and enter your Age
Click Continue
Click Next
Select how you identify
Select your language and country/region from the dropdown menus
Select 5 or more topics
Click Done
Make a Pin

Create a Pin by uploading a picture from your computer or mobile device. You can also use photos from the internet to create and save Pins. Each Pin you make should have a title and a description, as well as a website link if you have one.
You can change a Pin's information and move it to any board at any moment.
Make a board
Your saved Pins are saved to your boards. You can name your boards and organize them whatever you wish on your profile. Invite others to contribute on Pinterest Group boards to uncover even more ideas.
Create board sections to organize your Pins within boards. To keep related ideas together, create a "Decorations" or "Party games" section on your Birthday party board. Sort your Pins in whatever way that makes sense to you. If you're using your board to plan an event, you may also add dates and notes to create checklists and other reminders.
You can make your board secret if you want to keep your Pins private or if you're having a surprise birthday celebration. Your hidden boards are only visible to you and anyone you invite.
View your personal information.
In your profile, you'll see all of the Pins you've saved, boards you've created, and Pins you've tried. You may also see who is following you, as well as the boards and persons you are following. Your profile will be visible to everybody, but your private boards will remain hidden. When you view your own profile, you can only see your secret boards.
how to set up Pinterest business account in 2 minutes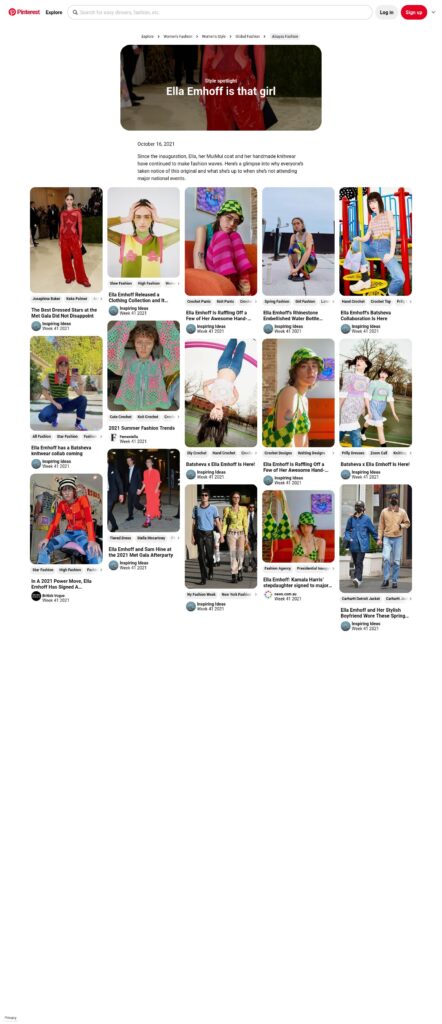 If you're an employee or an agency partner creating a business account to access your company's or client's ad account, Pinterest recommends using your professional email address and your own name rather than your company's name. This aids the account owner in identifying and validating the individuals who have access to their accounts.
When you create an account on Pinterest, you agree to the company's Business Terms of Service and Privacy Policy.
how to set up pinterest business account
Click Sign up in the top-right corner of your screen.
Create a business account by clicking the Create a business account button.
Please enter your email address. Make a password and fill in your age.
Create an account by clicking the Create Account button.
To build your profile, fill out the fields and then click Next.
Then click Next after filling out the fields to describe your firm.
If you want to run advertising, check the box and then click Next.
Choose where you want to begin, or go to your new Pinterest business account by clicking the x icon.
All done!