Non-phone work-from-home jobs refer to jobs that can be done remotely without the need for phone-based communication. Some examples of non-phone work-from-home jobs include:
Freelance writing or blogging
Graphic design or web development
Online tutoring or teaching
Virtual bookkeeping or accounting
Social media management or digital marketing
Data entry or administrative tasks
Translation or transcription services
Video editing or production
Programming or software development
Online research or market analysis
These types of jobs often require specific skills or experience, and may involve using various tools or software to complete the tasks remotely. They can offer flexibility and convenience, allowing individuals to work from home while avoiding the commute and enjoying a better work-life balance.
Do you desire to operate from home but are utterly scared of making phone calls? Do you get anxious when the phone rings and you have to talk to a customer or client? But, you're not the only one.
Fortunately, there are many non-phone professions available that let you work independently, without interruption, and without even having to use the phone.
No phone, work-from-home jobs are ideal for people who: tremble when speaking on the phone. Some folks simply find that they can communicate more effectively via email or chat while on the phone.
Have young children. Your conversation with the client or customer may be interrupted by background noises like little children laughing, crying, or playing.
Live in an unquiet area. For tasks involving voices, the sound of loud conversation, hovering aircraft, trains, and buses can be extremely distracting.
Own a noisy pet. Most voice-related clients don't like dogs barking in the backdrop of their recordings.
RELATED: 25 New Creative Side Hustles To Make $500 Dollars A Day
30 NON-PHONE WORK-FROM-HOME JOBS TO EARN GOOD INCOME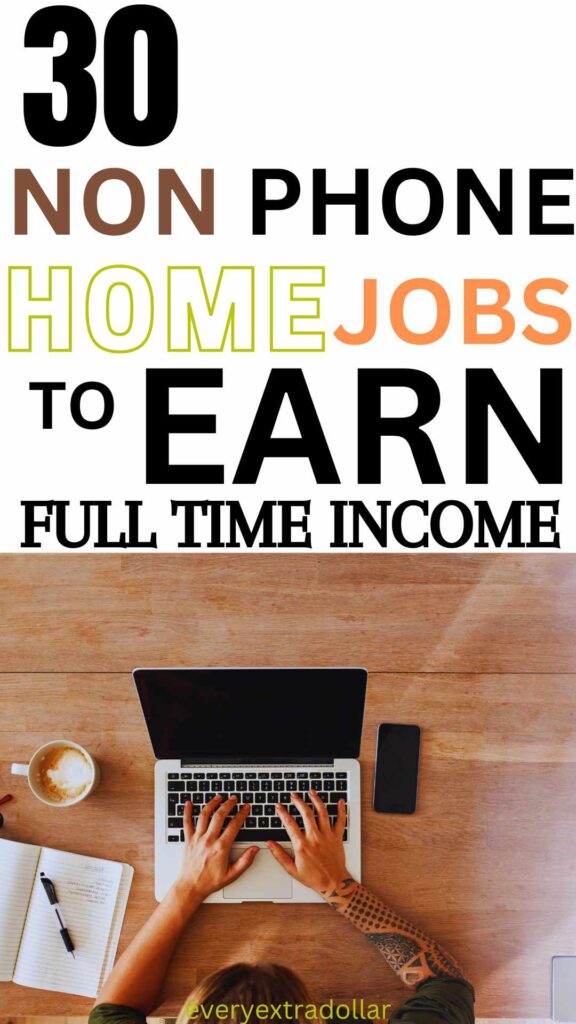 ONLINE TRANSCRIPTION JOBS
One of the best non-phone careers for quick and precise typists is transcription. You must write out an audio recording into text for transcription, then proofread it for correctness. Although you don't need a fancy degree to work as a transcriptionist, being a quick and precise typist is advantageous.
Beginner transcription jobs are available at:
1. TranscribeMe – pays $15-$22 per audio hour.
2. GoTranscript – pays $0.60 per audio minute.
3. Rev – pays $0.40-$0.75 per audio minute
4. Quicktate – pays between $0.0025 and $0.005 per word
5. Scribie – pays $5-$25 per audio hour. Read: Scribie Review
DATA ENTRY JOBS
One of the legal online typist jobs that is ideal for stay-at-home mothers with a noisy household is data entry, which is the process of entering and managing information into the computer.
You must be skilled at using a computer or data entry software and have quick typing speed if you want to work as a data entry professional.
Below are some of the best places to find data entry jobs:
6. Smart Locating – pays $8.50 per hour.
7. SigTrack – rate varies per job. Read: Sigtrack Review
8. Dion Data – pay is undisclosed, pays per document 
9. Xerox – pays $19 per hour.
10. SmartCrowd – pays $5-$6 per hour.
BOOKKEEPING
One of the finest work-from-home non-phone jobs for you is being a bookkeeper if you enjoy numbers and have the aptitude for entering and maintaining financial data.
You don't need a special degree to be a bookkeeper, and it's okay if you've never done it before. The knowledge required to start an accounting firm can be acquired online.
For beginner online bookkeeping employment, look at these places:
11. Accounting Department – pays $20 per hour for part-time bookkeeping
12. Belay – pays $15 – $30 per hour
13. Bookminders – rate unspecified
14. ClickAccounts – rate unspecified
15. ClickNwork – rate unspecified
PROOFREADING
Proofreading could be a fantastic non-phone work option for you if you have an acute eye for spelling, grammatical, and syntax mistakes.
There are numerous options for proofreading online these days because proofreaders are in demand. Legal proofreading is another area where you can concentrate and earn an average salary of $48,000 annually.
16. Proofreading Services – pays $19-$46 per hour
17. Prompt – pays $20-$28 per hour
18. Scribbr – pays $25-$27 per hour
19. American Journal Express – pays $25 per hour
20. Cactus Communications – pays $14-$19 per hour
ONLINE TEACHING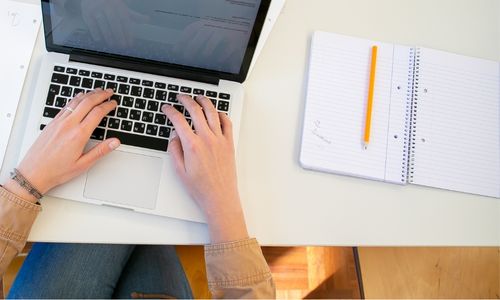 If you love kids, enjoy teaching, and have a positive outlook on life, online teaching is a great side business. You typically work with one to four students at a time, and you get to choose your own work hours. You will most likely be instructing children in English as a second language.
21. VIPKid – pays a base salary of $7-9 per 25-minute lesson
22. QKids – pays up to $20/hour
23. 51Talk – pays up to $19/hour
24. Magic Ears – pays $18 and $26 hourly
25. GogoKid – pays $14 hourly
VIRTUAL ASSISTANT JOBS
Today's busy business owners outsource some of their work to virtual assistants so they may spend more time on their families, recreational activities, and other business-related activities.
With the exception of when you are employed as an online call center agent or phone representative, virtual support normally does not include making phone calls. A virtual assistant provides assistance in a number of areas, including research, data entry, social networking, content creation, and more.
Work as a virtual assistant at these websites.
26. Virtual Office VA – pay starts at $9 per hour
27. Fancy Hands – pays $8 to $12 per hour
28. Worldwide 101 – pays $18 to $20 per hour
29. Belay – pays $13 to $19 per hour
30. OkayRelax – pays $8 per hour