Money
Money is the only way to build your freedom in life!
Let Us Learn,
How to Make More Money, Save Some and Invest Every Extra Dollar in a Lifetime Worth of Passive Income.
It's not about working too hard, it's not about working extra hours, it's not about getting hefty salaries, it's not also about working several jobs,
It's about Money Management!
You won't to be rich until you learn the etiquette's of money and how to manage it like a PRO.
I WILL SHOW YOU HOW!
I will show you how to not spend money,
Build a savings without going bare bones,
Make money by working less,
Use tactics to learn money hacks,
Save money with tactics,
Invest Money for passive incomes,
Start a business of your dream,
Learn meaningful budgeting tips that will change the way you handle money and finally give you the freedom to retire early and live a debt-free life.
I will shares helpful budgeting process steps, budgeting method, budgeting definition that will master money rules.

Budgeting is hard especially when you live paycheck-to-paycheck, but it's ok, you can still get a grip of your finances when you learn to budget properly, stick to a budget,
and finally become financially free.
Let's start!!!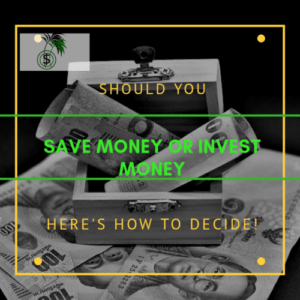 If you're caught between deciding whether to save money or invest money, then here's how you should decide.