The majority of people frequently picture delivery and warehouse work when they think of Amazon jobs. But did you know that Amazon also has remote employment opportunities that the majority of people aren't even aware of?
In 2021, the massive e-commerce will employ over 1.6 million people worldwide, a 23.88% rise from 2020. Nothing seemed to be able to stop Amazon's expansion.
Amazon offers various work from home jobs across different departments, including customer service, technical support, data entry, human resources, and more. Here are some steps you can take to find Amazon work from home jobs:
Go to the Amazon Jobs website (https://www.amazon.jobs) and search for "Work From Home" in the location field.
You can also search for remote jobs by selecting "Remote Career Opportunities" in the Job Category drop-down menu.
Filter your search by department, job category, and other relevant criteria.
Review the job description and requirements carefully before applying.
Submit your application and wait for a response from Amazon.
Some popular work from home positions at Amazon include customer service associate, technical support associate, data entry associate, virtual assistant, and human resources assistant. These positions typically require a reliable internet connection, a quiet workspace, and strong communication and problem-solving skills.
Keep in mind that Amazon receives a high volume of applications, so it's important to tailor your application to the specific job you're applying for and highlight your relevant experience and skills. Good luck with your job search!
Some of the side jobs or work from home opportunities offered by Amazon are well-known, while others may surprise you. There is something for everyone among them, from performing minor, easy chores to holding full-time positions.
Related: 30 NON-PHONE WORK-FROM-HOME JOBS TO EARN FULL TIME INCOME
10 Amazon Work From Home Jobs to Start Making Money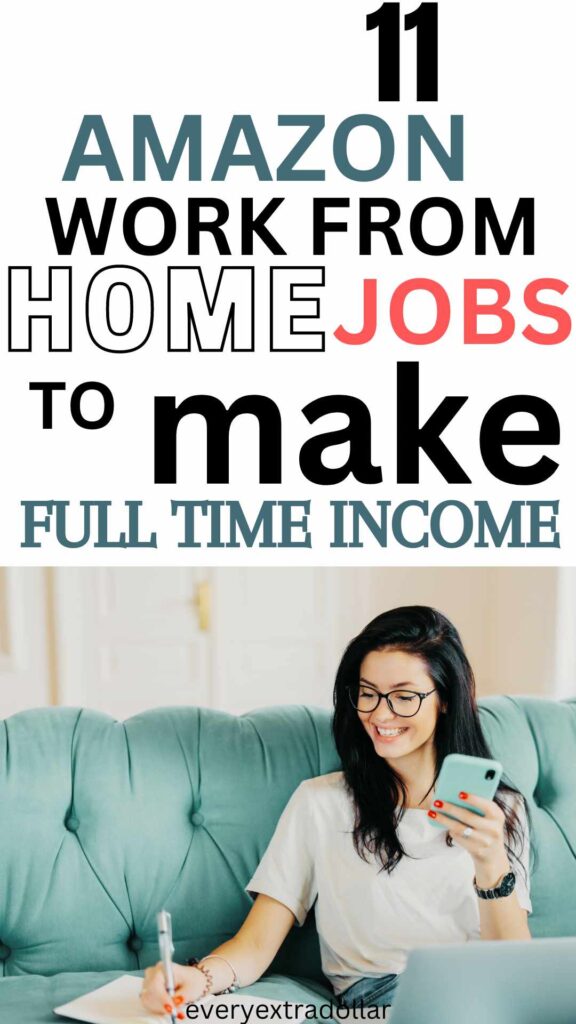 1. Amazon Merch
Merch from Amazon allows you to sell your designs through Amazon products. Your logo and artwork can be printed on merchandise like mugs, hoodies and t-shirts.
Once you have submitted your application, approval is granted. Next, upload your artwork. Choose the product type and color. Write a description.
Then wait for someone who makes a purchase. Amazon Merch will handle production, shipping, service, and royalty. Depending on the product, this could be anywhere from 10-20%.
Merch accepts only new artists due to its popularity. Request an invitation to be considered and wait for your invitation.
2. Amazon Handmade
Similar with Etsy you can also sell your goods on Amazon Handmade. Amazon Handmade is home to artisans from more than 80 countries that sell their unique products to millions of people around the globe.
There are no listing fees and you can set your prices. You will need to register for a Professional Selling Plan. However, the $39.99 Monthly Fee for Professional Selling Plan is waived if you are a Handmade artist. Handmade will charge a 15% referral commission for each product sold.
3. Amazon Associates
When you sign up Amazon Associates you will be an affiliate and receive a share of any sales you make from products you promote through your blog, Instagram, YouTube or other social media platforms.
Amazon Associates program has a great feature. Customers don't have to buy the product that they clicked on to earn a percentage. As long as they purchase the product within 24 hours of clicking your link, you can earn a percentage.
You will need to complete an Application with links to your website and social media channels in order to get started with Amazon Associates. After you have made three qualified sales in the first 180 days, your application will be automatically accepted. However, the Associate teams will review it.
Your application will be rejected if you are unable to sell 3 products within the first 180 day. You can still apply, and it is very easy to reapply.
4. Amazon Influencer Program
You can apply for the Amazon Influencer program if you have a substantial social media following on Facebook or Twitter, Instagram, Instagram, YouTube, and Twitter.
Similar to Amazon Associates, where you earn a commission when someone purchases through your affiliate link. However, the main promotion channels for social media are Twitter and Facebook.
You'll also get your very own Amazon page and vanity URL that you can use to show off your Amazon favorites to your followers. This allows you to easily send all your followers one place to search for all of your favorite products.
5. Amazon allows you to sell private label items
Making money on Amazon by selling private label products is an unusual way to make some extra cash. This involves purchasing generic products already selling well on Amazon.
Next, you will need to design your logo and packaging. Finally, market your products better than the rest.
It takes some market research to get started, but it can be very profitable and a great way to make money online. The returns vary depending on the product. However, you should aim to make a profit margin of at least 50%.
6. Make Money Publishing eBooks for Amazon
With Kindle Direct Publishing you can publish your eBooks and paperbacks free of charge on Amazon.
Publishing your book takes just 5 minutes and will be available on Kindle worldwide in 24-48 hours. This is a great way to get your book in front of millions of people.
You can earn as much as 70% in royalties by being a Kindle publisher. You also retain the rights to your books.
This is the best thing about it. Once you have created a book, it will continue selling on Amazon without your effort.
7. Amazon Trade-In Program
The Amazon Trade-In allows you to get Amazon gift cards in return for used items such as books, electronic devices, and electronics.
Amazon has a list of eligible items for trade-in. Once you have found your item, submit a trade in form. Get a quote and print the shipping label. The item will be shipped to Amazon. After your item has been received and appraised, an email notification will be sent to you letting you know whether or not your item was accepted.
They will refund you if the item is returned to them. When you view your gift card balance, the amount will be displayed if the item is accepted.
8. Amazon Flex Deliveries

Amazon Flex This is not a job that you can do at home, but it offers flexible scheduling so I wanted to include it here.
Delivering packages in your own vehicle earns you $18 to $25 an hour. The hours you work are flexible. You pick up packages at a local Amazon Fulfillment Center, or other business in the area and then fulfill them.
You must be at least 21 years of age, have valid driver's licence and insurance and have a smartphone in order to download the Amazon Flex app.
9. Amazon Customer Service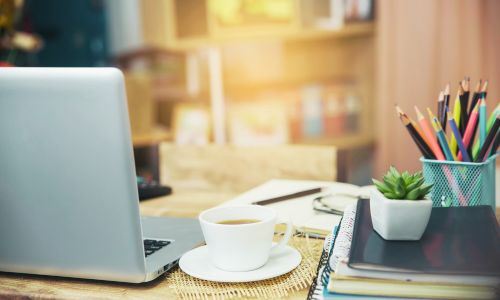 Amazon's customer service jobs from home are often available during the holidays and fill quickly. Amazon does not hire remote agents outside of certain countries or states, even though it is a position that can be done from home.
To apply, you will need a minimum of a high school diploma, at least one year of customer service experience, basic computing skills and high-speed Internet access.
Earn $16-$20 per hour while working 20-30 hours a week. If you meet certain criteria, you may be eligible to become a permanent employee.
For the busy holiday season (Oct-January), hiring usually begins at the end August. On their virtual job page, you can search Amazon remote jobs.
10. Amazon MTurk: Work for Amazon

This online marketplace allows developers and businesses to outsource small tasks to people like you. Using MTurk can help you make extra money online by completing small tasks.
These tasks include transcribing audio and writing articles.
MTurk offers thousands of tasks every day. You can pick the tasks that best suit your interests and skills.
The amount you make will depend on what tasks you are assigned, but most tasks pay less than $10. These tasks are not very lucrative, but they don't require much time or commitment.
11. Amazon FBA – Start Now
Fulfillment By Amazon (FBA) is the best and most lucrative way to make money with Amazon.
FBA allows sellers to make use of Amazon's fulfillment and delivery services for their products. Amazon will ship your products to you after you have stored them in its warehouse.
Many people begin their journey by buying products at a discount in liquidation shops and then reselling them on Amazon. My friend did the same thing when he first started in 2008. His business now generates $2 million annually and he travels to China multiple times a year to place orders.
It is crucial to choose the right products for Amazon. The most difficult part of the entire process is choosing the right products.
Picking a low price doesn't mean you lose any profit, but it is better to choose something that will be affordable so that no one buys. A good resell price is between $15 and $20. Amazon has a section called "trending" that shows popular products people are searching for on Amazon.