These are 6 Sephora credit card features you should be aware of before ordering a card.
The Sephora credit cards, which are offered by Comenity, are store credit cards that earn additional benefits at the Sephora chain of beauty stores. Non-Sephora purchases, on the other hand, may be limited or non-existent depending on the card you qualify for. Unless you frequent Sephora for beauty hauls, you'll only get a few dollars off a purchase every now and then.
You'll be better off with a basic cash-back credit card in most circumstances.
Here are five things to keep in mind when it comes to Sephora credit cards.
6 Sephora Credit Card Features
« CONSIDER YOUR OPTIONS BEFORE GETTING A RETAIL CREDIT CARD
1. The card comes in three different formats.

You may be eligible for one of three Sephora credit cards, depending on your credit history and other financial information you provide in your card application:
The Sephora Credit Card, which can be used at Sephora stores or on the Sephora website in the United States.
The Sephora Visa Credit Card can be used everywhere that accepts Visa cards.
The Sephora Visa Signature Credit Card, which can be used anywhere Visa is accepted and comes with Visa Signature travel advantages like concierge service and roadside assistance, can also be used anywhere Visa is accepted.
There is no yearly fee on any of the cards.
2. Purchases made at Sephora earn you extra points.

On every $1 spent at U.S. Sephora stores or on the Sephora website, all three cards get 4% back (in rewards, not cashback).
On all other purchases, the Sephora Visa Credit Card and Sephora Visa Signature Credit Card earn 1% back per $1. They also get a $20 sign-up incentive if they spend $500 outside of Sephora in the first 90 days, as of this writing.
3. Sephoras located within other retail locations are not counted.

Only when you shop at standalone Sephora locations does the 4% reward rate apply. Locations within other merchants, such as Sephora counters at J.C. Penney stores, are not eligible.
Even if you don't live near a Sephora store that qualifies, you can still earn this high rewards rate by shopping online with Sephora.
4. The Beauty Insider program and credit card incentives work together.

You'll be instantly registered in Sephora's reward program, Beauty Insider, if you have a Sephora card.
This means that on all eligible transactions, you'll earn both credit card rewards and Beauty Insider points, which you can combine for future purchases.
5. Rewards that can be redeemed is restricted.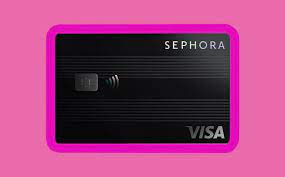 Rewards can only be redeemed at Sephora stores in the United States (not including Sephora locations inside other merchants) and on sephora.com. You get a $5 credit card reward for every 125 reward dollars you earn, and incentives are provided in $5 increments.
Those incentives have a shorter shelf life than a bottle of perfume left on a sunny window ledge. Earned reward dollars expire after 18 months, whereas credit card rewards are valid for 90 days from the date they are awarded.
To put it another way, you don't have much time to spend that $5 after you obtain it. That makes it difficult to save up points in the hopes of using them to offset the cost of significant purchases.